By Peg Aloi
This new series will offer ideas for movies and series that have stories or themes at least marginally related to the pandemic we're all living through.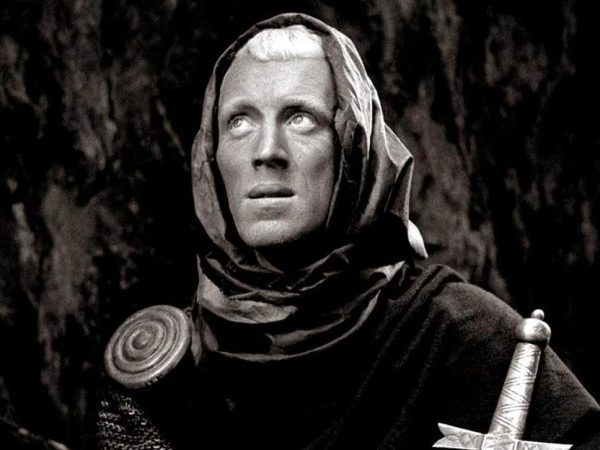 Well, my friends, welcome to the new normal. Working from home, eating and drinking at home, heck, doing everything at home for the foreseeable future. For those of you going out into the world to work, please be safe, and thank you. For those of you who have all you need and are doing what you can to make sure others have what they need, thank you. We'll get through this together.
If you've been with me from the beginning, you know I'm humbly erudite, though maybe a little pretentious, when it comes to movies and TV. Yeah, I'm not particularly into reality TV or rom-coms; gimme some horror or bleak dystopia or a gruesome crime thriller or inscrutable foreign fare and I am as happy as a clam. So you, no doubt, will be interested in my darkly appealing recommendations for streaming movies and television while we're all hunkered down, trying to find inventive new ways to serve up elbow macaroni and wondering if anyone cares if our socks don't match.
This new series will offer ideas for movies and series that have stories or themes at least marginally related to the pandemic we're all living through. Of course, if you hunger for more escapist fare, who I am I to dissuade you? But the masochists and weirdos among you — stick with me. I promise you'll be proffered all sorts of goodies. Most of my picks will be available on at least one major streaming service. If you don't have Netflix, they're now dangling a month's free service to new subscribers; other streaming services featured in my recommendations are also offering similar specials, and remember Tubi is always free.
The genres for pandemic viewing could include zombie apocalypse, post-apocalyptic, disaster, urban flight, survivalist, cult movies (as in movies about actual cults), and various visions of social collapse. I'm starting with films that deal with the Black Plague of the Middle Ages.
To begin with, I must honor the memory of the recently deceased iconic Swedish actor Max von Sydow, who died last week at the age of 90. One of his best known roles, undertaken when he was a platinum-haired young actor, was as a Crusade knight in Ingmar Bergman's 1957 medieval plague tale The Seventh Seal (currently streaming on Amazon Prime, iTunes, and Criterion Channel). Antonius Block is approached by Death (played by a pale-faced bald man in an ominous black cloak) and told that his time is up. The Black Death is ravaging the land; religious superstition abounds. Block tries to cheat Death by challenging him to a game of chess. Often interrupted, the two meet repeatedly in order to continue their game, which buys Block more time. He also encounters various potential plague victims, including a young couple who work as actors, and a young accused witch sentenced to be burned at the stake. Gunnar Fischer's stunningly beautiful black-and-white cinematography serves as a striking counterpoint to Bergman's bleak subject matter.
For those who like their plague with a side of comedy, you can't beat a pair of Monty Python films that riff on the Black Plague and The Seventh Seal: the Arthurian spoof Monty Python and the Holy Grail (on Netflix and Amazon Prime) and The Meaning of Life (on Prime, Hulu, and Vudu). The rough-hewn absurdity of the Dark Ages is fodder for hilarity in Holy Grail, which includes the infamous witch trial scene and the now-classic "Bring out your dead!" chant of corpse collectors lugging overflowing carts. The Meaning of Life skewers, with caustic wit, religion and superstition; along the way it satirizes sex, childbirth, marriage, growing older, and death. The medieval plague is highlighted in a memorable scene where every dinner party guest becomes ill after eating the same dish. Careful at those pandemic potlucks, everyone!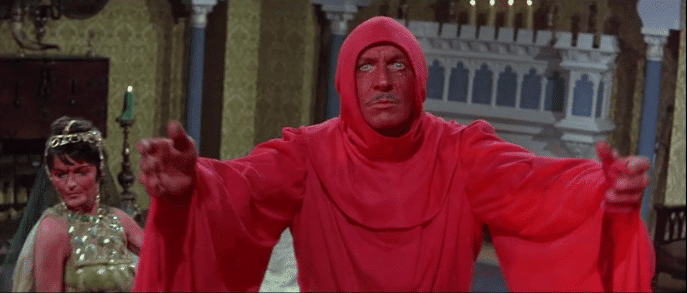 Roger Corman's fabulously colorful 1964 adaptation of Edgar Allan Poe's story The Masque of the Red Death (now on Amazon Prime and Vudu) is another fine medieval plague film, as well as an excellent yet obscure piece of cult cinema. It stars Vincent Price as the charismatic but doomed Prince Prospero, a wealthy monarch/magician who thinks he will be able to avoid the plague of the Red Death (a horrible, fast-moving disease whose symptoms include mottled red skin and copious bleeding). He mocks its victims at a decadent masked ball, filled with his wealthy friends, at his remote palace. Corman, ever the low budget innovator, managed to borrow lavish sets and costumes from a nearby theatrical production of John Osborne's play Luther (I learned this factoid from Corman, who introduced the film at the Harvard Film Archive some years ago).
I must also recommend the wonderful and criminally neglected 1988 Australian film The Navigator: A Medieval Odyssey (on Amazon Prime and Tubi), which is about a boy on a mission to protect his family from the plague. He must accept a pilgrimage of a religious nature; along the way, he becomes caught up in a strange time travel vortex. There's a stunning anachronistic scene featuring a contemporary pandemic (guess which one).
Next time, my housebound friends, we will discuss films that explore humanity's more recent plagues. Until then, stay safe and busy.
---
Peg Aloi is a former film critic for the Boston Phoenix and member of the Boston Society of Film Critics. She taught film studies in Boston for over a decade. She writes on film, TV, and culture for web publications like Vice, Polygon, Bustle, Mic, Orlando Weekly, Crooked Marquee, and Bloody Disgusting. Her blog "The Witching Hour" can be found at themediawitch.com.