By Cyrisse Jaffee
Two picture books for children that address the climate crisis.
Carmen Agra Deedy, Wombat Said Come In. Illustrated by Brian Lies. Peachtree Publishing Company, 2022. Candace Fleming, Polar Bear. Illustrated by Eric Rohmann. Holiday House, 2022.
Each of these two books has a rather obvious message about the dangerous effects of climate change. One uses humor to make its point (and adds some lessons about social responsibility and kindness), while the other skillfully employs drama to tell the story of wildlife in peril.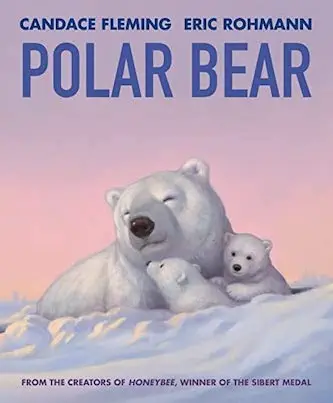 Eric Rohmann's exquisite oil paintings in the oversized picture book Polar Bear by Candace Fleming, immediately draws you into this stunning story of a mother bear and her two cubs. The same team brought you Honeybee: The Busy Life of Apis Mellifera (winner of a Sibert Medal and an Orbis Pictus Honor) and Giant Squid (winner of a Sibert Honor). The book starts in April, as Mother awakes from hibernation and introduces the cubs to the outside world. They start off on their journey to Canada's Western Hudson Bay, where Mother must hunt and feed in order to live and care for her babies. They encounter predators and, even worse, a spring that arrives early and melts away too much ice too soon. The bears must swim farther than ever before and then winter arrives late. What will happen to these majestic creatures?
The little family survives, but the dangers of climate change are clear, as noted in the afterword: as the Arctic warms because of "human-caused climate change," the sea ice is melting, and the "time bears have to hunt and build up their body condition has been cut short." This means that "they may not have enough fat stores to survive their summer fast. They may not be able to reproduce, nurse their cubs, stay warm during the winter months, or fight off diseases."
The author's notes provide context, plus additional interesting facts about polar bears, but the text itself informs even as it engages the reader, in a lyrical, poetic style. The beautiful pictures, including a two-page gatefold, are suffused with grays, blues, whites, and greens that allow the read to enter the bears' world. Read one-on-one or to a group, this book will no doubt make an impact.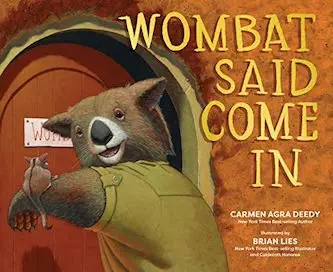 At first, Wombat, in Wombat Said Come In, is not worried about the fire outside his burrow, but as each animal friend asks for sanctuary, he realizes that it's no ordinary blaze. Wallaby is scared of the smoke, Kookaburra says the fire is "on the march," and Platypus has lost his way. By the time Koala and Sugar Glider have arrived, Wombat's cozy little home is crowded and chaotic and his generosity has turned to grumpiness. But when the fire finally subsides and he shoos his friends home, he realizes Sugar Glider has lost his home altogether, and invites him to come back in.
Inspired by the devastating Australian bush fires of 2019–2020, the subtext about the increase in the size and intensity of seasonal fires is subtle. One wishes for an afterword to provide more context. However, it would be easy enough to use this picture book to talk about the issues related to more extreme weather, as well as to start a conversation about how to help others, even when it's a little out of your comfort zone. The appealing drawings add a friendly, fun tone.
---
Cyrisse Jaffee is a former children's and YA librarian, a children's book editor and book reviewer, and a creator of educational materials for WGBH. She holds a master's degree in Library Science from Simmons College and lives in Newton, MA.