By Blake Maddux
"I always say if you want to write a blues album, have a nice bad breakup!"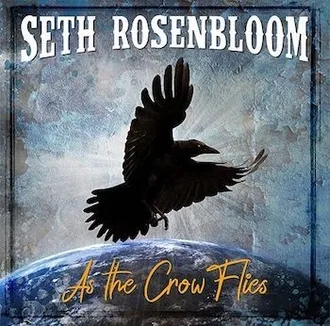 Blues guitarist Seth Rosenbloom is the son of two violin players.
Unsurprisingly, he started taking lessons on that instrument at age five.
"I'd fall asleep most nights that I remember listening to my dad practice," the Waltham native told me in a recent phone interview.
When the violin "began to feel like a bit of a chore," however, he took up guitar around age 11.
Two years later, his mother took him to see Joe Bonamassa at Scullers Jazz Club. This experience inspired him to pivot from the classical training that he had received most of his life to playing the blues. At age 16, he began a year-long course of study at Berklee College of Music, which was funded by a performance scholarship.
Now 30, Rosenbloom — who recently moved to Greenfield, Massachusetts — is set to celebrate the January 13 release of his second LP, As the Crow Flies, this Saturday at City Winery, where he will be joined by bassist Jesse Williams, drummer Mark Teixeira, and organist Rusty Scott.
---
 The Arts Fuse: What are you particularly proud of about As the Crow Flies that distinguishes it from 2019's Keep On Turning?
Seth Rosenbloom: A couple of things. One, I did it all locally. I recorded this one at Rear Window in Brookline, which is owned by Milt Reder. Great studio there. That contributed to the sound of the record, because everyone who played on this one are musicians I regularly play with. And the intention behind this record was to bring a bit more of the feel of one of my live shows, so minimal overdubs and most of the solos were tracked live in the room.
I also produced it myself. I think that made me focus more on some of the things that I didn't necessarily know that I needed to focus on before doing the last one. And I give huge credit to Josh Smith, who produced Keep On Turning, for teaching me a lot of that stuff.
AF: In what capacity, if any, have you worked with your collaborators on this album, which include drummer Mark Teixeira, bassist Jesse Williams, guitarist Ryan Taylor, and keyboardist Bruce Bears?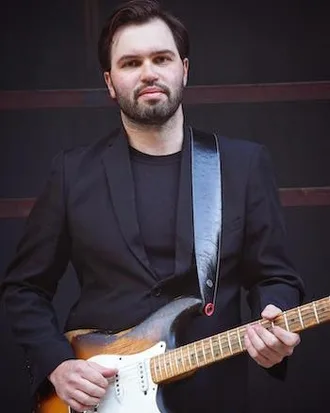 SR: I think that everyone on the record I had worked with in some capacity, aside from Andra Voldins Dix, the violist. The strings on "Can't Trust Your Neighbor," which is an old Freddie King tune, my dad — who played in all the big Boston orchestras – arranged the strings. And I had not done a ton of collaborating with Erika Van Pelt, who sang background vocals, but she's a longtime friend. I consider everyone who played on the record and was involved with it to be a friend, which was a nice way to make a record.
AF: Sonya Rae Taylor, who is married to Ryan Taylor, co-wrote several songs on Keep On Turning. Did she also do so on As the Crow Flies?
SR: Yeah. She co-wrote both of the singles that are out, "Did You Try to Break My Heart?" and "Set Me Free." Also, "Gotta Roll" is one of Sonya's tunes that she pitched to me. I liked it so much that I put it on there. So yeah, she was heavily involved with this one as well.
AF: How did you choose the three covers — "As The Crow Flies," "Can't Trust Your Neighbor," and "I Wish You Could See Me Now"?
SR: I have a list in my Notes app of potential covers at all times. The most practical side of it is seeing the originals that are going to be on there and seeing if something is missing in terms of a tempo, feel, or topic. That sometimes influences what the cover tunes are going to be. Also, a big part is tunes that I think will do really well recorded or that I want to be able to play live.
AF: The covers and the six originals all seem to explore the time-honored blues theme of relationships ending acrimoniously. Are any of them based on personal experience?
SR: I always say if you want to write a blues album, have a nice bad breakup! And on this record, I think I was definitely a bit more comfortable with writing from personal experience and being a bit more vulnerable with some of the content and inspiration for the record than in the past.
I always kinda look at songwriting somewhat as historical fiction. There will be a jumping off point that is a real circumstance, but then I'll take severe creative liberties with other parts of the same song.
AF: Who are some contemporary musicians — blues or otherwise — whose work you have admired in recent years?
SR: That's a long list. Eric Gales. Huge Eric Gales fan. Kingfish, too. Amazing. [Click here and here for Scott McLennan's Arts Fuse coverage of Christone "Kingfish" Ingram.] I think the best blues record that has come out in probably the last 20 years is the new Larry McCray record [Blues Without You] that came out this year. That was produced by Josh Smith, who produced Keep On Turning, and Joe Bonamassa. I've been a huge fan of Joe for a long time. I probably would not be playing blues probably if I had not seen him when I was 13 at Scullers. And it was a very full-circle thing when he asked me to sit in this past summer at Leader Bank Pavilion in Boston.
Who else? Kirk Fletcher and Matt Schofield. Lots of people who I am lucky to consider friends! The non-blues ones would be Marcus King — I loved his new record — and Ariel Posen.
---
Blake Maddux is a freelance journalist who regularly contributes to the Arts Fuse, the Somerville Times, and the Beverly Citizen. He has also written for DigBoston, the ARTery, Lynn Happens, the Providence Journal, The Onion's A.V. Club, and the Columbus Dispatch. A native Ohioan, he moved to Boston in 2002 and currently lives with his wife and five-year-old twins — Elliot Samuel and Xander Jackson — in Salem, MA.