By Scott McLennan
At 21, "Kingfish" Ingram is being heralded as the blues's brightest new star. And at his first headlining gig in Boston he earned the title.
There probably was not a single person in the packed Brighton Music Hall Thursday night who had never heard the song "Hey Joe." But Christone "Kingfish" Ingram worked and reworked the song in grand fashion, his husky vocals summoning all of the song's murderous dread while his fleet-fingered fret work wove reggae riffs and bits of Childish Gambino's "Redbone" into the searing guitar solos he laced across the song. Unless you had seen Kingfish before, nobody in the room could have claimed to have heard "Hey Joe" done like that.
At 21, Kingfish Ingram is being heralded as the blues's brightest new star. And at his first headlining gig in Boston on March 5, he earned the title. Ingram made traditional elements of the blues feel vibrant; he even pulled fresh mojo from old warhorses "Catfish Blues" and "Born Under a Bad Sign." His nods to such influences as Buddy Guy, B.B. King, and Albert King were respectful — not cheap mimicry. He honored their legacies with stylistic allusions in his playing while moving the music forward.
Ingram's booming yet silky vocals and demonic guitar chops are devastating. And for such a young artist, he possesses incredible control over his singing and playing, to the point of being careful not to overwhelm. He lets emotions pour through the work rather than smothering them in pyrotechnical flash.
Most of the two-hour show was drawn from Ingram's 2019 debut album, Kingfish, released by Alligator Records. Ingram took the songs on this Grammy-nominated album to a whole other level of intensity, doubling down on wild displays of guitar craft that featured a clean, clear tone and precise, patient note-picking.
Ingram's bouncer's build and generally chill demeanor belied the intensity of the music. One of the show's more remarkable moments occurred when he left the stage and wandered into the crowd. He was surrounded by fans holding up phones in hopes of capturing a memorable image, so it was impossible for most to see the young artist. But the manic guitar lines filling the club while his superb backing band stayed on stage holding down the beat were more than enough to maintain the exhilaration.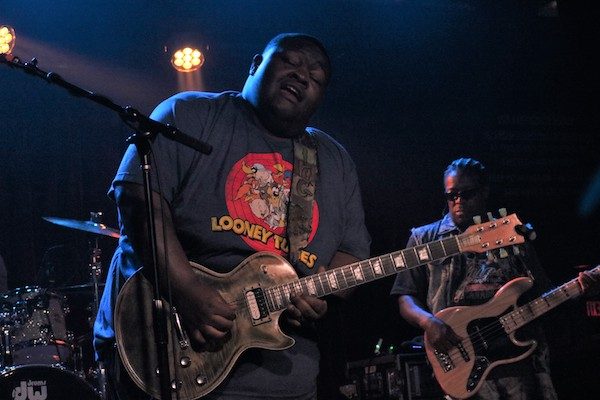 Also impressive: Ingram's original songs often rise above the standard modern blues fare. On "Love Ain't My Favorite Word," he drops the great line, "I thought love was gonna heal my heart, but all it did was add to the pain." On the origin-story tune "Been Here Before," he delivers this gem: "Some kids like the greatest hits, but I dig Guitar Slim."
"Fresh Out" was shot full of wry humor, while "Listen" proffers a lighter, folk-rock touch. The tune could land Ingram an Americana radio hit.
The bluesman also came across as a generous artist, making room for keyboard player Eric Robert, drummer Chris Black, and bassist Paul Rogers to assert their talents. Among the concert's many peaks was a blues youth summit; Ingram welcomed young Boston guitar hotshots Seth Rosenbloom and Tyler Morris to join him on stage for a raging rendition of the gospel number "Don't Let the Devil Ride." The three 20-somethings pushed each other hard, trading licks that rocketed into a thrilling musical conversation.
The trail from Robert Johnson to Muddy Waters to Johnny Winter to Stevie Ray Vaughan is full of tales about saviors and torchbearers. Sometimes it's just marketing copy, hype about wannabes. But hearing Ingram makes you believe that, this time around, the mythmaking is for real.
---
Scott McLennan covered music for the Worcester Telegram & Gazette from 1993 to 2008. He then contributed music reviews and features to the Boston Globe, Providence Journal, Portland Press Herald, and WGBH, as well as to the Arts Fuse. He also operated the NE Metal blog to provide in-depth coverage of the region's heavy metal scene.