662, Christone "Kingfish" Ingram (Alligator Records)
662 will appeal to hard-core blues fans along with those who want more of a hyphenated blues sound, be it blues-rock, blues-funk or blues-pop.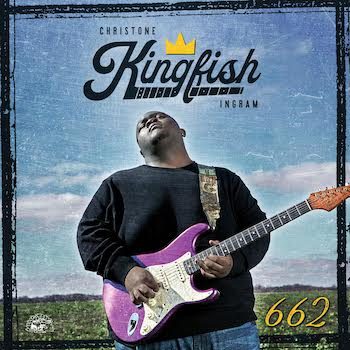 On 662, 22-year-old Christone "Kingfish" Ingram's scintillating vision of the blues comes into its own, his already highly developed guitar skills matched by a maturing singing voice that commands the listener's attention. As an album, 662 focuses on home and heroes as it indulges in more than a little bit of myth-building in the best sense of the blues tradition.
Ingram came to wide notice with the 2019 release of his self-titled debut album on Alligator Records. At that point, Ingram had already caught the ears and eyes of other musicians; Buddy Guy, Bootsy Collins, and Eric Gales were among his boosters. Coming from Clarksdale, MS, Ingram found considerable support in the heartland of blues music; he was jamming in clubs at the age of 11 and he nabbed high-profile fest gigs as a teen.
Though Ingram has an obvious affinity for the roots of the blues, he also draws on his taste for contemporary music. This is a guy who covered a Childish Gambino track last time he played in Boston. Moreover, he was in the band that hip-hop artist Rakim assembled for his NPR Tiny Desk Concert.
662 will appeal to hard-core blues fans along with those who want more of a hyphenated blues sound, be it blues-rock, blues-funk or blues-pop. What makes the tracks work is their nonstop concentration: there's no fluff or wasted notes in the mix. It's obvious from the get-go that producer/songwriter Tom Hambridge worked on this record, as he did on the first Kingfish album. Hambridge is also a drummer who for years led the great Boston band T.H. and the Wreckage. He has become a go-to blues producer, a writer and collaborator who has had a hand in dozens of popular blues titles released over the past 25 years, including noteworthy albums by Buddy Guy, Susan Tedeschi, and Johnny Winter. And now it's Kingfish's turn.
Hambridge's talent is for encouraging an artist's natural voice to emerge in a song, but guiding it toward making maximum emotional impact. He helps shape raw talent.
Under Hambridge's sharp watch, Ingram never gets ahead of himself. In fact, the artist even cops to how in his earlier days he was singing about things he had only heard about — now  it's time we get ready to hear the truth. "Music was my way out of poverty and crime, showing my frustration, I let my fingers fly," Ingram sings, capping his testifying by insisting, "I've got to keep going, I promised Buddy Guy."
That song, "Not Gonna Lie," and "Too Young to Remember" form the 662's emotional core. The former boasts a searing rock riff reminiscent of Jimmy Page's work in early Led Zeppelin, and it seamlessly flows into the latter, a slinky funk song that pays tribute to Ingram's roots and influences. He drops the apt phrase, "When you see me play guitar, you're looking back a hundred years."
The record starts off strong. The title track, taken from Ingram's home area code, offers a bit of autobiography sung over a quick-picking rock and roll lick. Through all of the album's stylistic twists and turns, Ingram displays confidence and poise: he adapts his playing to the horn-laced R&B swing of "That's All It Takes" with the ease that he brings to the sleek, modern lament of "Another Life Goes By."
The album is balanced with wild rockers and slower ballads, interweaving joys and sorrows to project a textured landscape. There are plenty of explosive guitar solos here, but Ingram pays meticulous attention to the entire package. The songs matter as much as the solos.
Ingram's energy never flags. The album ends strongly with "Something in the Dirt," a song that powerfully links the legend of Robert Johnson to the aspirations of this forceful young performer.
---
Scott McLennan covered music for the Worcester Telegram & Gazette from 1993 to 2008. He then contributed music reviews and features to the Boston Globe, Providence Journal, Portland Press Herald, and WGBH, as well as to the Arts Fuse. He also operated the NE Metal blog to provide in-depth coverage of the region's heavy metal scene.