By Allen Michie
The triple-threat, multigenre members of the newly formed vocal trio Sonica are creating inspiring and engaging music across multiple musical boundaries.
Sonica – Sonica (Outside In Music); ONA  – Thana Alexa (self-produced); Wandering Hearts – Nicole Zuraitis (Dot Time)
Note: Thana Alexa tours to promote her ONA album at Sculler's Jazz Club in Boston on December 2, one set only at 9 p.m.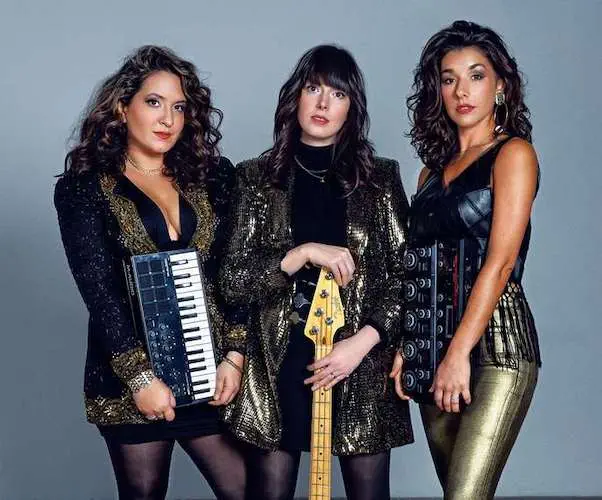 One of the great things about this decade in jazz has been the rise of all-women supergroups. The modern movement arguably began with Terri Lyne Carrington's Mosaic Project (most recently 2015's The Mosaic Project: Love and Soul). Institutional heft was supplied by Carrington's Institute of Jazz and Gender Justice at Boston's Berklee College of Music. Downbeat magazine's recent sustained commitment to more balanced coverage has hopefully helped. A quick comparison of the various jazz polls and awards from just 10 years ago and today testifies to the progress women are making in a field traditionally dominated by men since the time of the Original Dixieland Jass Band.
In just the last two years, we've had Artemis, a collective of new and established women jazz stars, and the Ostara Project, a Canadian septet whose recommended self-titled debut album hit the shelves just this month.
Of particular interest this year is the debut of the vocal trio Sonica, consisting of a triple-threat of rising multigenre talents: Thana Alexa (vocals, keyboards, production), Nicole Zuraitis (vocals, keyboards), and Julia Adamy (vocals, bass). Their goals are as much political as musical: the group's forceful and unclichéd lyrics assert women's self-determination, deserved aspirations, and physical freedoms. The music reinforces these messages through collective harmony, individual expression, and rhythmic diversity.
The voices of Alexa, Zuraitis, and Adamy are beautifully complimentary, as similar to one another in the mix as the Andrews Sisters. They truly sing as one voice, but one that can bifurcate and recombine as each song demands. The record was recorded at Alexa's home studio, and her production is first rate. The technology serves the nature of the music: the sound design draws on echoes of the past (at one point an excerpt from Sojourner Truth's 1851 poem "And Ain't I a Woman") and world-music tribal drums while staying grounded in the bright jazz, rock, and pop sensibilities of the present.
Sonica establishes its musical and political ground with the opening track, "Doyenne," a feminist anthem for an open-minded and bighearted new generation of women. Melodic hooks grip the multilayered harmonies as the lyrics drive the point home. Adamy's authoritative bass in the second half of the song is a contrast to the almost pastoral vocals in the first half. The official video is a great introduction to the band's overall aesthetic.
The cover songs on the album are imaginatively done. Bon Iver's "Michicant" is given a dreamy, seductive treatment with plenty of reverb (which can make it a bit difficult to pull out the lyrics). The arrangement highlights the discipline necessary to pull off harmonies at low volume as well as the trio's overall control of dynamics. Alexa's production provides expert multitracking and stereo imaging.
Another cover is Stevie Wonder's "Love's in Need of Love Today," arranged by Adamy. The trio sounds wonderful singing freely off one another. I'd like to hear them do more of that and take more opportunities to depart from their carefully woven music fabric and go all in on collective vocal improvisation. The last cover is, rather inexplicably, "Danny Boy." It's given an ethereal, gauzy treatment, suggesting a vast lonely church for mourning. There's a Celtic feel with a modern shine and gloss, as if Enya performed standards. More to the point, the selection of this hoary old chestnut doesn't fit with the feminist and social justice themes of the album. Why not cover one of the overlooked anthems from the women's suffrage movement, or take a cue from Cécile McLorin Salvant's recent success finding new political angles on old songs?
It just so happens that all three members of Sonica are married to drummers. All appear on the album: Ross Pederson (performed with the Manhattan Transfer and others), Dan Pugach (the Dan Pugach Nonet), and Antonio Sánchez (performed with the Pat Metheny Group, won a Grammy for the solo soundtrack to Birdman). Alexa and Sánchez are a photogenic couple and of late they have done excellent work lifting one another up professionally, touring together, appearing on one another's records, raising money for musicians in need, YouTubing during the pandemic, and appearing on magazine covers. It's great to see, for lots of reasons.
Sánchez galvanizes "Change It," an environmental composition in 6/8 meter. The standout drum feature, however, is "Where Ya Gonna Go" with Pederson. There's an interesting polyrhythmic interlude which goes in some unexpected directions. Pederson gets looser, freer, and busier as the song progresses, never losing the rock groove. Pugach establishes the feel of "Come a Long Way," more of a soulful R&B ballad.
Sonica is not enough of a good thing. It's stirring and beautiful music, but, at only 31 minutes, there's plenty of room left on the disc for more vocal exploration and solo features for Zuraitis's and Adamy's talents on keyboard and bass.
* * *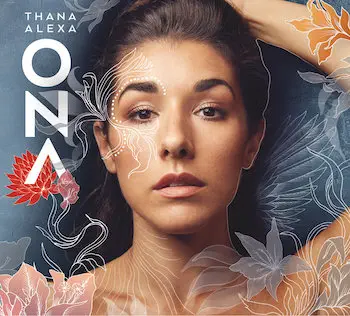 Sonica has its own style and texture, but in some ways it sounds like a spin-off from Alexa's 2020 album ONA. Like Sonica, ONA is a celebration of the power of being a woman. But it's more personal: Alexa's lyrics pay tribute to the influential women in her life, and she goes deeper into her own motivating spirit.
Musically, ONA is the stronger record. Of course it doesn't have the additional vocalists, but Alexa compensates with extensive multitracking. What sets ONA apart are its more ambitious compositions and arrangements. It's tempting here to suggest an influence from the Pat Metheny Group via Sánchez, but it's just as likely that Alexa and Sánchez share independent musical tastes for sweeping, grand compositions that modulate, build, and tell a story along the way.
An illuminating example is "Pachamama," featuring Regina Carter on violin. At over 11 minutes (a full third of the entire playing time of Sonica), there's time for the song to dig roots and grow from them. The shifts in textures and rhythms establish their own narrative parallel to the lyrics. The reverb and vocal overdubs generate colors that complement the sound of Carter's blues-based violin solo (also a sign of artful production and sound engineering). There is some direct wordless exchange between Alexa and Carter in the end, revealing Alexa's unique approach to wordless improvisation — it's very free, personal, rhythmic, and almost Middle Eastern in places. She's going for an international, genre-free sound, although loosely within a jazz context. Sonica would have profited from more of this kind of wildly expressive freedom.
The title track is a whirlwind opener, with Alexa joined by Rosa, an all-female international vocal group that sings in the style of nontempered Serbian music (they sound much like the gorgeous Le Mystère des Voix Bulgares). Alexa declares her feminist sentiments with conviction, and Sánchez lays down some tribal grooving drums. Alexa has a growling, primal, shouting scat solo (we have come a long way from Ella Fitzgerald). Like "Pachamama" and other tracks on this excellent and gripping album, the tension builds and releases as the music tells its global tale. In addition to the Serbian sounds of Rosa, "ONA" blends in the classic American vocals of Sonica's Zuraitis and the Latin sounds of Claudia Acuña. Domestic arrangements aside, Sánchez is the perfect drummer for this kind of flexible, international, and hard-hitting epic music. Alexa writes in the liner notes, "ONA is the musical expression of what being a woman means to me. It is my discovery of the wild woman spirit within me and the experiences I've encountered in setting her free." You can hear all of that here.
The sole cover on the album is Tears for Fears' "Everybody Wants to Rule the World," which we might as well go ahead and tentatively call a standard given that it's been covered in any number of genres and styles (the best is on a North Carolina hammered dulcimer). Its melodic richness and earworm hook offer real substance for creative musicians, and Alexa finds rhythmic and harmonic variety in the song's nooks and crannies. Sánchez rocks out and shifts into different time signatures on a dime. It's recommended for headphone listening to fully appreciate the effective use of stereo and the shifting sound stage.
ONA invites more attention than I have space for here, but I need to at least mention the lovely vocal and piano duet with Carmen Staaf, and its haunting lyrics of death and rebirth, on "Set Free"; the Joni Mitchell feel on "You Taught Me" that ends with some passionate bashing from Sánchez; the breath percussion, Asian-style vocal improvising, and wide-open approach to multiple genres on "Teardrop"; and "He Said She Said" with Becca Stevens on vocals and ukulele, adding yet another color with a Kate-Bush-on-the-islands vibe.
* * *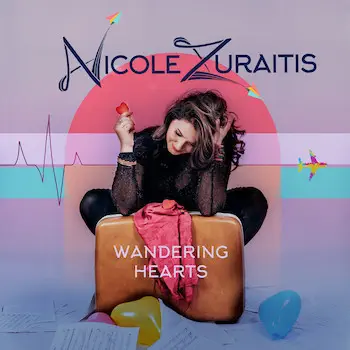 One of the three singers on Sonica is Nicole Zuraitis. Her album Wandering Hearts has a confusing history: it was originally released as All Wandering Hearts in 2020, and now it's been rereleased in June 2022 with two additional tracks, a slightly different album cover, and a subtle title change to Wandering Hearts. (Remember, the one with "All" in the title is the one with fewer tracks. Go figure.) In any case, the rerelease is an excuse to reconsider the album in light of Zuraitis's membership in Sonica.
Wandering Hearts is a much more conventional record than Sonica or ONA. It's a piano and vocal album with strings and straightforward arrangements. It's marketed as jazz, but it has an adult contemporary pop sensibility. Several of the tracks wouldn't sound out of place on a Bruce Hornsby playlist from Pandora (this is a compliment). The music is lush and full, and Zuraitis sings with strength, breath, and conviction. She plays a mean piano, too.
The crew behind Wandering Hearts includes Rhodes-and-organ wiz Carmen Staaf (who appears on ONA), guitarist Idan Morim, bassist Alex Busby Smith, and drummer Dan Pugach (who appears on Sonica). Zuraitis clearly knows how to pick her bandmates. They expertly navigate her style, which structures tracks to build methodically and then resolve with a peaceful coda. This is something she has in common with Alexa, although ONA does this with more unpredictable flair and variety.
The diverse covers are the strongest tracks. Zuraitis irons out the jitteriness of "I Would Die 4 U" (by U Know Who), making it sound more affectionate and less desperate. Harmonies are stacked up on top of the one-note percussive rap section, which gives it more dimension.
"What a Wonderful World" is different from Pops's version, done here with mostly vocals and piano. Zuraitis foregoes sentimentality in favor of exploring the harmonies waiting in the chord changes, highlighting the transitions from section to section. It's a fine introduction to Zuraitis's creative approach to the piano. "Lullabye" is another strong example of her keyboard and vocal chops because she indulges in a more traditional (close to classical) approach. It's a little strong and loud for a baby's lullaby in this version, but it's a lovely composition that deserves covers of its own.
George Michael's hit "Father Figure" seems an odd choice coming from a female voice. Zuraitis thankfully removes all the breathy schmaltz of the original. The guitar breaks and solo are delivered with a kind of Indian sitar scale. It's interesting, but doesn't seem to fit the style or character of the rest of the song. This kind of international genre-mashing sounds organic on ONA but sounds more like a contrived novelty here.
One of the new tracks on the rereleased album is John Prine's "Angel from Montgomery," famously covered by Bonnie Raitt, which Zuraitis tackles solo with a Christina Aguilerian blues vibe. It calls attention to the similarities between some of Zuraitis's and Raitt's shared vocal mannerisms (again, this is a compliment).
While not strongly recommended listening (like Sonica) or essential listening (like ONA), Wandering Hearts is a fine record that displays what a well-trained voice and accomplished piano technique can do, via a wide variety of originals and covers on the border between jazz and adult contemporary music.
Keep your ears tuned for what this extended family of musicians in the Alexa/Sánchez orbit does next — they're creating inspiring and engaging music across multiple musical boundaries.
---
Allen Michie works in higher education administration in Austin, Texas. He's the manager of the Miles Davis Discussion Group on Facebook.