By Betsy Sherman
With gorgeous, vivid stop-motion animation overseen by co-director Mark Gustafson, this inspired collaborative effort carves its own lane among the many adaptations of the oft-told story.
Guillermo del Toro's Pinocchio – Directed by Guillermo del Toro and Mark Gustafson. Playing at the Coolidge Corner Theatre, Brookline, Landmark Kendall Square, Cambridge. Streams on Netflix starting Dec. 9.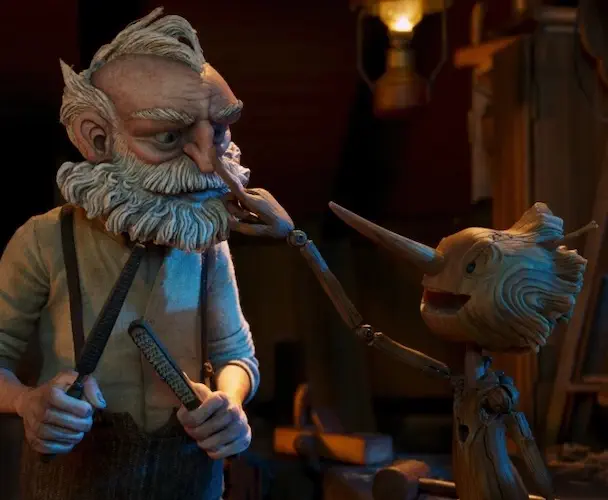 Geppetto, addled by grief and very drunk, tries to carve a likeness of his son Carlo, who was killed by an aerial bomber at age ten. He cobbles together a gangly wooden marionette, with nails sticking out of its back, only one ear, and a face that looks more like a jack o' lantern than Carlo's photo.
No, this is not exactly the Pinocchio we grew up with.
Situated in a mid-range between the sweetness of Walt Disney's 1940 animated version (I haven't yet seen its live-action remake) and the startling tartness of the 1883 Carlo Collodi novel that started it all, Guillermo del Toro's Pinocchio mixes light and dark, aesthetically and narratively, to reimagine the familiar, resonant tale of a lonely woodcarver and a marionette with the ability to walk and talk. With gorgeous, vivid stop-motion animation overseen by co-director Mark Gustafson, this inspired collaborative effort carves its own lane among the many adaptations of the oft-told story.
A musical comic-drama that at times brushes up against the horror genre, GDT's Pinocchio ambitiously weaves together three themes: the relationship between imperfect fathers and imperfect sons; mortality, with a pondering on what lives on after death; and, as befits a portrait of one of fiction's most famous liars, the importance of the truth and a timely caution against demagogic leaders and their manipulations.
Del Toro, the creator of The Shape of Water, Pan's Labyrinth and Hellboy, among many other movie, TV, and book projects, is known for reveling in the macabre and for his deep affection for classic movie and fairy tale monsters. Using all the tools that go into making movies magic, he immerses viewers in a world where the outrageous feels real. While the use of some computer-generated imagery is inescapable, del Toro prizes non-digital, practical effects, and he began dabbling with stop-motion animation in his childhood.
Del Toro and his co-writers — Patrick McHale for the screenplay and Matthew Robbins for the story — retain the setting of Collodi's land, Italy, but the time frame has been bumped up into the 20th century, during the reign of Benito Mussolini and the fascists (in this way, GDT's Pinocchio can be seen as a spiritual successor to the director's condemnations of Franco's Spain, The Devil's Backbone and Pan's Labyrinth).
The filmmakers have created a prologue back-story for Geppetto. It depicts the woodcarver as a widower raising Carlo during the years of World War I, passing on his knowledge of and respect for nature. As Geppetto is working on a magnificent, large-scale sculpture of Jesus on the cross, an enemy bomb hits the church and Carlo is killed. The bereaved father is inconsolable. He takes to drink. Years go by.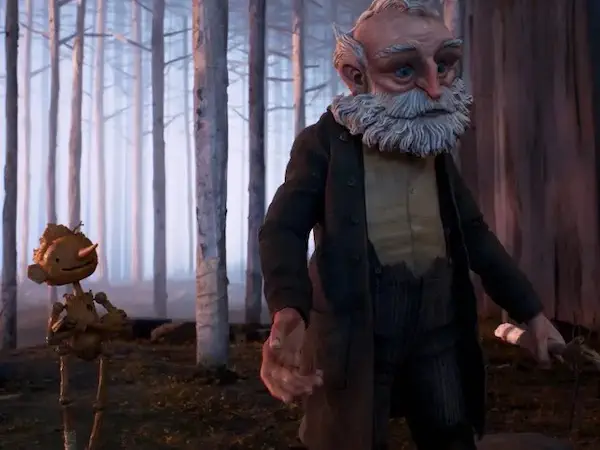 The main story commences with the arrival of our narrator, Sebastian J. Cricket (the wise cricket character made only a few appearances in the book — mostly as a ghost, since Pinocchio squashes him in his first scene — but became the wooden boy's "conscience" in the Disney film as Jiminy Cricket). The erudite, mustachio'd bug is an aspiring novelist whose home is in the pine tree used by Geppetto to make the puppet.
GDT's Pinocchio eliminates some familiar characters and embellishes others. The Blue Fairy (who arrived after "the wish upon a star' number in the Disney film) is called the Wood Sprite here and is doubled: she's given a sister, Death (more about her later). This benevolent, floating blue creature has a mask-like face, inscrutable eyes, and glowing fingers. "May you rise with the sun and walk the earth," she tells the wide-eyed puppet.
The next morning, Geppetto is shocked at the "sorcery" that has animated the puppet into a cheerful, rambunctious boy-thing who now calls him "Papa." This reaction anticipates that of the churchgoing townspeople who call Pinocchio a demon (Geppetto soon comes around to cherishing Pinocchio). All parties are down-right freaked out to see that, when Pinocchio lies, his pointed nose grows, branches out, and sprouts leaves.
The traditional story's villains have been condensed, with the swindlers Fox and Cat and the carnival showman melded into Count Volpe (fox in Italian). Volpe is sure that the string-less puppet will bring him fame and fortune. He offers Pinocchio the star spot in his marionette show. Pinocchio loves the attention he gets on stage and signs a contract. When Geppetto comes around to fetch his wayward creation, Volpe intimidates him with the contract. Pinocchio eventually runs away to join Volpe's carnival, not from vanity but from his belief that he can protect Geppetto from legal action and work off the debt.
During his adventures, Pinocchio has multiple rendezvous with the Wood Sprite's sister Death, as he's transported from the world of the living to the limbo over which she rules. Death is a Sphinx-like blue creature who shares the Sprite's mask-like face and mysterious eyes. She bluntly explains to the puppet that his form of life, which is renewable, is different from human life. In human life, death is final, and that's what makes it so precious.
The movie has another antagonist, the square-jawed, black-shirted Podestà (a position defined as head of municipal administration). In the 1910s prologue, he was a blacksmith. Now it's the 1930s, and he represents the regime. The fascists pull the strings, so to speak, of the populace, including the priest. Il Duce's face, and the fascist slogan Credere Obbedire Combattere (believe, obey, fight) are stenciled on walls. In the animated puppet who cannot die Podestà sees the possibility for manufactured super-soldiers. In the meantime, he has no compunction about preparing real boys, including his son Candlewick, for war.
Pinocchio ends up in Podestà's youth camp after he uses his marionette-theater performance for Il Duce as a chance to ridicule the leader, and by doing so disgraces Volpe. In the book, boys are used as raw material to turn into work-donkeys. At the camp they will be turned into obedient cannon fodder.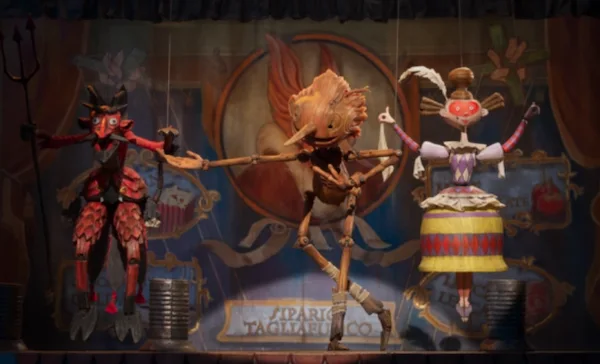 Meanwhile Geppetto and Sebastian have been trekking from town to town on the heels of Count Volpe's company, seeking to rescue Pinocchio from the scoundrel. But after the ship they're in lands them in the belly of the monstrous Dogfish, it will be up to Pinocchio to rescue them, a sequence which unfolds in spectacular fashion.
The technical execution of the story is visually and aurally marvelous. The set design anchors the story in realism and the lighting adds drama (it's especially striking at the fascist youth camp). The character design is imaginative yet fits in with established archetypes (there are some formidable beards and hairstyles), and elements like textiles and accessories feel authentic to the period. The fantasy figures are as multi-layered as we've come to expect from a del Toro production. And it's significant that we get a "naked" Pinocchio, no clothing, his wood grain always visible, the back of his head revealing a stump. It's a constant reminder that he's been plucked from nature. It also links him with Geppetto's Christ carving (the puppet says to Geppetto, we're both made of wood, why do they like him and not me?).
The voice cast was well-chosen, and they don't disappoint. Gregory Mann was a great discovery for Pinocchio. His exuberance conveys Pinocchio's essential innocence, and he sings beautifully (doing little yodels in the comic Everything Is New to Me, giving poignancy to Ciao Papa). David Bradley is fine as Geppetto, Ewan McGregor has fun as the initially pompous cricket, Tilda Swinton is affecting as both the Wood Sprite and Death, and del Toro regular Ron Perlman pulls off a smoothly intimidating Podestà. Plus there's a high-energy Christophe Waltz, who commits with gusto to whatever type of accent he's doing as Count Volpe. And, fresh off of del Toro's Nightmare Alley, there's Cate Blanchett, who provides monkey noises for Spazzatura, Volpe's non-speaking lackey.
Alexandre Desplat has composed a lush, Italian-tinged score; however, the musical's songs are its least impressive aspect. Stick around for the end credits, though, when Sebastian Cricket gets a top-hat 'n' cane song 'n' dance number.
Another very del Torian aspect to GDT's Pinocchio is that there's no requirement, or even a wish, that the title character should become a flesh-and-blood child. Whatever material he's made of, Pinocchio is quite capable of understanding and tenderness. Maybe even more so than us meat puppets.
Arts Fuse review of Disney's new live-action Pinocchio.
---
Betsy Sherman has written about movies, old and new, for the Boston Globe, Boston Phoenix, and Improper Bostonian, among others. She holds a degree in archives management from Simmons Graduate School of Library and Information Science. When she grows up, she wants to be Barbara Stanwyck.