By Paul Robicheau
The Smile grew in stature at Roadrunner on Wednesday, the second date of its first US tour. It didn't take long for the band to flash shades of Radiohead-like intensity.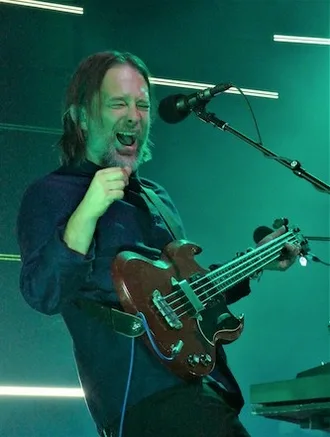 Sure, Radiohead ruled as one of the best live bands of the past quarter century, but its side projects have seemed relatively inconsequential. Front man Thom Yorke comes closest with his solo endeavors, though he tends to indulge in electronics more than rock. But in teaming with guitar mate Jonny Greenwood — Radiohead's other prime lightning rod and a soundtrack savant — plus drummer Tom Skinner from UK jazz outfit Sons of Kemet, Yorke found new breadth and vigor in the Smile.
The trio's recent debut A Light for Attracting Attention seemed intriguing enough, but the Smile grew in stature at Roadrunner on Wednesday, the second date of its first US tour. It didn't take long for the band to flash shades of Radiohead-like intensity. After Yorke sang at an upright piano for subdued opener "Pana-Vision," he shifted to bass opposite Greenwood's throttled guitar and Skinner's propulsive beat-stitch to make "Thin Thing" a kinetic force, matching the flow of horizontal lines that blinked along the backdrop, in another echo of the Radiohead experience.
That English quintet tapped minimalism as an aesthetic, so perhaps it's not surprising that Yorke and Greenwood are thriving in a stripped-down trio that melds texture and power. To make it work as a three-piece, the two took turns on guitar and bass. In fact, each had some of their best moments on bass, from Yorke's elastic counterpoint in the Afrobeat-tinged "The Opposite" (which evoked both Talking Heads' Remain in Light and King Crimson's Discipline) to Greenwood's ballsy chords and high fretwork on set-closer "You Will Never Work Again in Television," a post-punk basher that took aim at perverts.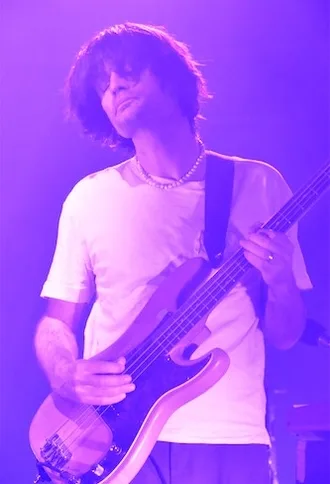 Yorke donned an acoustic guitar for the haunting ballad "Free in the Knowledge" (where Greenwood moved from piano to a bowed bass guitar) and Skinner lent wooshing synthesizer effects to "The Same," while Yorke pleadingly sang "People in the streets, please, we all want the same. Please, we are all the same."
Despite the somber, even grim tone of many songs, Yorke was clearly feeling loose. At one point, he tentatively brought up politics. "Democracy is something you can just, uh, if you want to," he said before sharply criticizing his government for Brexit. Otherwise, the 100-minute show was tightly hinged on evocative music.
All three musicians played keyboards to start "Open the Floodgates," its Stateside debut, ensuring that all 13 tracks on A Light for Attracting Attention made the set. The Smile also impressed with five new songs, notably "Bodies Laughing" (where Yorke waved a Strat in tasteful touch-guitar feedback) and "Colours Fly," with Robert Stillman (who opened the night with solo soundscapes) on bass clarinet, capping an abstract jam that could have floated in from Genesis's The Lamb Lies Down on Broadway. The Smile not only gave Yorke a rock-slanted vehicle to scratch his itch for ambient electronics but to revel in snatches of post-punk and prog-rock as well.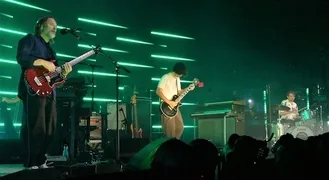 After a low-key start, the encore roared to a close with back-to-back songs (the last being Yorke's "Feeling Pulled Apart by Horses," which began as a Radiohead tune) where Greenwood dispensed with his lattice picking to briefly dig into old-fashioned guitar solos on a Les Paul. Radiohead quietly disappeared after a 2018 tour that included two nights at TD Garden and may resurface some day. But until that happens, the Smile's stunning show at a sold-out Roadrunner introduced an offshoot that can offer a fine alternative to scratch that itch for fans.
---
Paul Robicheau served more than 20 years as contributing editor for music at the Improper Bostonian in addition to writing and photography for the Boston Globe, Rolling Stone, and many other publications. He was also the founding arts editor of Boston Metro.