By Tim Jackson
Crucially, Blonde lacks a sense of joy. As Marilyn Monroe crumbles into an alcohol and drug haze, this expressionistic version of her life disintegrates into a succession of discomforting, sometimes laughable, scenarios.
Blonde, directed by Andrew Dominik. Screening at Kendall Square Cinema. Premiering on Netflix on September 28.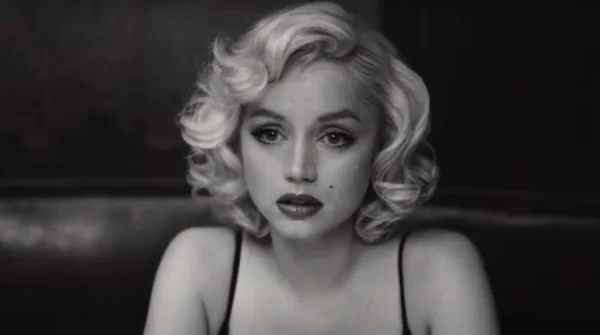 Blonde, the new Netflix movie, directed by Andrew Dominik (Killing Them Softly), hews to the spirit of Joyce Carol Oates's 2000 novel of the same name. The book, considered by some critics to be the writer's best, is classified as a work of biographical fiction. Like Oates, Dominik's film freely reimagines the life of Norma Jeane Baker/Marilyn Monroe: he gives us a psychological meta-profile peppered with facts from her life. The director takes some of the novel's darker moments and whips them up into fever dreams, his at times frenzied facsimile of the actress's interior life limns her tragic fate, from age 8 to her death at the age 36. So, this is an 'art film' with a running time of two hours and forty-five minutes. It is a risky move for Netflix. Will cable audiences be appalled, fascinated, bored, or laugh at the film's more outlandish conceits is anyone's guess. My advice: Blonde is best appreciated on the big screen.
An earlier, two-episode mini-series version of Oates's 750-page novel, directed by Joyce Chopra, was released in 2001. Also titled, Blonde, that version faithfully followed the book's storyline, blending fact and fancy. Dominik goes deeper into the novel's grim psychology, and he does so with art house bravura. His techniques include using shifting aspect ratios: 4:3 (essentially square) to 16:9 (widescreen). Some of the film is shot in rich black and white, but there are bursts of technicolor. Fantasy sequences and poetic asides echo the stream-of-consciousness diversions of Oates's narrative style. What is 'real' or imagined blur, just as they did for Monroe herself. For her, life often ­was a performance on an unreal stage.
Baptized as Norma Jeane Mortenson, she took her grandmother's surname. The studio added Marilyn, an appellation the actress was not fond of. Her mother was institutionalized after attempting to drown the child (in the novel, it was by scalding her to death). Though this act may have been at the root of her trauma, Marilyn regularly visited her mother for years, even though the woman rarely acknowledged her daughter's success. Marilyn's father became, in her mind, a near-mythical figure; she received rambling letters and admonishments from him about her licentious screen performance. The search for an approving father figure became a dominant feature of her life. At least the marriages to the older Joe DiMaggio and Arthur Miller could be seen as attempts to find a father. Did she really call them "Daddy'? Her disconnect with DiMaggio (Bobby Cannavale) is emphasized early in the film, during an early date and dinner scene. The meeting is dramatized through single close-ups; they are visually isolated. His priggish attitude toward her sexual image on screen erupts in violence. She fares better with Miller (Adrian Brody), who she meets during her escape to New York to study Method Acting under Lee Strasberg. Later there is an alleged affair with John Kennedy that the film depicts in repellent detail.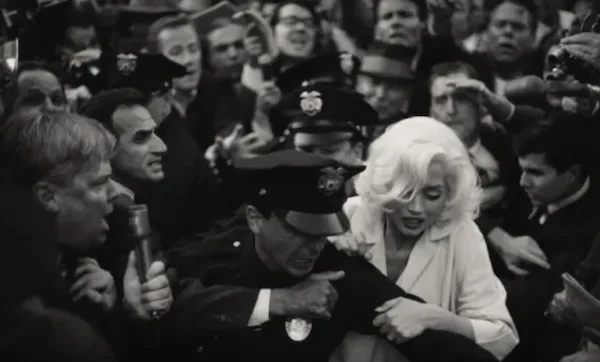 We see how movies, at first, were a means of escape from Monroe's difficult childhood. After early stints as a pin-up girl and a nude photo session, acting became an all-or-nothing way for her to prove her own worth. She could completely abandon herself in a role. We see her audition for the role of a psychotic babysitter in Don't Come Knocking (1952) in front of a group of scowling and cynical men. Her performance leaves them unsettled, but their only comments are about the shape of her ass. Already Hollywood regarded her as a piece of meat. The next year, for the noir film, Niagara, second billed to Joseph Cotton and Jean Peters, Monroe played a scheming libidinous wife with a sexually dysfunctional husband. It was Marilyn who captivated audiences, making good on the screaming ad copy: "Flaunting her charms as she lured men on and on to their eternal destruction." As her fame grew, Monroe became increasingly insecure about both her acting skills and her studio-bred persona as a "dumb blonde." It often took her many takes and /or temper tantrums to get through filming a scene. In the end, her stardom and mental illness consumed her both professionally and personally.
Blonde grows increasingly expressionistic as Marilyn drifts further and further from reality. She had been an unwanted child and was desperate to have kids. She was emotionally devastated by an abortion and later by a miscarriage. Dominik makes this struggle quite visceral: there are images of embryos in vitro, including a shot through an imaginary birth canal. At one point, via what can only be described as a 'toilet cam' point of view, we witness her vomiting from an overdose. Questionable excesses such as this risk alienating the audience. No spoilers here: suffice to say that the NC-17 rating makes sense given the liberties taken to depict Monroe's sexual behavior.
There are many contradictory interpretations of Monroe's place in the popular imagination, from feminist idol to pathetic victim. Crucially, Dominick's Blonde lacks a sense of joy. As Monroe crumbles into an alcohol and drug haze, the film disintegrates into a succession of discomforting, sometimes laughable, scenarios. The focus on the actress's degradation is sure to be controversial. What can not be challenged is Ana de Armas's excellent performance as Monroe. The actress is on screen nearly the entire time and her resemblance to the legendary star (assisted by a custom wig and hours of daily make-up sessions) is remarkable. The role requires her to penetrate Monroe's bedeviled psyche along with the woman's struggles with her oversized persona; de Armas has to navigate between Monroe's crippling insecurity and her absorption into Hollywood fantasy. Physically and vocally, de Armas clings to a balanced essence of the star, even as the film (and Monroe herself) slip off the rails.
---
Tim Jackson was an assistant professor of Digital Film and Video for 20 years. His music career in Boston began in the 1970s and includes some 20 groups, recordings, national and international tours, and contributions to film soundtracks. He studied theater and English as an undergraduate, and has also worked helter skelter as an actor and member of SAG and AFTRA since the 1980s. He has directed three feature documentaries: Chaos and Order: Making American Theater about the American Repertory Theater; Radical Jesters, which profiles the practices of 11 interventionist artists and agit-prop performance groups; When Things Go Wrong: The Robin Lane Story, and the short film The American Gurner. He is a member of the Boston Society of Film Critics. You can read more of his work on his blog.