By Jon Garelick
Such a beautiful evening of music — two relatively concise sets, one an hour long, another a little less — adding up to an integral whole.
Sometimes we identify great music as being "indescribable," simply for emphasis — as in "indescribably delicious." But sometimes the term can be quite literal: one grasps for comparisons, for genre references, familiar forms and structures. In the end we're left with something indescribably delicious: "Whoa, that was great, what was that?"
Two remarkably well-matched trios playing at Virtuosity Musical Instruments in Boston on July 20 left me feeling just that elated and at a loss. Such a beautiful evening of music — two relatively concise sets, one an hour long, another a little less — adding up to an integral whole.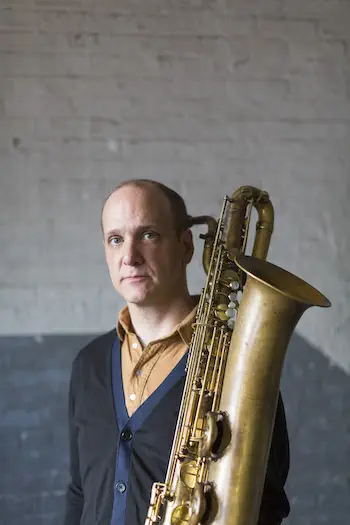 The trio of pianist Jed Wilson, drummer Tony Falco, and baritone saxophonist Josh Sinton, who "doubles" on bass clarinet and, more recently, flute, met decades ago at New England Conservatory. Though they've played together in different configurations over the years, they came together for the first time as a band to record Adumbrations, released on June 3.
Falco was also the lynchpin for Growing Season, a trio with tenor saxophonist Nathan Blehar and Jeremy Udden on alto and Lyricon.
The music was familiar, but easy signifiers went out the window. No standard swing rhythms or steady grooves, no familiar 16- or 32-bar song forms, no 12-bar blues, though Sinton's set did hint at the blues and even a bit of funky jazz swing. What to call it then? The closest I would come is that this was chamber-group free jazz. "Chamber" because, except for the Lyricon, these were acoustic instruments, and the music was relatively "quiet." In fact, there were no microphones on stage for any of the instruments.
Both bands hewed to a small-scale aesthetic. The emphasis wasn't on bravura solos (though there was plenty of wonderful soloing), but on a collective endeavor: an attempt to create form and "compositions" spontaneously through collective improvisation.
Growing Season was up first and established the musical approach that would carry through the evening: the quiet, patient development of musical ideas, offered by one player then commented on and added to by the others.
Their opening tune was typical — Udden began with unaccompanied alto, working out simple melodic ideas, joined by drums, and then, after a good five minutes or so, Blehar's tenor, in what seemed a carefully worked out passage of counterpoint. Later, Udden told me in an email that, like the rest of the set, it was spontaneously improvised. Falco, meanwhile, lightened the texture by moving from sticks to brushes.
The second tune began with dry drums — snares off — Falco working some irresistible "free" patterns. Blehar soloed with some hefty-lined tenor, and Udden came in with some single-note or short-phrase assents. Then the horns switched roles: Udden soloing with Blehar "comping."
The music was lyrical and carefully balanced, and Falco — here as in Sinton's trio — showed how the timbre of each drum and cymbal in his kit added up to more than beats, as he mixed up sounds and patterns in short and long phrases with brushes, mallets, and sticks, all with an unmistakable pulse. Listening, it was impossible not to move — a head bob or a tapping foot, if not rise-up-and-shout testifying.
Even with all this perfect saxophone-and-drums music, Udden's Lyricon took the music to another space. The instrument is like an end-blown metal flute, and in this case it was attached to a box of electronics on the floor. Udden blew phrases, then created loops and set aloft a sound that seemed a mix of organ tones, Moog, and Theremin. (In his email, Udden told me that he was in fact "triggering a Moog synth and a few delays and filters" from his effects box.)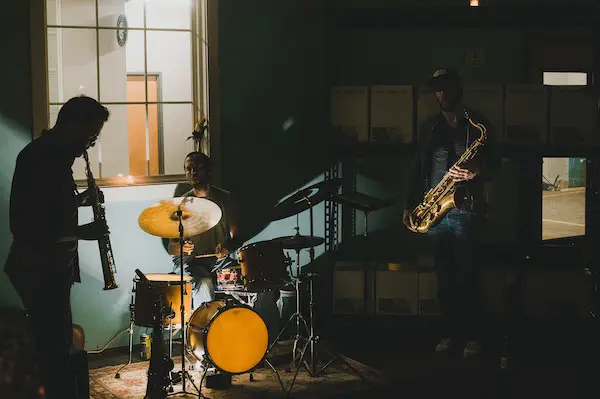 Once a Lyricon ostinato was set in motion, Udden, seated, was free to pick up his alto and continue his horn conversation with Blehar and Falco. Alto and tenor came to a unison statement, the music becoming its most declamatory (Falco on mallets now). It then quieted down and faded, the last sound being the Lyricon's electronics, prodded by Udden, blipping and bleeping quietly, like a small, happy animal. I'd venture to say a sea creature, part of the burbling sub-aquatic ambience.
Sinton, Wilson, and Falco, unlike Growing Season, hit their set running, full-on: baritone, piano, and drums kicking off the first note simultaneously, and Wilson in particular reeling off chords and single-note lines as if heedless. But it was clear from the get-go that everyone was indeed paying heed, attentive to the bump and flow of the music, and when Sinton offered the surprise of a displaced rhythm or cadence, I found myself saying "Yeah" and, a moment later, chuckling. The design was revealed by the disruption. The figure in the carpet.
Like the "yeah" and the laugh, I felt a lot of appreciative, involuntary "unhs" rising up out of me — a sensation familiar to many jazz fans. Sinton moved from bari to flute to bass clarinet, Falco in one passage accompanying him by playing bare-handed. There were breaks for piano interludes, a drum solo, phrases with the logic of songs, questioning and answering each other. For one bit, the band, encouraged by Sinton, drifted into some old-school jazz-funk (I mean boogie-woogie old school). But even when drawing on that common reference point, the players would go out of tempo, the harmonies become unmoored. The set ended with a Sinton bass clarinet melody diving into deep, guttural phrases and then slowly fading on a breath.
Adumbrations is part of a busy season for Sinton. His baritone sax record of Steve Lacy etudes, Book of H Practitioners, is due August 12; his quartet Predicate — with trumpeter Jonathan Finlayson, cellist Christopher Hoffman, and drummer Tom Rainey — will release 4 freedoms on October 28. (Growing Season has recorded an album it expects to release in the fall.)
Adumbrations is both more "out" and more "in" than the Virtuosity show. There's some hefty squalling at points, but also some gently conceived tunes and grooves, and at least one lovely improvised chord progression from Wilson. Anyway, it's clear that no two performances by this trio — or for that matter, Growing Season —will ever be alike.
---
Jon Garelick is a member of the Boston Globe editorial board. A former arts editor at the Boston Phoenix, he writes frequently about jazz for the Globe, Arts Fuse, and other publications.