By Paul Robicheau
The Newport Folk Festival's biggest secrets were cleanly hidden and tightly executed with the day-capping revelations of Paul Simon and Joni Mitchell.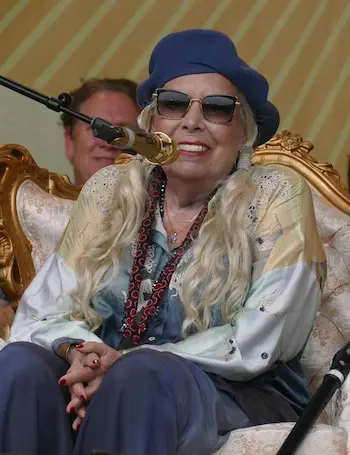 "Did the world just stop? Did everything that was wrong with it just go away?" Brandi Carlile asked the congregation at Sunday's surprise finale of the Newport Folk Festival. Not quite, but everybody who had just heard Joni Mitchell sing "Both Sides Now" at her first full concert in more than two decades understood the feeling — and the awe, as reverberations quickly spread through social media.
Any other year, the buzz would be about Paul Simon taking a rare detour from his 2018 retirement from touring, emerging to lead the last four songs of Saturday's all-star tribute to his music led by Nathaniel Rateliff & the Night Sweats. But for Mitchell to not only show up at Newport for the first time since 1969 but to sing lead on three songs (in a deeper register) and play another on guitar, which she relearned via online videos after a 2015 brain aneurysm, transcended dreams.
For its first full-capacity event in three years, the Newport Folk Festival navigated hot weather and dodged a few late-hour artist cancellations with shuffled sets and all-star song swaps. One was aptly dubbed Clusterfolk, sporting such unbilled guests as Natalie Merchant (sounding wonderful on her "Carnival" and "Kind & Generous"), Lukas Nelson (channeling Neil Young's "Tell Me Why"), and the Hold Steady's Craig Finn, who cracked "I thought I just came to hang out" before a collective run through Nick Lowe's "(What's so Funny 'Bout) Peace, Love and Understanding." But the weekend's biggest secrets were cleanly hidden and tightly executed with the day-capping revelations of Simon and Mitchell.
The twinkle-eyed Carlile, who headlines TD Garden in October, has become a star in her own right, but she relishes her sporadic role as a curator that Newport Folk producer Jay Sweet surely appreciates. She brought Dolly Parton to the Newport stage as part of an all-female set in 2019 and topped herself this year, though the connection with Mitchell was organic and lovingly shepherded. Carlile sought to recreate the vibe of "Joni Jams" that she frequented with fellow admirers like Elton John and Harry Styles at the 78-year-old legend's Bel-Air home.
So, there was Mitchell, holding court next to Carlile in antique easy chairs, flanked by Dawes' Taylor Goldsmith, guitarist Blake Mills, vocal duo Lucius, Allison Russell, Marcus Mumford on percussion, and country scion Wynonna Judd. Mitchell eased in, singing backup as Carlile kicked things off with "Carey" and later, "A Case of You," where Mitchell intoned the key line "I would still be on my feet." When Celisse Henderson took levitating liberties with "Help Me" on vocals and guitar, Mitchell sat back and sipped a drink, but she remained the set's spiritual anchor as a light fog rolled over Fort Adams State Park for an added veil of mystery.
After a group romp through "Big Yellow Taxi," Mitchell rose to take a brave step, leaning against the piano to finger-pick electric guitar for an instrumental "Just Like This Train," her distinctive open-tuned style intact. "I just realized Joni is less nervous than any person up here," said Carlile, who got Mitchell to chat about her favored album Hejira (a tale of "running away from something without blame") to set up "Amelia," sung with Goldsmith over Mills's guitar and sandwiched by takes on Mitchell's favorite oldies "Why Do Fools Fall in Love" and "Love Potion #9."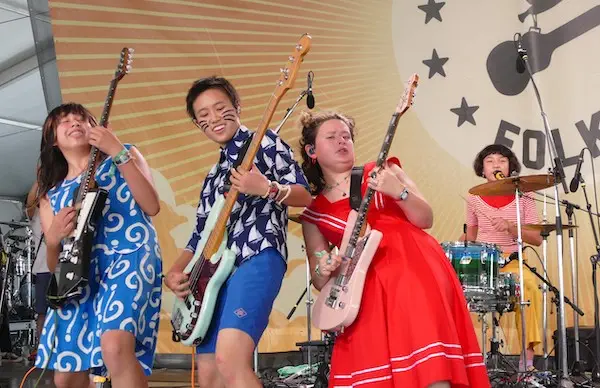 Finally, Carlile asked Mitchell to sing a song by herself. She responded with a slow, gorgeously phrased "Summertime," followed by "Both Sides Now." Carlile put her hand to her heart and pumped her finger in the air to cue a final sing-along that ended with Mitchell's hearty laugh. And like fans in the crowd, Judd and other musicians onstage openly wept. A sing-along of "The Circle Game" brought an ebullient, triumphant finish to Newport's Joni Jam, which Carlile called in her introduction "the greatest honor of my career and maybe even my life."
The day before Joni Mitchell figuratively said "Hold my beer," Paul Simon held a similar position of honor on Saturday. The set, billed as "American Tune," the title of one of his songs, was sailing along on its own, from host Rateliff's opening frolic through "Mother and Child Reunion" with Lucius to a subdued "El Condor Pasa," where the exotic Silk Road Ensemble lent support to singers Merchant and Adia Victoria. Lukas Nelson handled "Homeward Bound" and Marcus Mumford "Cecilia" before Rateliff's crew got the crowd dancing to the percolating African groove of "You Can Call Me Al" from Simon's 1986 album Graceland. Then Simon came aboard for the title track in good voice and spirits with Jerry Douglas as a pedal-steel foil. Rhiannon Giddens arrived with banjo in hand for a duet of "American Tune," and Simon let her sing the entire song in stunning voice, reflecting her heritage in the tweaked lyrics "We didn't come here on the Mayflower, we came on a ship in a blood red moon." At the end, Simon asked for Giddens's hand and raised it in the sign of a champion. Rateliff, Lucius, and Nelson led a larger crew for backup vocals on "The Boxer" before Simon ended with "The Sound of Silence," his voice sounding a tad more weary in a partly spoken solo setting.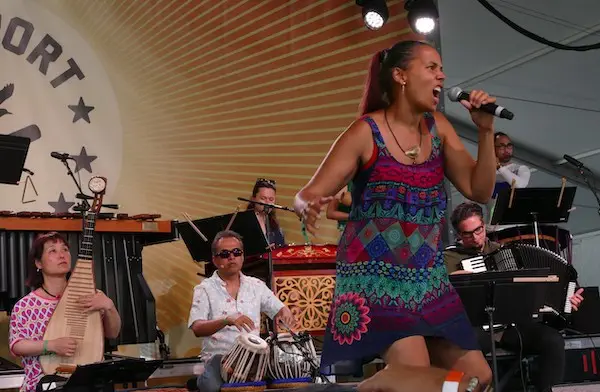 Of course, apart from history made with two unexpected legends, Newport Folk also filled three main stages and two side stages (including a Bike Stage powered by pedaling volunteers) with more than 50 other artists, possibly its most diverse lineup yet.
The festival has long been welcoming to women artists and voices of color, and that was clearly evident again. Newcomers like atmospheric indie-folk singers Cassandra Jenkins and Skullcrusher made impressions alongside returnees Adia Victoria (who tapped banshee blues as her mascara smeared in the heat like Alice Cooper), the playfully introspective Lucy Dacus, and idiosyncratic Valerie June. June took advantage of a technical glitch to target controlling male culture in the wake of losing Roe v. Wade, but later embraced optimism with a cover of "What a Wonderful World." In matching magenta dress, Lucius drafted big-voiced backup vocals from Henderson and Kam Franklin and even brought aboard the guitarists from jam band Goose to help float a cover of "Strawberry Letter 23." Clairo, who famously made her Newport debut as a dancing babysitter for the Decemberists eight years earlier at age 15, proved talented and versatile with her bedroom pop, while Maren Morris shared a taste of her smart arena-ready country-pop tour.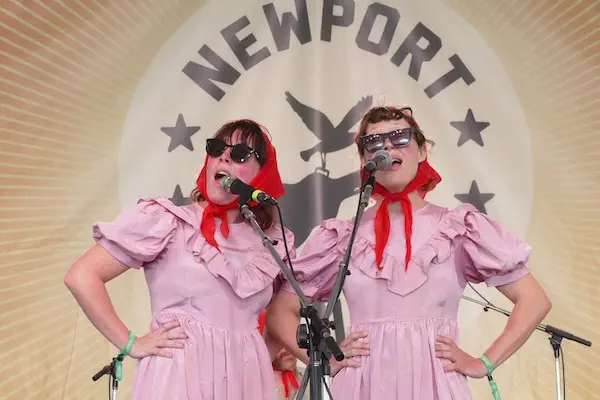 The Black Opry Revue presented spirited belters Autumn Nicholas and bluesman Chris Pierce as well as Buffalo Nichols (his deep voice complementing fingerpicked resonator guitar) and Joy Oladokun, whose own set included a playful shout-out to "pot" where she donned marijuana-leaf sunglasses. And the main stage went from acoustic blues of Taj Mahal (surrounded by several string instruments as he tucked in a sweet "Queen Bee") to smooth soul man Lee Fields, who led his six-piece Expressions in the apt "I Still Got It," making moves in his gold shoes and embroidered suit. Then the Roots pumped up an hour-long medley of songs that flowed from "Jungle Boogie" to Kate Bush's "Running Up That Hill" with their stop-on-dime transitions and show-band aplomb.
But this edition of Newport also spread cultural diversity in more international directions, from the Southwest-styled guitar instruments of Hermanos Gutierrez to the minimalist, mystical vocals of the Berklee-schooled Arooj Aftab, backed by harp and violin. Giddens fronted the captivating Silk Road Ensemble, an orchestra formerly led by Yo-Yo Ma that deftly shifted from Indian poetry to a fiery version of "St. James Infirmary" with world-spanning instruments that included strings, tabla, lute, harp, and accordion. And Ukraine's DakhaBrakha, in towering fur hats, captivated with a sparse blend of polyphonic vocals, synthesizer, cello, accordion, and drum kit. Nodding to the war-torn displacement of his fellow citizens, Marko Halanevych said, "The Ukrainian people dream about home."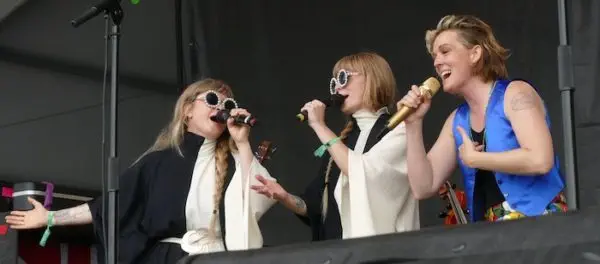 The fest's diverse styles also spanned a Sunday gospel showcase, jammers Goose (which began its set with acoustic guitars), banjo ace Bela Fleck's My Bluegrass Heart (with cameos by fellow virtuosos Douglas and mandolinist Sam Bush), and the cinematic trumpeter Carm, whose French horn iced Simon's "The Boxer." Electropop duo Sylvan Esso pumped up Nick Sanborn's bass-heavy mix behind singer Amelia Meath's aerobic workout on the main stage, but also showcased their Psychic Hotline label with Boston-bred singer Anjimile and Tune-Yards' Merrill Garbus in addition to introducing the A's, where Meath got overly cute with ex-Mountain Man band mate Alexandra Sauser-Monnig, sharing breathy vocals and yodeling in matching sunglasses, red cheeks, and scarfs.
Also promising were lightly psychedelic folk-rockers Bendigo Fletcher, the witty songsmith John Craigie, and animated singer/keyboardist Neal Francis, while a solo Goldsmith replaced the common tag "and friends" with "and strangers," inviting audience members onstage to play drums, bass, and guitar. Things also got loud with the Linda Lindas (four girls from age 11 to 17 who put skill and spirit into traditional punk rock, nodding to pets along the way) and the gristly Dinosaur Jr., joined on "Feel the Pain" by Courtney Barnett, who stressed rock swagger in her own set. "This is the last festival I ever thought we'd ever play," Dinosaur Jr. bassist Lou Barlow chimed.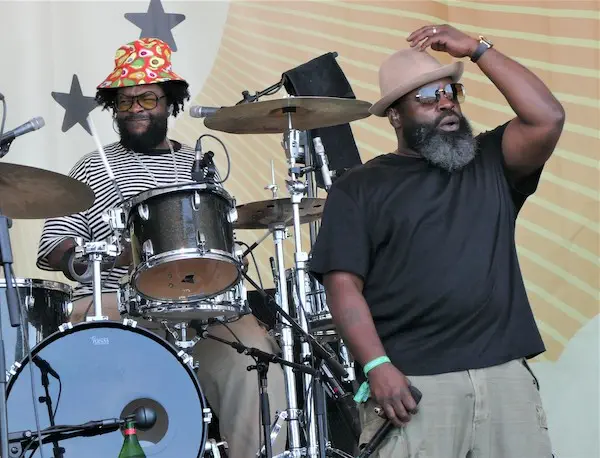 On the other hand, the National dialed back energy for much of its headlining Friday set, debuting slow new songs like the opening "Space Invader" and the texturally weighty "Pink Rabbits," while digging back for nugget "Wasp Nest," Matt Berninger's baritone voice undercut by brittle guitars. But the band also fired up rockers like "Bloodbuzz Ohio" and "Mr. November." Berninger eventually dragged his long mic cord into the crowd, even singing in someone's beach chair.
On Sunday, Carlile's own mini-set was overshadowed by the pending Joni Jam. Her band rocked "Broken Horses" before she brought out Lucius for "You and Me on the Rock" and served steady showstopper "The Joke." But she paused in less than a half hour for the set change after a less-invested solo rendition of "Over the Rainbow." The anticipation was too great. Carlile was already over the moon.
---
Paul Robicheau served more than 20 years as contributing editor for music at the Improper Bostonian in addition to writing and photography for the Boston Globe, Rolling Stone, and many other publications. He was also the founding arts editor of Boston Metro.