By Paul Robicheau
Northlands lacks the infrastructure, diversity, and history of some of New England's finest music fests, but its two-day debut provided a rustic oasis for jam bands.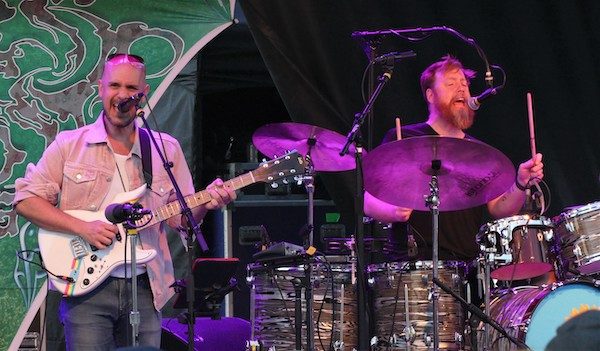 A moment of bliss struck Friday's opening of the inaugural Northlands Music & Arts Festival at sunset, a similar scenario to pandemic drive-in and pod concerts that first graced the sloped field behind Cheshire Fairgrounds in Swanzey, New Hampshire.
Joe Russo's Almost Dead fittingly oozed into the Grateful favorite "Fire on the Mountain," while a torch twirler drew a crowd to the side, completing a moment of synchronicity as the sun faded into orange layers above the tree-line horizon.
Beautiful natural settings are common to New England's finest music fests, from Newport to Green River (happening the same weekend as Northlands) and Solid Sound. Northlands lacks their infrastructure, diversity and history, but its two-day debut provided a rustic oasis for jam bands, like a modest northern cousin to the larger Levitate Music & Arts Festival at Marshfield Fairgrounds on July 8-10.
Sure, there were growing pains in switching the Cheshire Fairgrounds site from a single headliner/stage to a more popular two-stage/two-day event with camping. On Friday, cars took up to 45 minutes to park (as cellphone ticket scanners failed), and the soundboard was positioned a little close to the stages for a few thousand people (with older fans in tie-dye and Grateful Dead shirts among the post-Phish youth) to chaotically squeeze into good spots for JRAD's set. There was still plenty of room beyond that, the crowd flowed well around a VIP pen bridging the two stages, and there were large canopies for shade behind the soundboard. The vibe was chill and friendly.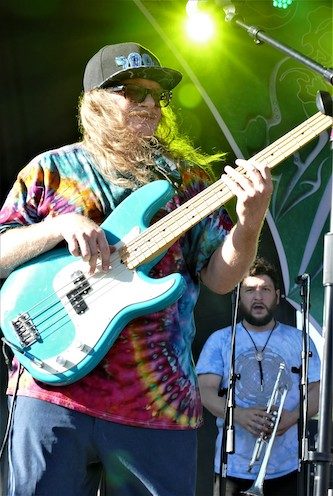 The afternoon warmed up with a newer generation of jammers who shared roots in Boston's Berklee College of Music. Upstart outfit Dogs in a Pile set a relaxed pace that leaned into a jaggy Zappa-esque ensemble fusion while the more established Dopapod highlighted keyboardist Eli Winderman's squiggly Moog sounds and co-vocals with guitarist Rob Compa over a less-busy rhythm section.
The mostly instrumental sextet Lettuce pumped up the funk quotient, balancing tight, interlocking parts with loose jams that spread solo room to its crack rhythm section of bassist Erick "Jesus" Coomes (who's worked with hip-hop icon Dr. Dre) and kinetic drummer Adam Deitch, who was joined at set's end for a percussion break by guest Kenwood Dennard, a Miles Davis and Brand X alumnus who taught Lettuce members at Berklee. Departing from the group's flashy, horn-spiced funk grooves, "Resonate" also favored a harmonic-laced drift that built into Tears for Fears' "Everybody Wants to Rule the World," sung by keyboardist Nigel Hall.
Lotus forged its reputation as an electronic jam band, but while prominent bassist Jesse Miller triggered samples, the group continued to bear down on instrumental grooves with old-school funk and soul flavors. Guitarist Tim Palmieri capped the momentum with riffing rock leads — in addition to an earlier stab at Led Zeppelin's "Dancing Days" with Bluestar Radiation, his side project with moe. bassist/singer Rob Derhak and drummer Vinnie Amico (keeping busy while their band mate Chuck Garvey recovers from a stroke) and keyboardist/singer Nate Wilson.
JRAD bills itself as a Dead cover band, but that shortchanges the improvisational range that drummer Joe Russo's crew brings to that catalog. Unfortunately, for the one-off Northlands gig, the group was down not one but two core members. Jon Shaw capably subbed on bass for Ween's Dave Dreiwitz as he did at Boston's Leader Bank Pavilion last summer. But it's hard to replace the personality and finesse of Marco Benevento on keyboards. Erik Deutsch was judicious with his colorations though they sometimes ran counter to the flow. His boogie-woogie runs didn't fit "Fire on the Mountain," an otherwise sublime 21-minute centerpiece where Scott Metzger and Tom Hamilton traded high-squeezed guitar leads.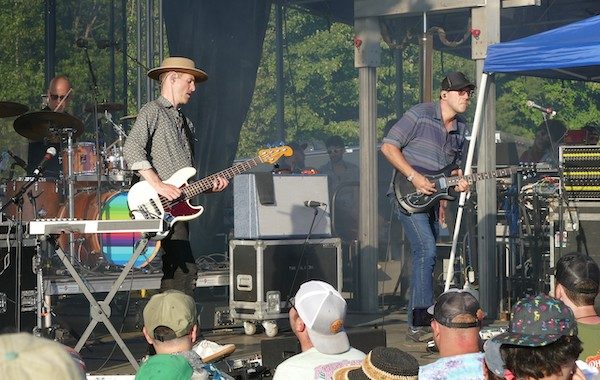 Exploratory jams also graced the builds and drops of "Estimated Prophet" and "Playing in the Band." But perhaps in deference to the comfortability of the night's lineup, the set steered toward the Dead's more straightforward fare, including "Hell in a Bucket," "I Know You Rider" (rough at the edges yet glorious in its a cappella break near the end), "Minglewood Blues," and "Not Fade Away." Yet Hamilton even whipped potential downer "Stella Blue" to an emotive peak. In JRAD's world, the best jams sometimes spring from the most unlikely numbers, and even without its A team, the group proved it wasn't far off its usual mark.
The crowd ate it up and still had a broader Saturday to look forward to, including the reunion of Hayley Jane & the Primates, Pink Talking Fish (fusing the music of Pink Floyd, Talking Heads, and Phish), Melvin Seals Grateful Revue (an all-star gang including Amico, John Kadlecik, and Jennifer Hartswick), Yonder Mountain String Band, and Twiddle. After all that, plenty of those fans will likely move on to Levitate, a Phish tour and, next year, to Northlands, which plans an even bigger return.
---
Paul Robicheau served more than 20 years as contributing editor for music at the Improper Bostonian in addition to writing and photography for the Boston Globe, Rolling Stone, and many other publications. He was also the founding arts editor of Boston Metro.