By Michael Marano
The Black Phone is not just about kids fighting to live. It's about kids fighting to be seen, and in the case of the film's literal ghosts, heard.
The Black Phone directed by Scott Derrickson. At AMC Assembly Row 12 Somerville, The Majestic Watertown, and Apple Cinemas Cambridge.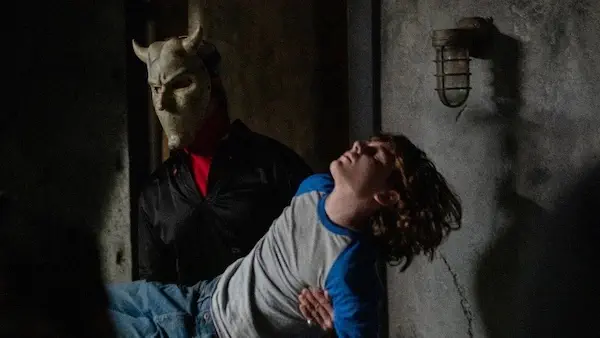 As a Gen X kid, I kind of resented that so much of my youth culture was detritus of a previous generation. American Graffiti. Happy Days. Animal House. Porky's. Grease. I Wanna Hold Your Hand.
Comedies, all. That pushed the idea that being a Boomer kid was fun and liberating, from the start of Ike's presidency to the end of Camelot.
And now Gen X youth culture is being recycled.
The global phenomenon Stranger Things. Andy Muschietti's IT, Chapter 1 and Chapter 2. All the remakes and reboots of Halloween, Texas Chainsaw Massacre, and Black Christmas (remade twice). Scream, which synthesized about 1000 Gen X movies, is the franchise that just won't die.
Horror movies, all. That pushed the notion that being a Gen X kid was damned terrifying, from the Fall of Saigon through the Reagan/Bush junta.
There is no reason in the world that Gen X director Scott Derrickson, born in 1966, went to all the added expense of setting Joe Hill's 2004 short story "The Black Phone," about a kid abducted by a creepy killer called "The Grabber," in 1978. Millions were added to the budget to make the movie amazingly period authentic. There is no reason in the world for Derrickson and his production team to have gone through all that trouble and expense … except to assert a truth — Gen X kids were disposable kids.
Not too far from where I live, 14-year-old Sherri Clark and 13-year-old Alexis Latimer went missing in 1973, snatched by a scumbag I won't name. But the barbarian was much like The Black Phone's The Grabber. The local cops? Wrote them off as runaways. Until their bones were found 10 months later.
Can you imagine the Nancy Grace media meltdown that would have occurred in a later era, if two pretty teen white girls went missing? And if the cops had dismissed their disappearances that way?
Keeping up with the racial angle, how many months did the Atlanta Child Murders go on, before anybody in the media noticed?
In 1980, The Sunset Killers, Doug Clark and Carol Bundy, butchered kids all over L.A. Pee Wee Gaskins hunted kids going on Spring Break with impunity through the '70s. Harve the Hammer killed teens in the Twin Cities in a way that a cursory glance at phone records would have solved in about 15 minutes, if the cops could have been bothered.
Looming over this story about The Grabber, a part-time magician snatching and killing kids, is, of course, the legacy of John Wayne Gacy, the part-time clown who would kidnap and kill 33 kids before anybody noticed and arrested him in 1978.
Contrast all this deafening silence with the coverage of the Boston Strangler, just a few years before. Or the Manson murders.
Derrickson, as a Gen X kid, had to set The Black Phone in 1978 because his take on the Hill story is centered on the invisibility of Gen X kids. The movie features the literal ghosts of Gen X kids, because Gen X kids were born ghosts. And because of that, Gen X kids, and their disposability, still haunt the horror franchises of today.
All this translates to a visceral nastiness in The Black Phone that sets it apart from most horror fare. In terms of tone and execution, the film is nicely stylized and made, but it leaves a taste in your mouth like a Netflix True Crime docuseries that you binge while suffering from insomnia.
I mean that in a good way.
The Black Phone also has a vibe like a fairy tale, with our protagonist kid Finney (Mason Thames) trying to outwit the ogre holding him captive. Ethan Hawke gives an amazingly creepy and understated performance as The Grabber, acting almost entirely behind a series of terrifying masks crafted by Tom Savini that blend the scariest elements of Noh play and commedia dell'arte masks. The Black Phone isn't like most horror movies featuring kids. The movie plays for keeps. The kids from the era of pop tops and toe socks feel truly imperiled. Consider the ease with which Spielberg let that kid on the raft get chomped in Jaws against the certainty you felt that no kid would ever get chomped in a Jurassic Park movie. And the flick embodies a kid's reality, with a sense of powerlessness and the world being too big and scary to deal with like that of the original Invaders from Mars, and a sense of kid rage and isolation like that of — I'm not kidding — The 400 Blows.
The Black Phone is not just about kids fighting to live. It's about kids fighting to be seen, and in the case of the film's literal ghosts, heard. One ghost kid says how one day "you're invisible" but when you're killed "every kid in the state knows your name." Another dead kid says he doesn't want to have died for nothing, that he needs to be remembered. After these kids were killed they have been so objectified that they don't remember who they were.
But throughout all this horror, invisibility, and isolation is a certain sweetness, with kids taking care of each other, because the adults are utter shit at the job.
All this confluence of invisibility and disposability and sweetness and rage makes The Black Phone a true gem of a scarefest. It should appeal to today's kids, who by way of shows and movies like Stranger Things relate to the terrors Gen X faced, particularly given how they are facing the profound terrors of being disposable amid school shootings and politically motivated Covid exposures.
Because, once again, adults are utter shit at the job of taking care of them.
---
Award-winning horror novelist and film critic Michael Marano to this day does not trust adults, even though he himself has been one for a very long time now.