By David D'Arcy 
Three more films of note from this year's Tribeca Film Festival.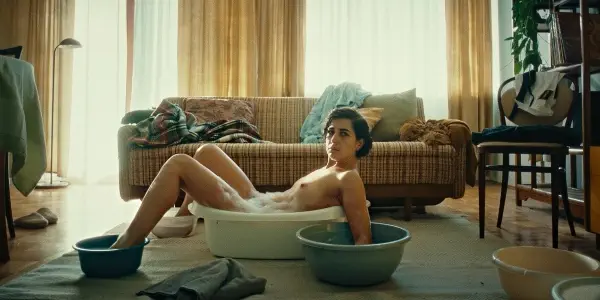 I wrote last week that the best films at the Tribeca Film Festival tended to be documentaries. Then I saw a scripted German film that turned out to be an exception.
It was We Might as Well Be Dead, a comedy and the feature debut of director Natalia Sinelnikova. Watching any German comedy requires some attitude adjustment. And yes, there are German comedies. Does anyone remember 2003's Goodbye Lenin, Wolfgang Becker's nostalgic homage to the everyday aesthetic of East Germany? (The Lives of Others, a grim look back at life under that regime — anything but a comedy — came out three years later.)
We Might as Well Be Dead is set in and around an apartment building at the edge of a forest. We are not told where in Germany this is, but the building looks respectable, if not luxurious, and the grounds are rigorously maintained. There is a numbing feel of propriety.
A dog has disappeared, which puts the residents on alert, and the teenage daughter of the security manager has locked herself in a bathroom. The girl says she's a victim of the "evil eye." These events sound like tempests in a teapot, but they are occurring just as the building management is evaluating new applicants who want to live in the building. For a German audience, anything that involves evaluating applicants to be members of a select group has historical and political overtones.
We see this farce through the eyes of the dutiful Anna, the security manager, who patrols the grounds in uniform. She speaks with an East European accent, like many who work in service jobs in Germany. Overworked, she is committed to finding the dog-napper — and to getting her daughter out of the bathroom. As she goes about this task, we see the predictable response. The residents want order restored and don't trust Anna to do the job. They try to do it themselves — with the weapons at hand. This isn't America, so no guns are involved. Golf clubs and the like are the chosen instruments. People end up looking ridiculous rather than homicidal.
Yet there is a darker undercurrent: Anna and her daughter are foreigners. There's a twist at the end that connects with fears about Germany being overrun by "others" that have set the country on edge in recent years.
Sinelnikova, who is Jewish, emigrated to Germany from Russia with her family when she was seven. She was educated in Germany, so We Might as Well Be Dead, besides being a detective story as well as comedy of manners, is told from the perspective of an insider who is also an outsider. By turns silly and clever, this fable of a film about the search for an interloper in a patrolled private park (Germany's version of a gated community) delivers a simple lesson — outsiders beware.
We Might as Well Be Dead will not be opening anywhere soon in the US. Look for it at festivals.
---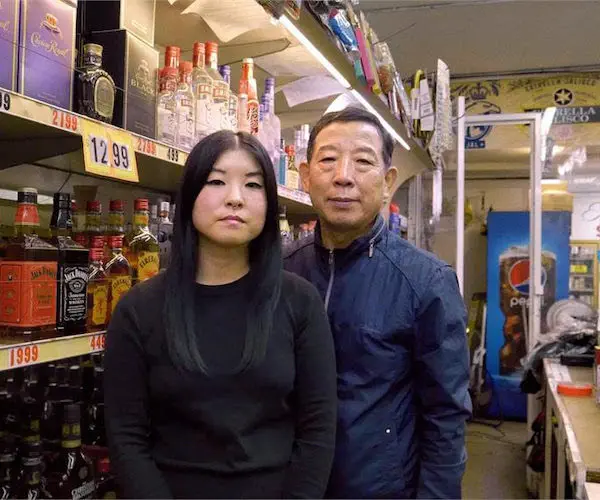 Among the documentaries at Tribeca, director So Yun Um's Liquor Store Dreams was a personal account of an immigrant family in Los Angeles that came close to being a study in urban ethnography. That's a compliment.
I've always thought that East Asian films were weighted disproportionately toward generational stories. (I'm eager to hear from anyone who disputes that.) Liquor Store Dreams, which is built on an intergenerational conflict, suggests that Asian-American documentaries may not be so different.
So Yun Um, a "liquor store baby," is trained as a filmmaker, but she also worked at the package store that her Korean-born father bought in Los Angeles. The stores sold everything, although most of their profits come from selling alcohol to those on Skid Row and similar places. By operating thriving stores, Koreans provided a service to neighborhoods that many merchants had abandoned. But they were also resented. So Yun Um reminds us of how, in 1991, a storekeeper notoriously shot and killed a suspected teenage African American shoplifter. Many of those stores were looted and burned to the ground a year later when surrounding neighborhoods rose in protest after the Rodney King verdict. We see lots of footage of blocks on fire and shopkeepers shooting at looters.
Liquor Store Dreams also lingers on friendly, everyday interactions between Korean merchants and their customers at two stores.
Father and daughter argue, and agree that So Yun Um is more suited to filmmaking than to running a store. Other facts creep in. According to this film, most Korean families don't want their children to take over liquor stores. Koreans were not the first to be overrepresented in these businesses. Jews came before them, we're told, and the new owners tend to be Indians and other South Asians. Also, L.A. continues to gentrify as homeless tent cities proliferate. Neighborhoods like Skid Row are changing. Is this progress? Once art galleries move in, will the liquor stores survive?
There's another Korean family featured in Liquor Store Dreams. Danny Park, a child of Korean immigrant store-owners, left a job with a gleaming future at Nike to help his mother after his father's death. Danny has renamed the store The Skid Row Market, a name that his father might have seen as a curse. With her camera, So Yun Um is there, too, talking to a homeless man the family has hired, as Danny and his Korean pals dance in Korean costumes for the locals. There's a group hug at the end, but Liquor Store Dreams has taken a probing look at lives and experiences that tend to go unreported.
---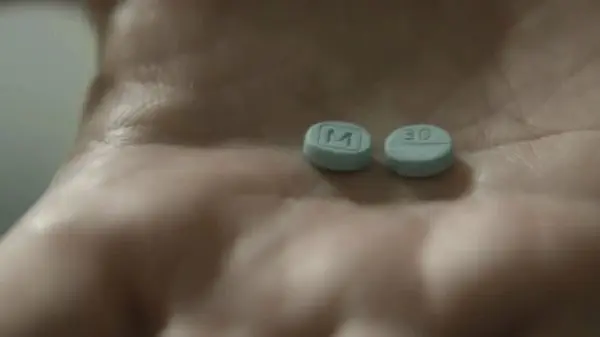 American Pain, a documentary that looks like it had a big budget, examines the slash-and-burn drug trade of South Florida, except this was the legal trade (partly legal, at least) in opiates.
Slash and burn understates the fury of the action. Sometimes supercharged, sometimes raucous, there are scenes here that look as if they had been torn out of the pages of a tabloid and thrust in the viewers' faces.
Of course, for many of us, the reaction might be "we've seen so much of this before." Yet this unbelievable story, directed by Darren Foster, needed to be over-the-top in order to be accurate. Think Breaking Bad meets David O. Russell's American Hustle.
The two main characters, Jeff and Chris George, are twins from a rich Florida family — examples of what we used to call "high school with money" — who quickly made their own money by supplying (oversupplying) opiates to addicts who drove down en masse from Kentucky. American Pain was the name of the Georges' strip mall pill dispensary business, the largest oxycodone clinic in the country. Customers waited by the hundreds in and outside the "pain mills" to have their prescriptions filled. And they came back the next week and the next week. The twins were already using (and selling) steroids to pump their bodies up, all the better later on to intimidate opiate pirates who opened up competing shops. "Keep this up, and you're gonna need pain management," they warn a competitor.
Doctors were told, "You'll make a lot more money doing this than you did doing plastic surgery." Bear in mind that Florida is a place where plastic surgeons make a lot of money. Some of the doctors themselves were addicts. One carried a gun while at work. "It's dangerous in there," he said.
One of the twin brothers marries a stripper, and sets her up in a spillover opiate business to distract her from his new girlfriend. She turns out to be a competent manager. Also in on the business is the boy's mother, who ignores the horror of it all because she loves her sons. As they say, you can't make this stuff up. But you can make a movie out of it. Sometimes American Pain — well-paced and brimming with surprises — feels like audition scenes for a scripted feature.
Wary of regulators, and hoping to avoid the suspicion that they might be handing out drugs to people without legitimate reasons, the brothers set up a mobile MRI unit to vet their patients. It is placed in a trailer truck parked behind a strip club. Addicts spend money inside on lap dances while they wait to be scanned by the MRI machine. It's odd that police didn't notice crowds of people who looked homeless — in some cases even unconscious — behind the strip club. It's also odd that, for a long time, cops ignored what looked like Spring Break throngs of thousands of dope-sick Kentuckians waiting for their pills at the offices of American Pain. Many of those travelers ended up in car accidents as they headed home from Florida — flush with drugs to sell at home. One savvy opiate entrepreneur did notice those crashes, and set up a pain mill in Jacksonville, six hours north.
The collisions point to the glaring differences in class in American Pain. The frat boys in Florida employed pretty girls behind the counter and drove fast boats. The Kentuckians (whom the Floridians called "zombies") recruited dealers and users through their state's prison system. Many of the customers became addicts and lost custody of their children — if they made it back from their treks to Florida alive. On camera, recalling those days, surviving Kentuckians now look like casualties of war.
American Pain abbreviates the police operation that caught the George twins and sent them and their crew to prison. Despite the quick windup, this drug-operation adventure, with its wrecking crew of accomplices, makes for as wild a crime story as I have seen in years. The twins' wealthy father, interviewed in the film, seems amused by it all today. Some never learn.
After a deadly opiate-induced car crash, an addicted Kentuckian who emerged alive — though he can barely speak — is asked by police why he kept driving to and from Florida. "It's like a candy store down there," he whispers. The filmmakers spend enough time with the users of the pain mill drugs to remind us that it was not all fun and games. Those interviews made me wonder what details were too gruesome to use in the film.
American Pain will be shown on CNN and HBO. Until then, you can sample the saga in the 2015 true crime book American Pain by John Temple, a journalism professor in West Virginia.
---
David D'Arcy lives in New York. For years, he was a programmer for the Haifa International Film Festival in Israel. He writes about art for many publications, including the Art Newspaper. He produced and co-wrote the documentary Portrait of Wally (2012), about the fight over a Nazi-looted painting found at the Museum of Modern Art in Manhattan.