By Mark Favermann
Believe it or not, Boston — the home of stick-in-the-mud architectural and decorative conservatism — was the initial epicenter of the Arts and Crafts Movement in America.
Originating in Britain in the second half of the 19th century, the Arts and Crafts movement was a creative reaction against the overly ornate, artificial, factory-made furniture of the period. It was also a rejection of the period's excessive detailing of decorative objects. Surprisingly, Boston — the home of stick-in-the-mud architectural and decorative conservatism — was the initial epicenter of the Arts and Crafts movement in America. And it concentrated on simple bowls and dishes.
Repelled by the crudely made domestic objects of mid-19th century industrial production, the godfather of the American Arts and Crafts version was Harvard's and America's first professor of art history, Charles Eliot Norton. He was an early convert to the English Arts and Crafts movement, introduced to it by his friend, the English art critic John Ruskin, along with the socialist designer William Morris. Norton espoused a return to handmade objects along with an emphasis on the study of simpler styles and historical artifacts. He believed in the moral value of good design.
Along with colleagues like Langford Warren, founder of Harvard's School of Architecture (later Graduate School of Design), craftspeople, and an assortment of Brahmin social reformers, Norton convened a meeting in January 1897 to exhibit this more authentic style at Boston's Museum of Fine Arts. The first American Arts and Crafts Exhibition was held at Boston's Copley Hall on April 5, 1897. It showcased more than 1,000 objects by 160 craftspeople, half of them women. The popularity of this exhibition inspired the founding of the Society of Arts and Crafts (SAC) in Boston, which triggered the establishment of numerous similar groups in cities across the country.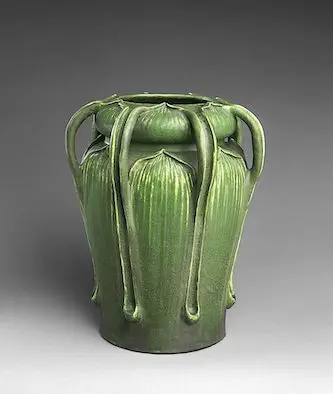 A proliferation of studios and craft ateliers soon developed in the Boston area. The stunning products of four of the most prominent firms are now highly collectible. These include the Grueby Faience Company, the Saturday Evening Girls of Paul Revere Pottery, Marblehead Pottery Studio, and Dedham Pottery.
The Grueby Faience Company was founded in Revere, MA, in 1894, It produced distinctive pottery, vases, and tiles. William H. Grueby visited the Columbian Exposition of 1893 in Chicago, where he viewed French ceramics with matte glazes on simple, organic forms and elegant Japanese pieces. He returned to Boston and developed refined glazes and applied them to elemental ceramic forms. He also carved and applied stylized leaves and flowers to surfaces.
His most popular glaze was a rich cucumber green. The first Grueby Green wares were sold in 1897 and that coincided with Gustav Stickley (the leading figure of Arts and Crafts furniture design and architecture) introducing his Craftsman furniture at United Crafts in Eastwood, NY. Grueby's matte green ceramics complemented Stickley's distinctive oak furniture and Craftsman homes so well that Stickley included Grueby pieces with his furniture presentations and in his advertisements. To the detriment of Grueby's business, the cucumber glaze was imitated extensively by other competitive firms, leading to a bankruptcy that was followed by a weak recovery. Grueby Pottery fell out of favor around the start of World War I and closed permanently in 1920. Grueby's impressive legacy can be viewed today in major museums, including the Metropolitan Museum of Art.
The Saturday Evening Girls Club (SEG) was begun as a library reading group to educate and assimilate immigrant girls, mostly Eastern European Jewish and Italian Catholic. The program was partly started as a strategy to keep them "off the streets." It was also created to "Americanize" these young immigrant women by exposing them to middle-class WASP culture, and to inculcate moral values.
Founded by reform-minded local Brahmin philanthropists, the SEG program was located in Boston's North End. Early on it was established at the North Bennet Street School. The SEG primarily drew its membership from the eldest girls in families, many of whom had dropped out of school to contribute to their family's income. Paul Revere Pottery was established to offer the women a safe (and homogeneous) environment in which to earn wages surrounded by others like themselves.
The SEG workers decorated bowls, plates, cups, tiles, vases, etc., with stylized images of animals, flowers, landscapes, and other designs. The colors included rich tones of blue, green, yellow, and earthy brown. Many bespoke sets were made for children's tea parties or to celebrate special family events. The outlines for these wonderful designs were initially created by adult women artists. Until they developed their own design and craft skills, the girls literally painted within the lines of the patterns before the bowls, dishes and cups were baked in a kiln. Today, SEG pieces are found in many museum collections, including the Boston Museum of Fine Arts.
Known for its high-fire stoneware characterized by a controlled and very fine crackle glaze with thick cobalt border designs, Dedham Pottery was founded by Hugh Robertson in Dedham, MA, in 1896. It operated until 1943. The plant, which, surprisingly, rarely employed more than six people at a time, was located on Pottery Lane, off High Street in Dedham.
A major pattern design utilized by Dedham Pottery was an image of a blue rabbit. It became known as "the Dedham rabbit." The decorative band was inhabited by rabbits crouching on the ground with their ears back; in between each critter stood a vegetable stalk. Over time, Dedham Pottery created over 50 patterns for dinnerware and other pieces. These featured appealing designs that represented a variety of flora and fauna as well as other parts of the natural world, including elephants, dolphins, polar bears, swans, sprouts, lilies, clover, and mushrooms.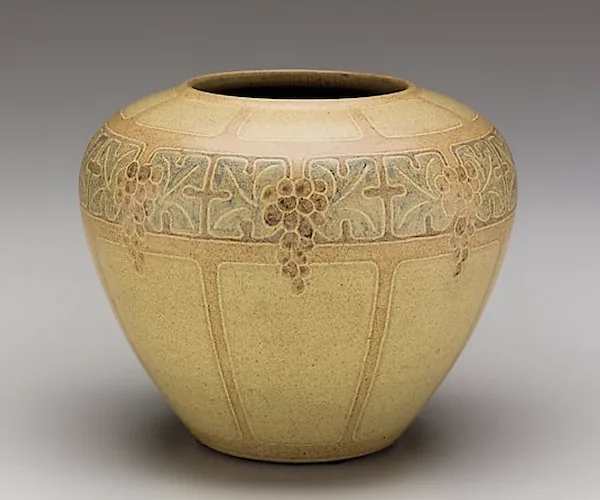 In 1904, Marblehead Pottery Studio began as a small pottery studio in a convalescent therapy program for patients at a sanitarium, headed by Dr. Herbert Hall. A year later, ceramic artist Arthur Baggs became the director of the project, and he brought a decorating style that focused on hand-incised or surface painted geometric designs on grounds of subdued, slightly contrasting colors. In 1915, Baggs became the owner of Marblehead Pottery until it ceased production in 1936. The Marblehead Pottery Studio evolved into one of the most respected art potteries of the Arts and Crafts era.
In the '20s, as with many successful art pottery companies, Marblehead Pottery Studio began to focus almost exclusively on high production pottery as opposed to individual handcrafted pieces. However, the machine-made pottery attempted to maintain the high quality of the hand-decorated originals. Typical glaze colors were blue, green, pink, yellow, brown, or gray. An extremely rare piece, a vase designed by Annie Aldrich and decorated by Sarah Tutt, was sold at auction by Skinner Auctioneers in December of 2018. The final price for the vase skyrocketed past its presale estimate of $10,000-$20,000 — it sold for $250,000.
For several decades, Boston's Arts and Crafts Movement ceramics' leadership elegantly dished it out. What will be served up next?
---
Mark Favermann is an urban designer specializing in strategic placemaking, civic branding, streetscapes, and public art. An award-winning public artist, he creates functional public art as civic design. The designer of the renovated Coolidge Corner Theatre, he is design consultant to the Massachusetts Downtown Initiative Program and, since 2002 has been a design consultant to the Boston Red Sox. Writing about urbanism, architecture, design and fine arts, Mark is contributing editor of The Arts Fuse.