By Sasha Ray
Woody Sez falls short as a compelling chronicle of Guthie's life and times. It becomes a sort of "greatest hits" roundup and the steady stream of music is moving and then some.
Woody Sez: The Life and Music of Woody Guthrie, devised by David M. Lutken with Nick Corley and Darcie Deaville, Helen Jean Russell, and Andy Teirstein. Directed by Nick Corley. Staged by the Merrimack Repertory Theatre at the Nancy L. Donahue Theatre at Liberty Hall/Lowell Memorial Auditorium, 50 East Merrimack Street, Lowell, through June 26.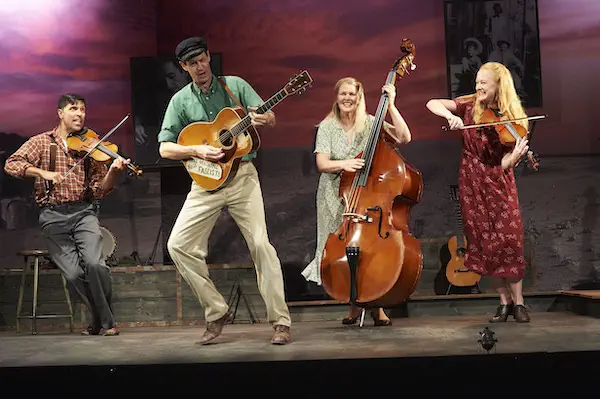 The rich life and legacy of folk singer and activist extraordinaire Woody Guthrie defies easy summary, and that poses a considerable challenge for a two-hour, four-person show that claims to cover his career, at least in concept. And there is also the added problem that a surfeit of musical Americana — made up of Guthrie's own well-known songs — is served up along the way. Is this a musical revue or a musical? Lead actor David M. Lutken wrote Woody Sez's earnest homage in 2007 and it takes an unusual form: essentially the show calls for a one-man band with a background entourage. Narrative, via monologue, supplies biographical information in between the musical numbers; there is not much dancing or dialogue between the performers after the opening scene.
The three other instrumentalists/cast members intermittently play characters and speak some lines, but there is simply not enough diversity in these fleeting roles. Contemporary audience members who are not already familiar with Guthrie's life may become confused. They certainly won't learn about Guthrie's personal or creative struggles in any depth. Nor are these attempts at drama concrete enough. For example, one of the characters is Guthrie's young daughter Cathy Ann. We see her as a figure in the background during the performance of the song "Take Me for a Ride in the Car." She is hounding her father to "play it again!" along with her siblings. We need the spoken-word narration to tell us that Cathy Ann died at age four, and that she was the second person in Guthrie's life to die from fire-related injuries. (The first was his sister Clara, who is not part of the stage action.)
This approach puts a lot of pressure on the spoken-word interludes to convey what was going on in Guthrie's life, particularly for those who are not all that familiar with him. We hear about Guthrie's ups and downs, particularly his childhood struggles in which he lost his parents: he was a songwriter, cartoonist for The People's Daily World newspaper, husband (to two different women), father (to eight children total), merchant marine, a man who shaped American protest and folk music through the Dust Bowl, Great Depression, and World War II. We are given plenty of background — but it lacks dramatic power and propulsion.
So Woody Sez falls short as a compelling chronicle of Guthie's life and times. It becomes a sort of "greatest hits" roundup, and the steady stream of music is moving and then some. One highlight in the performance I saw: Lutken's Guthrie became so caught up in the sound that, during one number, his guitar string unexpectedly broke mid-verse. The performer played off his "oops" moment beautifully, rejoining the band without missing a beat. Some songs drew on Guthrie's (and Lutken's ) ability to play several instruments, sometimes at the same time, such as the harmonica. Lutken has played the protagonist in other productions of his show, and his ease with the title role was evident; he captures Guthrie's natural charm and excitable personality. The other cast members are first-rate musicians and they draw expertly on an array of string instruments, including an upright bass and mandolin, as well as a banjo and several guitars and fiddles. The band conveys the generous spirit of an American icon.
Several songs stood out, especially when they were used to bolster the trials and tribulations in Guthrie's life. "I Ain't Got No Home in This World Anymore" and "Goin' Down That Road Feelin' Bad" effectively evoked the experience of a young man trying to find his footing in the world. But the celebrated "This Land Is Your Land," the closing number, was the hands-down showstopper, inspiring the audience to sing and clap along with gusto. In Woody Sez the song is not just about community, but about legacy and continuity. Woody has been diagnosed with Huntington's disease, like his mother before him, and he passes the musical torch to his son Arlo, teaching him the last three chords he's able to play before his hands give out. Lutken seems to be suggesting that we are all Guthrie's children when we are willing to stand for an America that welcomes everyone.
---
Sasha Ray is a Boston native who is currently studying for her Master's at Boston University's College of Communication. She writes mostly about the arts.