By Jason M. Rubin
Trampling on the expectations of his fans, of course, is a big part of what makes Joe Jackson the singular talent he is — and most of his admirers wouldn't have it any other way.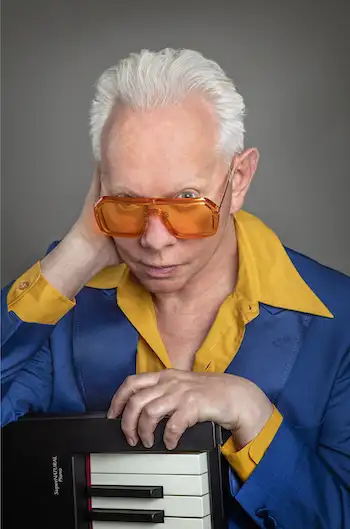 Here's a list of things that Joe Jackson is not anymore. First, he's no longer a frontman. Time was he'd prowl the front of the stage, shout-spitting lyrics into the microphone and sneering at the audience. In the past he would occasionally play piano, but he often had a keyboardist on tour with him. Now, he remains seated behind his keyboard, one of the band, conducting and vocalizing without much physical movement. Second, inferred from the first, he is no longer the angry young man he was marketed as in the late '70s and early '80s. I've seen him swear at audiences in the past; today he is a kitten, expressing genuine affection and appreciation for his fans. Third, he is no longer a hugely popular hitmaker whose latest works flood the radio airwaves. My 25-year-old daughter says she's never heard of him or his works, even after I serenaded her with a medley of his early hits. You can occasionally hear his older songs on classic rock radio, but rarely anything after his biggest hit, 1982's "Steppin' Out."
None of this, of course, matters at all to his loyal fans, who not only filled the Shubert Theatre last Thursday night and gave him ovation after ovation, but also sang along with many of the tunes. These are the people who never left Jackson, who have followed his eclectic career as he took detours into reggae, jump blues, classical music, Latin music, theater, and in and out of his unique spin on rock, which started with new wave and later became a highly literate form of power pop, and as recently as 2019's Fool (the last time he toured here) explored left-of-center prog-pop territory as one would find in bands such as Utopia and XTC.
To cover all (or many) of these bases in a single show would seem to require a large band, but the quartet of Jackson, his brilliant long-term bassist Graham Maby, guitarist Teddy Kumpel, and sensational drummer Doug Yowell had the energy and chops to deliver the goods. At one point in the show, Jackson called them "the greatest touring band in the world;" after the show, it was difficult to refute the claim.
The tour is called the "Sing, You Sinners Tour," after a song by the popular dance band of the '20s and '30, The High Hatters. The original was played on tape as the lights went down before the band took the stage; the musicians then performed it live late in the set. Said set leaned heavily on both his first and latest albums, 1979's Look Sharp and Fool, with four songs from each performed. I'm the Man (1979), Night and Day (1982), Blaze of Glory (1989), and 2008's Rain were featured with two songs apiece. One song each from 1984's Body and Soul and 2015's Fast Forward were also played, but key albums in his discography like Beat Crazy, Big World, and his four interesting but uncommercial albums from the '90s were ignored. During a mid-set solo section, Jackson also played a cover of XTC's "The Mayor of Simpleton."
Of the early and mid-career songs, a number were rearranged by Jackson to include jazz touches and other musical ideas. Fans expecting to dance to the electronic disco of "Steppin' Out" were treated instead to a slow ballad version. Trampling on the expectations of his fans, of course, is a big part of what makes Jackson the singular talent he is — and most of his admirers wouldn't have it any other way.
One thing that comes across clearly in concert is what an excellent musician he is. Jackson has a sensitive, lyrical touch on piano, and his music has lots of melodic and rhythmic twists and turns. One forgets that he studied composition at the Royal Academy of Music in London. Still, he and his band made even the trickiest parts look easy and sound exciting. Jackson turns 68 in August, but even though he doesn't act the frontman anymore, he knows that a raver song like "I'm the Man" needs the full-tempo treatment, and the band knocked it out of the park. Wisely, the song was saved for the end of the set, so they could catch their breath for the two-song encore, "You Can't Get What You Want (Till You Know What You Want)" and "Steppin' Out."
Ultimately, what Joe Jackson isn't anymore is irrelevant. He remains a restlessly creative artist at the peak of his powers, with a voice that is still strong (including an emotional falsetto), and a real desire to connect with his audiences. The Shubert show was the third stop on a tour that runs until August, crossing the US and hitting a number of European countries. It was originally postponed because of you know what, but this show was well worth waiting for. I am already waiting for his next concert in Boston.
---
Jason M. Rubin has been a professional writer for more than 35 years, the last 20 as senior creative associate at Libretto Inc., a Boston-based strategic communications agency where he has won awards for his copywriting. He has written for Arts Fuse since 2012. Jason's first novel, The Grave & The Gay, based on a 17th-century English folk ballad, was published in September 2012. His current book, Ancient Tales Newly Told, released in March 2019, includes an updated version of his first novel along with a new work of historical fiction, King of Kings, about King Solomon and the Queen of Sheba. Jason is a member of the New England Indie Authors Collective and holds a BA in Journalism from the University of Massachusetts Amherst.