By David D'Arcy
Panah Panahi's film is a powerful ode to the will to escape a restrictive society — and to tell stories.
Hit the Road, directed by Panah Panahi. No streaming offers for this film as of now.
In Hit the Road, an Iranian family of four is in an SUV, traveling through dry desolate country. The passengers appear to be urban and educated. The mother's head is barely covered. The conversation, when it isn't interrupted by something happening outside the car, is about keeping their young son (about six) under control. He is the kind of child who is always in motion; he might be described as cute if you didn't have to be with him for too long. The boy's impatient father — burly and bearded– sits in the middle of the back seat. His leg is in a cast that extends to the dashboard; it is decorated with the keyboard of a piano which the boy pretends to play. The man's rather meek older son is at the wheel, fretting. The family's small dog, also in the car, is sick, his brother says.
At first, director Panah Panahi's approach to storytelling seems to be a noisy version of shake-well-and-serve — the family as charged particles. The young boy is old enough to challenge everything that anyone says. His parents can't ignore him as they look out the car windows at vast plains where they yearn to escape. Their older son cringes at hearing his mother sing along to the radio, which is playing pre-revolution Persian pop songs with lyrics like "my dearest souvenir is the dust of your shirt." Not profane, but not devout enough for the Islamic Republic, those tunes are pure fun for the mother until her son's unease explodes. Somber recurring piano music from Schubert on the soundtrack suggests something else.
This could be a family in any relatively modern country. The young Panahi, son of the veteran director Jafar Panahi, dramatizes the push-pull of family life in an enclosed space. His first feature is loosely-structured, but polished. As with any drama that happens inside a tight enclosure, there is a strong sense of theater.
This is a road movie, punctuated with chance external encounters, such as a brush with a cyclist on the road that adds the bike-rider to their group. And Dad tries to subtract the family dog from the group on one extended stop. These are not perfect people, and the family isn't just out on a casual drive. They're taking the older brother to the border with Azerbaijan, where he'll stop driving, cross the frontier, and begin another life — or so he hopes. They've sold their house to support his exodus. They all know this is a last ride, and a first ride to somewhere else.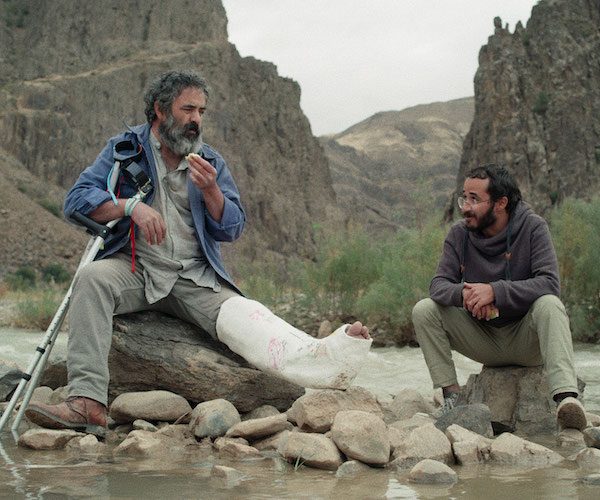 The film's politics take shape gradually. The older brother seems on edge and the parents discuss the sale of their home. Still, there's no talk of America or of religion and no police in pursuit, though they worry about being overheard. They should. Mom sings what seems like a religious parody to "The Galaxy." Laughs aside, the prospect of living in Iran has pulled this family apart.
The theme of escape won't be lost on anyone familiar with Jafar Panahi, who became known to Americans by way of The White Balloon (1995), a charming story filmed in the alleys of Tehran about a young girl's search for a lost balloon. The movie seduced the most caustic of critics, even the bilious John Simon. The late Bingham Ray, then its distributor, had an unforgettable promotional line for this Iranian film which unfortunately never made it to the poster: "from a country you hate, a movie you'll love.
Jafar Panahi's films after that went softer on the charm, and the director's gaze hardened. He poisted prostitution as a job of last resort for women in The Circle (2000), which was filmed clandestinely on the streets at night without the necessary permits. He probed the anguish of a lonely underpaid delivery man serving privileged clients in Tehran in Red Crimson (2003). He gave voice to frustrated women fans of Iran's national soccer team. They followed their passion by dressing as boys to enter a stadium for a major match in Offside (2006).
Those films all won international awards for Jafar Panahi, and that kept him at arms-length from the authorities. Eventually the censors lost their patience, and in 2010 he was placed under house arrest, which included a ban on interviews and travel (except for the hajj to Mecca, and to a hospital, if judged necessary). He was banned from making films for twenty years. He kept making movies, actually moving pictures that looked like films. The documentary video diary, This Is Not a Film (2011) was smuggled to Cannes on a flash drive hidden inside a cake. Another, Taxi (2015), was a wry and humane urban road movie in Tehran. Passengers were driven around town by an artist laboring under extraordinary constraints. Panahi was at the wheel with a camera mounted in his car, a man determined to practice his art and his freedom in shrinking spaces.
We see that commitment in this story set in a car by Panah Panahi, who worked as an assistant on some of his father's banned films. In an imperfect parallel, we can also see the car as a kind of Scheherazade 2.0, a vessel that keeps the hope of at least one person alive, taking on passengers and encouraging story-telling as it moves along.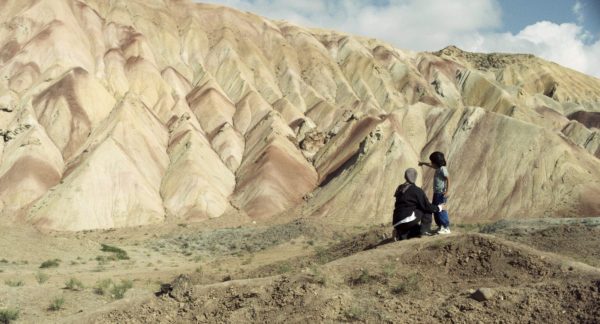 Critics are sure to also find traces of Jafar Panahi's influence in his son's script, especially in those random encounters where we see the spontaneity and humor of the characters slip through the cracks of government controls.
For Hit the Road, Panah Panahi obtained permits (unlike his father). The two performers who play the parents are well-known theater actors in Tehran, and the boy playing the young son is already a veteran of a popular television series. Those casting decisions suggest that Panahi hopes that audiences in his own country might one day be able to see his film. Not yet. That reluctance should have been expected. His film is about a heartbreaking decision propelled by life under a government that does not want its citizens to hear stories like this one.
Why not? Because this is a predicament others will easily recognize. The landscape under the vast sky shifts from flat and dry to hilly and green, from towns on the road to hillside encampments. Toward the end of the family's journey the camera watches from a distance (in shots that seem inspired by Abbas Kiarostami) and we see that this is not the only group containing someone who is planning to leave Iran. In the soft light, the family's last stop could be mistaken for a vacation campground. (Reality check — let's not forget that leaving one's home right now is far more dangerous for Ukrainians, Syrians, and the refugees along the Rio Grande.) As in his father's films, Panah Panahi's closing here is open-ended, but with a darker mood on the return to Tehran.
---
David D'Arcy lives in New York. For years, he was a programmer for the Haifa International Film Festival in Israel. He writes about art for many publications, including the Art Newspaper. He produced and co-wrote the documentary Portrait of Wally (2012), about the fight over a Nazi-looted painting found at the Museum of Modern Art in Manhattan.