By Allen Michie
Now that he's 70, it's only right that guitarist John Scofield takes a victory lap with his first solo album.
John Scofield — John Scofield (ECM)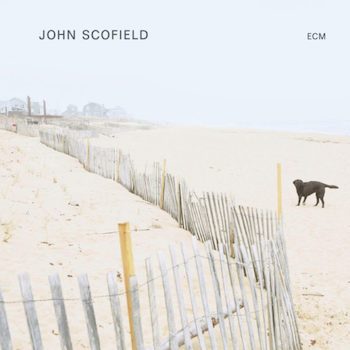 John Scofield is one of those guitarists whose sound is identifiable within three notes, no matter whether he's playing mainstream jazz, fusion, country, rock, or experimental music. He's always had his own distinctive identity, even from his earliest recordings, which now date from almost 50 years ago. Scofield has a characteristic attack: he hovers his way into and out of a phrase, a trademark vibrato which is wide but not rapid, and an angular post-bop lyrical style in his improvised melodies that resembles no one else's. As the technology evolved, Scofield's signature sound expanded with it to include several expressively soulful electronic effects, which brought him into alignment with his frequent musical partner Bill Frisell. Many jazz musicians were influenced by Miles Davis, but only a handful exerted an influence on Miles' own playing: Dizzy Gillespie, Fats Navarro, Ahmad Jamal, and John Scofield.
Now that he's 70, it's only right that Scofield takes a victory lap with his first solo album. In some ways, it's hardly a surprise, since Scofield is in the top 1% of major living jazz guitarists by any measure. He has had a wildly diverse and steady career stretching across many genres. A solo album (often several of them) has been seen as a birthright for great guitar players, as it is for jazz pianists. Still, this solo album is a surprise because Scofield is generally a one-note-at-a-time kind of guitarist. He's a picker, not a strummer. In this sense, he's more like the great blues guitarists such as B.B. King (who, to my knowledge, never did a solo album).
Scofield solves the problem, partially anyway, by overdubbing himself. He plays with a "looper," although he's not soloing over short phrases only seconds long, as Jaco Pastorius liked to do. Scofield's loops are sometimes background comping the length of entire choruses (as far as I can tell, or they are simply multi-track overdubs). There are other places when he solos over looped fragments for texture but, for the most part, you're hearing Scofield duetting with Scofield. The guitarist told The Boston Herald, "When I play solo, I make these little guitar loops on the fly, I don't do prerecorded loops. So I am having to respond to some music and it's almost like I'm playing with another person. I do say almost."
Like so many other musicians around the world, the Covid pandemic forced even the most experienced players back into the woodshed. Scofield is a legendary road warrior and team player, but the forced time at home led him to explore a different side of his talent. "I think there's a delicateness that I have acquired from playing at home alone," he told the Herald. "I am so used to playing with a slamming band, which is what I love to do, and there's a certain muscularity in that. That went away and was replaced, I think, by, hopefully, this more delicate approach of pinpointing the beauty of the strings."
The opening track, "Coral," is a good example of the new context for the familiar sound. Scofield's background comping is mostly in straight quarter notes, supportive but not calling attention to itself, not unlike Freddie Green with the Count Basie band. With the steady metronomic beat behind him, Scofield can solo in his characteristic behind-the-beat way. Keith Jarrett's unusual melody is stated only at the end. Scofield also recorded "Coral" on 1999's As Long As You're Living Yours—the Music of Keith Jarrett (various artists), but this version is cleaner, brighter, and more deliberate.
There are several tracks that Scofield recorded earlier, making this record something of an informal career retrospective. "Honest I Do" is from Scofield's 1991 Grace Under Pressure album on Blue Note, done here as a ballad in his wobbly, processed sound with sliding pitches — a reminder that he was pioneering this style back when Mary Halvorson was just a Hershey Bar in her daddy's back pocket (to borrow a line from Laurie Anderson). "Mrs. Scofield's Waltz," dedicated to you-know-who, was recorded with Brad Mehldau in 2000 on Scofield's album Works for Me. It's a fine example of a very different aspect of Scofield's playing. Here he is closer to Jim Hall than Halvorson, with a chromatic and linear approach to the strong melodic lines.
Other tracks of Scofield covering Scofield include "There Will Never Be Another You," from the guitarist's very first recording date on a live gig with Gerry Mulligan and Chet Baker. It's an up-tempo, straight-ahead swinger, and Scofield riffs away with some octaves like Wes Montgomery or George Benson (who, by the way, should also do a solo album…. and also on ECM, just to freak out all the jazz critics). "Since You Asked" originally appeared on 1990's Time on My Hands with Joe Lovano, performed here with the original's loose, bluesy swagger intact.
A solo album offers artists an opportunity to spotlight their style and approach. There is no better way to do that than to play some standards that many others have performed before. Scofield chooses wisely, selecting some unexpected tunes that show different facets of his personality and history. "It Could Happen to You" is an indirect salute to his former employer Miles Davis, but it's far from the angular, chromatic style that he played in with Davis' band during the '80s. Scofield's liner notes say that he was equally attracted to the way Kenny Dorham played the standard. I spent the rest of the day pondering whether there are some similarities between Dorham's melodic style and Scofield's. The accompaniment isn't exactly the same every time, so I'm not clear on how this is a "looper" and not just multi-tracking. In any case, he switches it off near the end so we get to hear some straight solo Scofield. There's a catchy and unusual ending with a surprise effect. This is one of the album's standout tracks.
The standards also include a short "My Old Flame," which Scofield often performed as a duet with Charlie Haden. Then there's the most standard of all standards, "Danny Boy," which you might not expect to find on a Scofield record. The liner notes tell us that the ending reflects the "Indo-European chain of music" (which could mean almost anything), but the treatment is imaginative, strange, and works beautifully. The looper sounds something like a drone from an India sitar, if you can imagine a sitar played by John Scofield. The melody is played with a touch of country twang, and the solo has a bit of rock-and-roll snarl. The signature ECM reverb lets the harmonies ring and linger. The least promising track becomes another winner.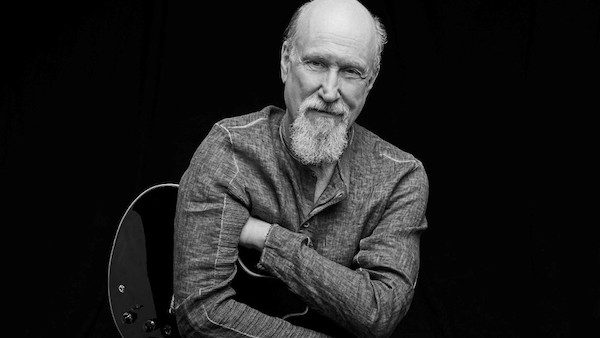 Other standards feature Scofield's rock chops and highlight the parts of career as a first-call studio musician and jam band veteran (he's our guitar equivalent, perhaps, of saxophonist Michael Brecker). "Junco Partner" is a traditional prison song, a 16-bar blues which Scofield has played live with Dr. John. While Professor Longhair and James Booker have recorded "Junco Partner" in that infectious New Orleans boogie-rumba style, Scofield eschews clichés and plays it slower and with delicacy. His loping style retains the bluesiness, but most of the groove and humor are gone. It's interesting, but not funky. Much better is "Not Fade Away," a Buddy Holly song with a Bo-Diddly beat. Scofield played it many times with Phil Lesh and the Grateful Dead. Its presence represents Scofield's career renaissance in the 2000s as a fan-favorite guest of many jam bands, including the Dead and Medeski, Martin & Wood. There are some trippy looped background effects in the last quarter of the song that don't seem to belong, unless perhaps it's a tip of the bandana to a particular aspect of the Grateful Dead aesthetic. Then there's the country side of Scofield, best heard on 2016's Country for Old Men (Arts Fuse review) where Scofield convincingly covers songs by George Jones, Dolly Parton, Merle Haggard, Bob Wills, and others. Here, Scofield plays Hank Williams' "You Win Again," in places supplying an astonishing imitation of a steel slide guitar. Perhaps he's playing a B-Bender guitar, or perhaps he's just using the whammy bar like a master, but he makes it sounds easy and natural. It fits his style as easily as a straight jazz standard like "My Old Flame," which makes him a peer of Chet Atkins.
Finally there are two originals (first appearing here, to my knowledge). "Elder Dance" is a blues, but the extended harmonies inspired by the complex chording makes it almost unrecognizable as that form. Scofield's liner notes say he pictures people doing the Lindy Hop. (This is notable — no doubt it is the only time the words "Lindy Hop" have ever appeared on an ECM record.) There's no build-up — Scofield launches right in with a dazzling run up the fretboard, then he repeats it with a slight variation. The guitarist is a master blues player, but this is more of a mid-tempo jazz swing: it's a nice reminder of the style he played in way back in 1979 with Jay McShann on The Big Apple Bash (be sure to pick up this gem if you come across the LP).
Scofield's "Trance Du Hour" is his tribute to '60s-era Coltrane, with a hint of "Resolution" from A Love Supreme in the melody. This track finally has the Scofield grit. The accompaniment on the looper keeps the pitches sliding around, adding some sour dissonant chords. The solo has harsher picking; it reflects the angular, chromatic style that led Miles Davis to orchestrate entire Scofield solos and use them as compositions for jamming. I wish it had gone on longer so Scofield could explore those textures and harmonies. The looper fades out and in with a psychedelic backward loop. I don't hear much Coltrane, but I hear Halvorson, Miles, and the Beatles, and that's not a bad mix of musicians. Few guitarists could pull that off and still sound like no one but themselves.
(Thanks to Larry Tobias for information on guitar equipment and technique.)
---
Allen Michie works in higher education administration in Austin, TX.