By Mark Favermann
In Miss Holmes Returns, dramatist Christopher M. Walsh has involved the gender-switched pair in an entertaining yarn of uncertainty, betrayal and social justice.
Miss Holmes Returns by Christopher M. Walsh, based on characters by Arthur Conan Doyle. Part of the Don Fulton New Works Project. Directed by Weylin Symes. Staged by the Greater Boston Stage Company at 395 Main Street, Stoneham, through May 8. Also streaming through May 8.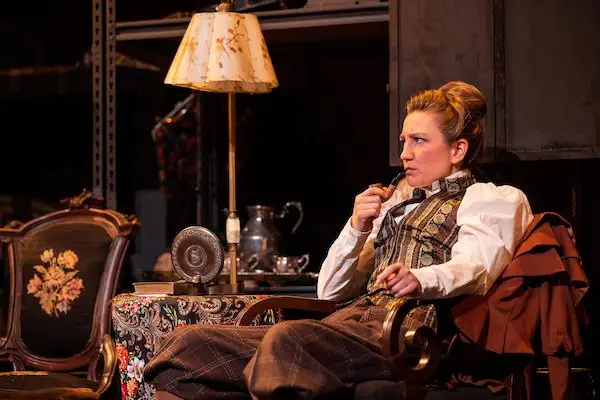 Sir Arthur Conan Doyle's first Sherlock Holmes story, "A Study in Scarlet," was first published in Beeton's Christmas Annual in 1887. Beginning in 1891, a series of Holmes stories appeared in The Strand Magazine. The iconic character and clever plotlines were soon embraced by the reading public. The London-based Sherlock Holmes struck a popular chord: here was a brilliant detective who used logic and astute observation to solve seemingly impossible cases. The fictional detective became one of the most universally recognizable literary characters of all time. For over 140 years, Holmes has been admired, hero-worshiped and even beloved.
That appeal has turned into fanaticism for some. There are followers of the Holmes canon, the 56 stories and four novels written by Arthur Conan Doyle, whose attention to, and study of, the texts rival the fervor of Biblical scholars. There is less glorification of the re-use of Doyle's characters, which takes many forms: novels, short stories, movies, TV series and plays. For purists, these appropriated characterizations, with their exotic settings and plot lines — often exaggeratedly serious, satirical and elaborately filled with twisted plots and surprising conclusions –are referred to (and dismissed by some) as pastiches.
Early in the history of the canon (1899), Doyle collaborated with the American actor/impresario William Gillette to adapt the detective's adventures for the stage. Gillette made Holmes the centerpiece of his career: he played the character more than 1,000 times. It was he who originated the now standard practice of developing storylines that drew on themes and narrative strands from multiple Holmes tales. He mixed-and-matched material from a number of Doyle tales: "A Scandal in Bohemia," "The Final Problem," and "A Study in Scarlet." Doyle was credited as a co-author, even though Gillette wrote the play.
Gillette took great liberties with the figure, such as giving Holmes a love interest. Doyle was initially uncomfortable with these additions, but he was charmed by the scripts, the performers, and the impact of the staging. At bottom, he was indifferent to the transformations. At one point, Gillette asked the author, "May I marry Holmes?" to which Doyle replied, "You may marry him, murder him, or do anything you like to him." The resulting love interest was modeled on Irene Adler's role in "A Scandal in Bohemia."  By the way, Gillette should be given credit for inventing the phrase "Elementary, my dear Watson." Gillette's pioneering efforts at re-inventing Holmes embellishments is the inspiration for this world premiere production of Miss Holmes Returns.
Drawing on Holmes, Dr. Watson, Mycroft Holmes, Mrs. Hudson and even the mysterious Professor Moriarty, the script revolves about a nurse and political activist who is on the run — pursued by the police and unknown figures from the criminal underworld — after being accused of murder. Her friends and supporters turn to the intrepid crime-fighting duo of Holmes and Watson for help. In this case, the duo happen to be women, and dramatist Christopher M. Walsh has involved the gender-switched pair in an entertaining yarn of uncertainty, betrayal and social justice. He also goes out of his way to meet the expectations of fans, including short interludes at 221B Baker Street as well as chases through the backstreets, back alleys, and waterfront areas of late Victorian London.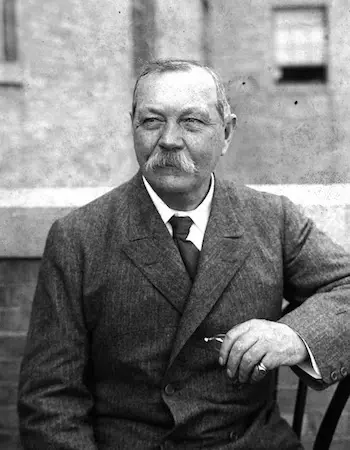 For the most part, the Greater Boston Stage Company cast members (several of whom play multiple roles) are compelling. The feminization of the principals significantly adds to the production's theatrical appeal. Marge Dunn's Sherlock proffers acerbic pronouncements with the right mix of flintiness and awkward but somehow otherworldly focus. She manages to be both steely and vulnerable. Dr. Watson, played by Shonna Cirone, also supplies a paradoxical characterization: she is an upright professional, yet also empathetic.
Sherlock's older brother Mycroft is terrifically played by Alexander Platt, portrayed as an upper class twit, insufferable and contentious. Joshua Wolf Coleman obviously relishes the role of Inspector Lestrade. He is an awkward Cockney struggling to be a sympathetic but efficient London copper. Shubhangi Kuchibhotla persuasively plays Nurse Poya Singh, the plot's nominal criminal/victim. The strategic figure of Adam Worthington, as well as other roles, are performed by Paul Melendy. He is quite entertaining as Worthington, but is miscast in the other roles.
Weylin Symes, the producing artistic director of the Greater Boston Stage Company, directs the proceedings with impeccable timing and spot on attention to detailing characterizations. The beautiful costumes were designed by Deidre McCabe Gerrard: the set was designed by Katy Monthei. The latter features strikingly large Victorian doilies that are hung throughout the entire stage space. Awkward industrial shelving takes up the majority of the stage floor. In some cases, the shelves are furnished with books; others are stuffed with Victorian lamps and other Holmes-inspired paraphernalia. For me, these elements are visually distracting. What is called for is a more minimal approach rather than a visual jumble. For example, what should have been an atmospheric stairway attached to a platform was buried in all the clutter. The sets were the least dramatic aspect of the production.
In terms of the evening's mystery, Walsh was obviously inspired by current events: the #MeToo movement, the influence of Black Lives Matter, the treatment and acrimonious discussion of immigrants at our southern border, attacks on Asian Americans in response to the pandemic, and recent attempts by US states to limit women's bodily autonomy. Walsh intertwines suggestions of these hot button issues with hot button Victorian era events, including the aftermath of the 1857 Indian Rebellion, the treatment of immigrants of color, various political campaigns to mitigate the plights of prostitutes, and efforts to repeal the Contagious Diseases Acts. Politics of the past and present entertainingly intertwine, proving that, as Sherlock Holmes would no doubt put it, the game has been afoot for well over a century.
---
An urban designer and public artist, Mark Favermann has been deeply involved in branding, enhancing, and making more accessible parts of cities, sports venues, and key institutions. Also an award-winning public artist, he creates functional public art as civic design. The designer of the renovated Coolidge Corner Theatre, he is design consultant to the Massachusetts Downtown Initiative Program and, since 2002, he has been a design consultant to the Red Sox. Writing about urbanism, architecture, design and fine arts, Mark is associate editor of Arts Fuse.