By Sarah Osman
Season three of Barry is just as dark as its predecessors. In fact, in some ways it may even be darker.
Barry, HBO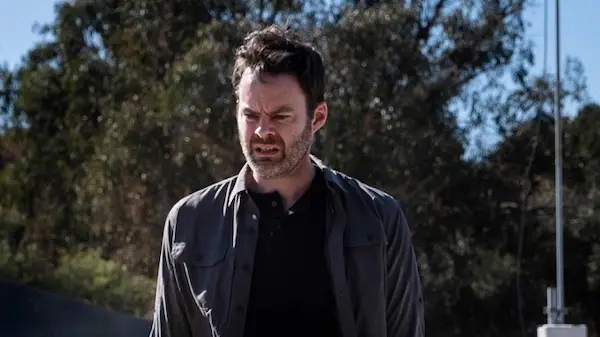 When we last saw Barry, the assassin-turned-actor all the way back in 2019, he had gone on a killing spree. In his attempt to take down his former boss, Fuches (Stephen Root), he killed nearly all of the various mafia members that had come together in season two. In doing so, he knocked out most of his client base, which is where season three begins.
Barry's life hasn't become cheery after all the deaths. Barry (co-creator Bill Hader) isn't on speaking terms with Fuches, who is currently hiding out on a farm. His acting teacher, Gene (Henry Wrinkler), knows that Barry killed the love of his life. And to top it all off, our protagonist can't land either acting or hitman jobs. A shot of a despondent Barry sitting in front of the TV playing video games is morbidly funny: it's even funnier when he asks his girlfriend Sally (Sarah Goldberg) to fix the controller for him. Barry's deadpan humor returns with full force in season three, so the long wait between seasons has been worth it.
While Barry's life is a disaster, Sally's is on the up and up (sort of). She's producing a pilot of a series based on her own past abusive relationship. This should be Sally's dream come true, but making the episode doesn't go exactly as she envisioned it would. Network executives put her into a race with other show runners. She's clearly in over her head while on set. She berates her friend-turned-assistant, Natalie (D'Arcy Carden, brilliant as always) and is condescending to her co-star. The most heart-wrenching moment of Sally's new life as a series creator comes when she goes on a press junket. She is either asked the same question over and over or asked completely unrelated ones, such as who the next Spiderman should be. As a former entertainment writer, I may have been guilty of this absurdity myself — I couldn't help but laugh. I can only imagine how frustrating this kind of random interrogation must be for most actors. Given the ever interfering executives and the clueless reporters, Sally's quandary as a producer feels realistic: her discomfort at the crazy process is nearly as fascinating as Barry's action sequences. Some of the jokes felt a little too on the nose (Hollywood is much too comfortable making fun of itself), but many reflect the sardonic style of The Other Two, another brilliant comedy that mocks the world of glitz and glamour.
Sally isn't the only one whose life has vastly improved. Barry's frenemy NoHo Hank (Anthony Carrigan) has started an unexpected relationship that turns out to be most endearing. NoHo Hank and his new lover frolic between the bedsheets as they discuss their dream of buying a home in Santa Fe, a hysterically unexpected turn of events. Last season, NoHo Hank's story line drifted a bit all over the place; it's nice to see him back in his original goofy form. Even though he's still the same old NoHo Hank, he has started to take control of his life, even going so far as to tell off Barry. He's even ecstatic after he experiences his first police interrogation, which he tells his new lover about as they take a shower together.
While Sally's and NoHo Hank's lives are on the upswing, Gene's is not. He wants to take revenge on Barry, while Barry is eager to have their friendship continue. Winkler adds a new level of narcissistic noodling to Gene, so his and Hader's interactions are among the highlights of the season.
Season three is just as dark as its predecessors. In fact, in some ways it may even be darker. As Barry's secrets become less hidden, he has to find a way to outsmart everyone while not succumbing to his own violent nature. The upshot is that the guy — a well-meaning killer — doesn't seem to be fully aware of how much of a sociopath he's turned into. With this season, it is becoming clearer that Barry is a quintessentially American satire.
---
Sarah Mina Osman is a writer residing in Wilmington, NC. In addition to writing for the Arts Fuse, she has written for Watercooler HQ, Huffington Post, HelloGiggles, Young Hollywood, and Matador Network, among other sites. Her work was included in the anthology Fury: Women's Lived Experiences in the Trump Era. She is currently a first year fiction MFA candidate at the University of North Carolina Wilmington. When she's not writing, she's dancing, watching movies, traveling, or eating. She has a deep appreciation for sloths and tacos. You can keep up with her on Twitter and Instagram: @SarahMinaOsman