By Jon Garelick
The important thing was the collective triumph of the band's music, in a beautiful venue, with an audience that was alive to their every move.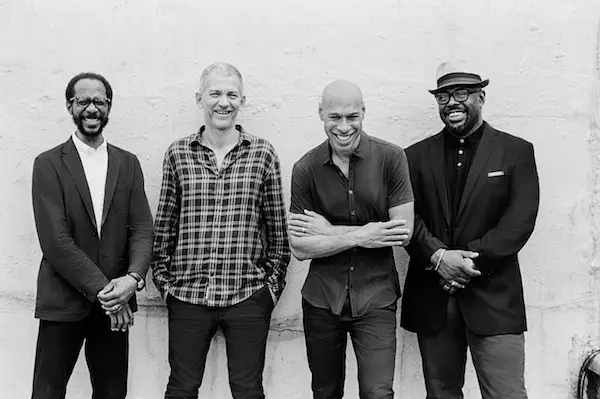 I didn't bring a notebook to last Sunday night's show (April 24) at Symphony Hall, "A MoodSwing Reunion," because I hadn't planned to write about it, but here I am, nearly a week later, with a few off-the-cuff notes on a truly inspiring evening.
First of all: How inspiring is it to see a big crowd at Symphony Hall for a jazz show? The presenters at the Celebrity Series of Boston made the right bet. It was nice, too, to see that "next generation" jazz stars can hold their own (in a re-resurging pandemic, no less) with the likes of Sonny or Herbie and Chick (RIP). That next-gen lineup would be saxphonist Joshua Redman (53), bassist Christian McBride (49), drummer Brian Blade (51), and pianist Gerald Clayton (37).
Clayton was a last-minute fill-in for Brad Mehldau (51), who cancelled because of illness (presumably not COVID-19). Otherwise this was the all-star band that the not-yet-stars made under Redman's name for MoodsSwing, his third album as a leader, in 1994.
To be honest, I didn't know what to expect. The band's reunion album, RoundAgain, began well enough, with Redman's "Undertow," pulled along by the tide of an ambiguous repeating piano line and odd melodic rhythmic pattern. But then the album settled into the all-too-familiar straigh-tahead moves of post-bop blues and swing. After the advent of player-composers like Vijay Iyer and Mary Halvorson, with their exploration of "the outer view," as a George Russell title once had it – odd meters, warped harmonies, elusive forms — I wondered if the music had simply passed the MoodSwing guys by. Even a gritty practitioner like the brilliant young trumpeter Adam O'Farrill gets his effects exploring discontinuous rhythms and odd structures. Maybe the mainstream had moved on without them.
But within moments at the Symphony Hall concert, my fears of boredom or indifference were dispelled. While MoodSwing was all Redman originals, RoundAgain featured contributions from everyone in the band. And here's what I had heard on the album: a sensibility squarely placed in the tradition, a lot of blues, or at least blues feeling, and swing rhythms and allegiance to melody and song form.
But these superb players made their case. Familiar ideas came off as fresh, in the wit of McBride's playfully riffing "Floppy Diss" (shades of Benny Golson), even the funky backbeat of Redman's "Silly Little Love Song." The opening bars of the night's first tune, of the aptly named "Mischief," from the first album, were greeted with the applause of recognition. And, yes, there was an "Undertow" (expertly navigated by Clayton) and an a capella tenor solo that displayed flash without self-indulgence.
Redman has always impressed me as a technician, but at this show I was more aware of him investigating the sonic possibilities of the saxophone (tenor and soprano)— how to exploit the full range of the horn, from deep, chesty lower register to oxygen-thin altissimo, not just for calculated effect but as part of an ongoing exploration. Whenever I've seen him in concert, Redman has never failed to build excitement, to deliver stirring climaxes. That hadn't changed. But here it was the beauty of his playing moment by moment that captured me. Technical prowess can come off as either calculated showiness ("all-presentation," as one musician friend of mine once said about another player) or as an off-putting self-involvement. Redman's sense of himself and the audience seems indivisible. He seems to understand that he won't draw in the audience unless he finds something for himself in performance first. What do I have to say on this horn right now? To put it more baldly: If I'm bored, what do you think the audience will be feeling?
Boredom was never a question with McBride. Has any bass player enjoyed his job more? From my earliest experience hearing McBride, I've been impressed with his ability to make even the simplest "walk" rich and pliant. But I had forgotten the fireworks he was capable of. It's become a standard practice for (some) acoustic jazz bassists to run off lightning-speed pizzicato patterns in the upper register. But McBride's attention to his sound brings special beauty to these virtuoso flurries, a fullness of tone where other speed-demons would sound anemic by comparison. But like Redman, McBride was always deeply musical — fashioning lines and phrases that were gracefully designed as well as full of feeling. When he took a purely melodic solo — picking up from the theme of one tune — it was never overly "guitaristic." And he had the perfect musical personality for a bass player — virtuosic, but always hearing the music as a whole.
I heard some complaints in the line for the men's room after the show about the miking of the drums, but amplified jazz drums are always a problem in the "live" acoustics of Symphony Hall. To my ear, Blade, like McBride, played virtuosic support — at one point he seemed to join the rhythmic line of one of Clayton's solos even as the pianist was inventing it. His fills and accents were so witty that a couple of times they made me laugh.
Clayton was able, and had his moments, but this was his first night with the band, on short notice, and, to my ears, he was less of a standout.
But the important thing was the collective triumph of the band's music, in a beautiful venue, with an audience that was alive to their every move. And there's another advantage to a full Symphony Hall over other spaces: the way it projects the sound of a cheering crowd. The pandemic is still here. But the hall was live, and so was the music and the band.
---
Jon Garelick is a member of the Boston Globe editorial board. A former arts editor at the Boston Phoenix, he writes frequently about jazz for the Globe, Arts Fuse, and other publications.