By Daniel Gewertz
If you're a fan of the Great American Songbook, but have grown weary of the warhorses, Send for Me is a treat.
Send for Me, Catherine Russell (Dot Time Records)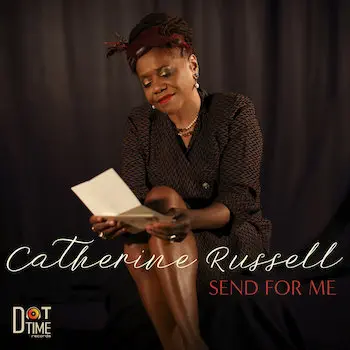 It is not uncommon for an album to be dedicated to the artist's parents. In the case of jazz singer Catherine Russell's new CD, Send for Me, the homage goes beyond personal sentiment. In musical content and style, this album is a marvel of family fidelity.
Russell's jazz bloodlines can't be mentioned too often. She was born to the art. Her father, the Panamanian-born pianist Luis Russell, played in King Oliver's legendary Chicago band in the mid-1920s. As a bandleader, Luis recorded numerous sides under his own name. Louis Armstrong was a recording cohort, and then, in 1935, Russell took over as Satchmo's bandleader. Catherine's mother, Carline Ray, came from a well-known musical family herself. After making her name as a singer and guitarist in The International Sweethearts of Rhythm — the first integrated all-woman band in the US — she worked as a singer-for-hire with an array of talents ranging from Bobby Darin to Leonard Bernstein to Mary Lou Williams.
Catherine's career trajectory has been the reverse of her father's. Luis created a name for himself back when he and the whole genre of jazz were young. He retired at 48, and died at 61. Catherine, meanwhile, waited until her late 30s before making a living in music as a touring and recording back-up singer, most prominently with David Bowie and Steely Dan. She didn't record under her own name until she was 50. Now 65, she's been making up for lost time — the newly released Send for Me is Russell's eighth CD. It digs deep into the era of her parents' prime, the '30s and '40s — the decades when jazz was pop.
If you're a fan of the Great American Songbook, but have grown weary of the warhorses, Send for Me is a treat. There are but two songs one might call standards: "You Stepped Out of a Dream" and "East of the Sun (and West of the Moon)." The others are worthy works by little-known composers, as well as co-writes by top stage performers — Dick Haymes, James P. Johnson, Count Basie, Lionel Hampton, bluesman Earl King, and Catherine's father, Luis Russell. Yes, Andy Razaf — Fats Waller's well-known partner — is represented here, but have you heard his "Sticks and Stones"? It's a light-sounding swinger about heavy verbal abuse. The lyrics are tricky. At first, it seems as if the lover might be the source of the abuse, which would place the number in the mold of masochistic torch-songs like "Mean to Me." But with the last-verse line ("Let them say what they think of me") it becomes clear the insults are heaped upon the singer by neighborhood gossipmongers. It's a "love can conquer adversity" ditty. Russell simply calls these kind of songs "romance that swings." While the album's liner notes are extensive, no other phrase better defines this exquisitely rendered CD.
The band of New Yorkers, under the direction of guitarist Matt Munisteri, swing smoothly. Reedman Evan Arntzen is a standout, especially on clarinet in the lead-off song, "Did I Remember." "At the Swing Cats Ball" (written by Catherine's father) is period perfect, brought up to date only by the cute lyrical insertion of the names of her current brassmen, Jon Kelso and John Allred. The switch from silky swing to beseeching blues is brought off with subtlety by Russell, without a trace of theatrical fakery. The CD's emotional palette seems a mite too mellow at points. But few could top her feel on Earl King's pulse-quickening 1957 blues "You Can Fly High," a song niftily transformed from the blustery original. "In the Night" — written by Norman Mapp and enriched by Paul Nedzela's noirish baritone sax — is the moody balladic standout.
In contemporary jazz circles, "real jazz singing" is often thought of in terms of improvisation: the voice as instrument, with Betty Carter as key role model. When fans of classic pop think of top female vocalists, what comes to mind are torch songs sung wistfully by the tortured of heart. Russell is the inerrant opposite of both these models. She honors tradition, but doesn't create museum pieces. Her touch is expert, but not improvisational. It often attains the unembellished feel of the "girl band singers" of 80 and 90 years ago. Her approach is both conservative and vivacious. The song itself is the point with Russell: it isn't just a jumping off point. The lilt in the voice and the tilt of the attitude create the album's subtle mood shifts, by turns breezy, fluid, thoughtful, contented.
Again, the history of Russell's life may be relevant here. Think of the torch singers of yesteryear — the best example being the peerless Judy Garland. Some of those vocalists led turbulent lives and they brought their torments, in a tempered manner, to their art. Russell, on the other hand, seems to be living a life that, to quote one of her songs here — "stepped out of a dream." Her professional life hit its stride in middle-age and then got even better. Back in the mid-'80s — when Russell was about 30 — only a few people in the know knew about Russell's voice. One night, while sitting in a New York nightclub audience, she was invited by guitarist Jimmy Vivino to climb onstage and sing a song with Donald Fagen. That was the impromptu birth of her life as a world-touring backup singer.
In the troubled life of the archetypal torch singers of yesteryear, if their lovers weren't bastards, their managers were crooks. Russell, on the other hand, married her manager, Paul Kahn, the man who founded the Boston booking agency Concerted Efforts in the '80s. It was Kahn who convinced Russell to drop her successful role as back-up singer and hit the spotlight as a soloist. He then produced her CDs. In recent years he's earned a graduate degree in jazz history, and is now writing a book about his wife's gifted parents. Now that's a love story. Is it any wonder the elegant Ms. Russell sounds contented?
---
For 30 years, Daniel Gewertz wrote about music, theater and movies for the Boston Herald, among other periodicals. More recently, he's published personal essays, taught memoir writing, and participated in the local storytelling scene. In the 1970s, at Boston University, he was best known for his Elvis Presley imitation.