By Melissa Rodman
Forget romance. Forget chemistry. Forget star-crossed lovers. At its heart, this Eurydice is concerned with the love between a father and a daughter.
Eurydice, composed by Matthew Aucoin with a libretto by Sarah Ruhl. Conducted by Yannick Nézet-Séguin. Directed by Mary Zimmerman. Staged at the Metropolitan Opera, New York, through December 16.
On December 4, Eurydice will be screened in The Met: Live in HD series and will air on Toll Brothers–Metropolitan Opera International Radio Network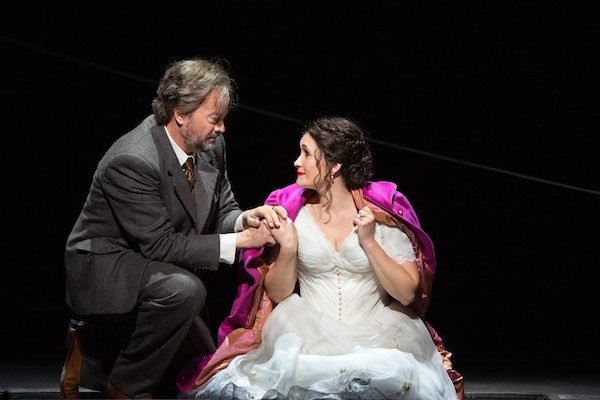 You probably know the Greco-Roman myth of young lovers Orpheus and Eurydice. You likely have encountered some version in literature, painting, film, or music. The story is simple but cuts deep: Boy meets girl. Boy loses girl.
More specifically, the lovers are wrenched apart on their wedding day, when a viper bites and kills Eurydice, sending her to the Underworld. Orpheus, a renowned musician, convinces the god Hades, who rules the realm of the dead, to allow him to lead Eurydice above ground, provided that he does not turn around to see if she is following. At the last moment, Orpheus glances backward and that glimpse consigns Eurydice below again, this time irretrievably.
This myth nominally undergirds Eurydice — a sparsely staged, surreal opera by composer Matthew Aucoin and librettist Sarah Ruhl — which had its world premiere in 2020 at the Los Angeles Opera and on November 23 opened at the Metropolitan Opera. But forget what you know. Forget romance. Forget chemistry. Forget star-crossed lovers. At its heart, this Eurydice is concerned with a different story. (The first clue is the dedication to Ruhl's 2003 play of the same name, on which the opera is based: "This play is for my father.")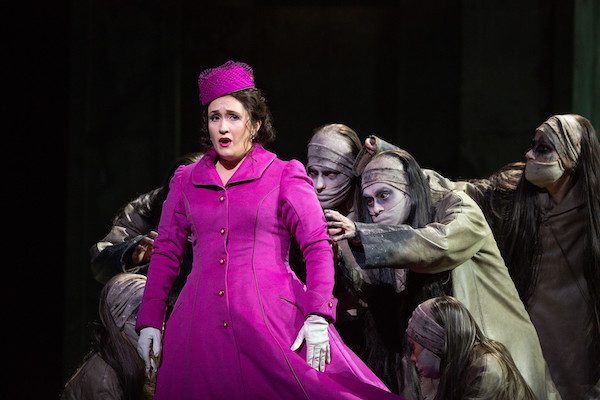 We meet Aucoin and Ruhl's Orpheus (baritone Joshua Hopkins, rather subdued in a second-billing role) and Eurydice (soprano Erin Morley, who performs with a quiet coolness) by the seaside, a papery azure expanse with a bright sun cutout, tossed-aside beach balls, and two sling-backed chairs. She thanks him for bringing her here. He's quiet. She continues to chatter in song. He still says nothing. "What are you thinking about?" she finally asks. His sweet-throated reply is "music," his first utterance of the opera, not "Eurydice." These are not two people in love; in fact, they're not really all that interested in each other. When he proposes marriage later in this opening scene, she's absorbed in her book, not paying attention to him. And Orpheus is busy interacting with his distracting winged double (countertenor Jakub Józef Orliński on some nights, including the Met premiere; countertenor John Holiday on other nights), who seems to be visible to only him. A foundational romantic spark — necessary in order to elicit, down the line, the pang of Orpheus and Eurydice's fated separation — is missing, no matter how weighty the music becomes.
In this reimagining of the myth, there is someone else in Eurydice's life who has that undeniable pull: her father (avuncular bass-baritone Nathan Berg). After the beach scene fades to a darkened void, we see him in a telephone-booth box, on top of which a tarnished, fallen-angel supernumerary curls up like a finial. From this Underworld cubicle Eurydice's father writes her a letter, composing the speech he would have liked to deliver at her wedding. "Love is the ultimate satisfaction in life," he dictates, assuredly. The actual wedding ceremony, however, continues to suggest that Eurydice and Orpheus have different love interests:music enchants Orpheus and Eurydice's beloved is her father, not her new husband. "A wedding is for daughters and fathers," she sings in front of a watercooler after she steps away from the reception. Side note: Denis Jones's choreography of the wedding guests, who chest-pump, floss, and do the swim underneath the watery disco lights, is a playful, humorous moment.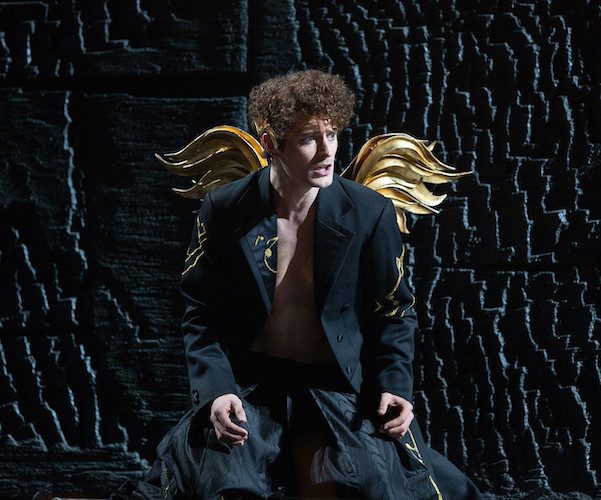 When Eurydice is alone, the plot advances. A strange, devilish man (shrill tenor Barry Banks), who later doubles as Hades, has found the father's letter. He schemes to bring Eurydice back to his high-rise apartment — plinking, up-and-down music comically mirrors their stair-climbing. Eurydice manages to snatch the letter from the man but she falls — or, rather, slo-mo descends on a mattress lowered through a trap door — to her death. In the Underworld, she meets a purposefully grating, repetitive chorus of Stones — Little Stone (soprano Stacey Tappan), Big Stone (mezzo-soprano Ronnita Miller), and Loud Stone (tenor Chad Shelton) — and reconnects with her doting father, whom she does not recognize at first. Their re-acquaintance unfolds with a poetic tenderness that further tethers her below. There are no rooms in the Underworld, but Eurydice's father makes her one out of string, singing of how he used a mnemonic to evade the river of forgetfulness and remember her name. Above, Orpheus writes to Eurydice that he "play[s] the saddest music now you're gone." Cue his descent to retrieve her and the fateful look back.
In Eurydice, though, the stakes of the couple's walk-up-from-hell are low. Daniel Ostling's set, in this moment and indeed throughout, is simple and stylish. As Orpheus and Eurydice ascend single-file, the thick gray slabs that formed the Underworld lift to let in a cornstalk light, accompanied by small shoots that inch up from the ground. But Eurydice's heart remains below with her father, and she calls Orpheus's name, prompting his turn. "I decided to come back," Eurydice tells the Stones. The opera's real tragedy: the father, desolate after Eurydice left, goes to the river (a subway-tile shower stall) and washes away all his hard-won memories. She finds the slumped husk of his body and does the same. Orpheus descends to find their lifeless forms. The curtain falls.
Aucoin's score juxtaposes a variety of evocative sounds — plinks, a clock-like syncopation, punctuating bangs (e.g., The Stones intone, "No one knocks at the door of the dead!" bang! "No one knocks at the door of the dead!" bang!) — that come along so quickly that it is difficult to be pulled in. There is a surfeit of rippling expansiveness. At one point, the melody of Eurydice's core aria, sung by the eponymous character at the end of Act II, shimmers, then swells memorably, overlaid with Ruhl's stirring lyrics: "This is what it is to love an artist… Inside his head, there is always something more beautiful." The problem is, in Eurydice's father-daughter rejiggering of the myth, the beautiful love story isn't between Orpheus and Eurydice.
---
Melissa Rodman writes on the arts, and her work has appeared in Public Books and the Harvard Crimson among others.