By David Gullette
Paul Muldoon is anxious to file dispatches from the front lines of Our Lives Now. That is one of the characteristics that separates him from most other poets writing today.
Howdie-Skelp by Paul Muldoon. Farrar Strauss Giroux, 192 pages, $27.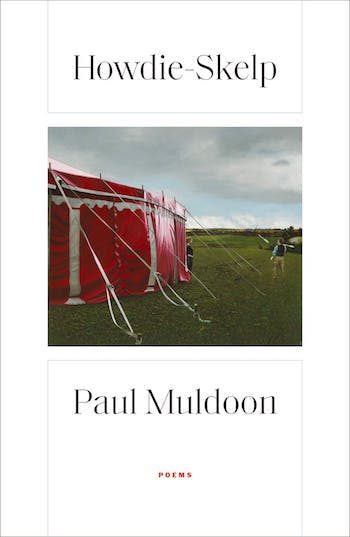 Arts Fuse readers may remember that I reviewed Paul Muldoon's Frolic and Detour last year, and raved that the book contains a few poems "that I judge to be instant classics of English-language poetry." I have no reason to change that judgment. In fact the publisher quotes that blurb of mine in the razzmatazz for the new book.
Howdie-Skelp is also impressively varied and full of technical fireworks, raucous wit, bumper-cars of non-sequiturs, a grand collision of images and ideas, but I have to say I like the earlier book better: there are simply more individual poems a careful reader of poetry wants to return to.
Let me begin by registering my disquiet with the idea that what Muldoon calls a Howdie-Skelp is when a midwife slaps the newborn's face to wake the kid's lungs up and get him/her to take a first breath. Apparently holding a baby upside-down in the air and slapping her/his butt is no longer done, but I can find no evidence that any responsible obstetric practitioner says "Howdie" to a new arrival with a skelp in the face. Do you disagree? Speak to my lawyer.
The new book is full of tours de force: "American Standard" has fun turning a dream-road-trip into a pastiche of Eliot's "The Waste Land" that runs to 15 sections (I hesitate to call them stanzas) over nearly 40 pages. What keeps a reader going? Lots of surreal laugh-lines for one thing: "What comes around goes around for the ten-ton alligator/ that can tear up your tarmacadam drive/ while turning on a dime." (Would that be Dante Alligator?) There's also what you might call "the patter of a Stage American," just as half-baked American performers will try to pull off a "Stage Irishman" shtick. But then we remember that Muldoon, who has been working and living in the US for many decades has earned his Americanisms. Muldoon's Virgil is a waiter named Virgilio who keeps hovering around the poet's elbow during the trek through a post-modern Wasteland with his chums Tom and Ezra.  It's dazzlingly amusing, until it isn't, like reading an over-long collection of SNL scripts. Like in Pound, there are tirades about American politics. Eliot's "Shantih shantih shantih" becomes "Santee" or "Shandy" or "Shinto" or "Cento," and then "I have seen the eternal footman hold my coat and knickers." Even "David Bowie's three-hulled canoe" cannot get us out of this Drunk English Major prattle quick enough.
So it's a relief to slow the pace with some shorter poems, with more modest (but reachable) goals. In "Wagtail" the poet recalls that his grandfather may have known a lot about the diseases that afflict Clydesdales, "but may not have recognized dementia/ as a trait of the Muldoons. Sometimes a phrase/ such as 'Hugh has begun to dote' will weigh" on a family member, like a Clydesdale overburdened with a load of withies,
"While the pied wagtail crossing freshly turned furrows
Is a tiny rowboat
Glimpsed now and again in the trough between storm-waves."
That seems to me a perfect deployment of images: the "doting" of a loved one who is losing his mental edge, the huge horse weighed down by a burden, the tiny bird moving over the furrows seen as a tiny rowboat appearing and disappearing in the waves of an angry sea. Muldoon can do that from time to time: catch you unawares and give you poetry as good as it gets.
Let me praise three other pieces in Howdie-Skelp. "The Triumph" is a long poem in nine sections, a tribute to the Irish poet and novelist Ciaran Carson, who died a couple of years ago (in Boston we learned about it just as a Poets' Theatre tribute to the poet Michael Longley and his wife Edna was about to unfold at Boston College). Apparently, as he fought cancer Carson liked to regale his friends with tales of "Captain Chemo." "Remember," Muldoon asks the absent Carson, "how you'd retire at nine to get a head start on your dreams,/dreams as vivid compared to your day-to-day as Easter is to the ashes-and-sackcloth Lent?" We should all be so lucky as to have Paul Muldoon re-create out lives in verse after Act Five.
Then, one of my favorites in this collection, "A Bull." Thirty-nine quatrains, each one beginning with the tab "Every day," each with its own rigid rhyme scheme: aaaa. That is, all four line-endings in each quatrain rhyme. Sounds like a recipe for insanely tidy tedium, right? No, it's anything but: Muldoon likes to see how much freedom he can ignite within artificial prisons. So, with the Bull an obvious stand-in for the poet himself, we find:
Every day putting a fresh spin
On how he maintains that shit-eating grin
Despite his notoriously thin skin.
The quagmire of what-might-have-been.
Or:
Every day plotting how to get even with the get
Who's trolling him on the internet.
Under the vapor trails of the jet set
The solidity of his silhouette.
Or:
Every day taking a hit
From some little shit
Armed with the latest version of lit crit.
The fly still looping the loop in his Messerschmitt.
Every day, it would seem, rekindling a flame
Against the culture of shame
And its interminable blame game.
Every day countering a counterclaim.
And finally, "Plaguey Hill," a ripped-from-the-headlines "Crown  of Sonnets" (15 of them, with faint traces of rhyme) on the theme of the Covid pandemic, with cameo appearances by Andrew Cuomo, Tony Fauci, Dear Evan Hansen, and Dr. Ai Fen from Wuhan. Muldoon is anxious to file dispatches from the front lines of Our Lives Now. That is one of the characteristics that separates him from most other poets writing today. There will be plenty of surprises along the way, but we can always depend on Muldoon to "make it new."
While I have your attention, let me recommend three other books of poetry that have come dropping in over my virtual transom: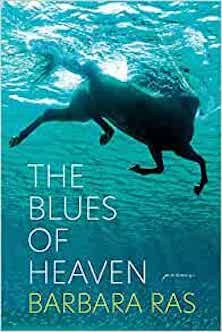 Barbara Ras came out of a troubled working-class Polish-American family in New Bedford, headed west after Simmons, won the Walt Whitman prize for the best first book of poems by an American poet (Bite Every Sorrow), and has since published widely and taught all over the world. University of Pittsburgh Press has now published her best book to date: The Blues of Heaven, which I cannot recommend strongly enough. I'd particularly point you toward a poem entitled "My Big Dream," which you can read here, if you promise to buy the book.
Scott Harney grew up in working-class Charlestown on the flanks of Bunker Hill. He managed to get into Harvard (took the bus there so he could study poetry with Robert Lowell) and met Megan Marshall, with whom later in life he bonded as partner and lover. When he died prematurely, having never published a poem in any respectable journal, Megan found a treasure-trove of poetry among his papers, and selected an impressive sample, which Arrowsmith Press has published as The Blood of San Gennaro. Do yourself a favor and get to know this previously unknown American poet with a Charlestown "townie" accent. The Poets' Theatre has created a theatre piece entitled MEET SCOTT HARNEY which has begun to tour around the commonwealth.
Finally: I met the Cree Nation (Saskatchewan) poet Louise Bernice Halfe (a.k.a. "Sky Dancer") at a poetry festival in Italy a couple of years ago. At the age of nine she was forced by the Canadian government out of her ragtag family on the Rez into one of those notorious "Residential Schools" run by nuns, whose aim was to erase all traces of indigenous language and culture from the kids, and turn them into model (white) Christians. The sexual and physical abuse was horrendous (hundreds of kids died and were buried out back) and is one of the themes she explores in Burning in This Midnight Dream (www.brickbooks.ca). This is harrowing poetry, leavened with some Cree words, that elevates the painful discussions that Canadians are having at the moment as they try to face the tragic/criminal history of the Residential Schools. Earlier this year Louise was named Canada's Poet Laureate, and the Poets' Theatre is working with Boston area organizations to bring her to Bean Town next October in time for our own Indigenous People's Day.
---
David Gullette was an early editor of Ploughshares (Happy 50th Birthday, Ploughshares!) and is currently Literary Director of the Poets' Theatre.