By Allen Michie
Even if this is a commercial confection, it's worth taking seriously because it is very likely to be Tony Bennett's final album.
Love for Sale, Tony Bennett and Lady Gaga (Columbia)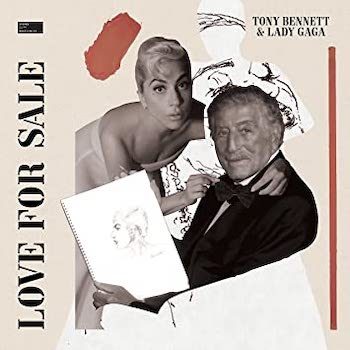 Of course, this cheerful album of Cole Porter tunes is a commercial confection. Porter himself wouldn't have wanted to have his stylish songs treated like solemn museum pieces. Both Tony Bennett and Lady Gaga have been putting out popular confections for their entire careers, each in their own very different ways, and both have been astonishingly good at it.
Bennett's true jazz masterpieces, such as his sessions with Count Basie or duets with Bill Evans, are the exception rather than the norm. He's a showman, a singer of show tunes and standards, the peer and equal of Frank Sinatra and Nat Cole. A volcano of diverse talents, Gaga is her own genre/anti-genre. She approaches the Great American Songbook with wit, but no trace of irony. She's singing these songs as her own voracious musical self, not as an actress portraying a cabaret singer. Bennett would be able to sniff her out a mile away otherwise.
Even if this is a sugary confection, it's worth taking seriously because it is very likely to be Bennett's final album. Please do watch the interview Bennett gave to 60 Minutes. He's suffering from advanced Alzheimer's, unable to remember his final concert at Radio City Music Hall, which he had performed just the night before. But in front of a piano in his living room, or in front of an orchestra on stage, all the lyrics to every song, and all the classic Tony Bennett showman moves, come right back to him. It's powerful to witness. Lady Gaga will be 95 one day, but the lyrics to "It's De-Lovely" probably won't be one of the last things she remembers. But these gems of American popular culture are embedded into the very strands of Bennett's DNA. Even at age 95, you can still hear that authority in Bennett's interpretations.
Lady Gaga, of course, isn't a jazz singer, and to her credit she doesn't really try to be. She's a jazzy singer, and a good one. It's best to think of her as today's Judy Garland or Barbara Streisand (I swear to you I typed that line before it occurred to me that all three have been in versions of A Star is Born). Lady Gaga's top priority is to sell the song, and secondarily to swing it.
It's a pleasure to say that Gaga and Bennett bring out the best in one another, and that's worth celebrating. There's genuine chemistry between these two. I recommend watching the videos associated with this record. They must have been recorded during the actual master takes because at this point Bennett is way beyond being able to convincingly lip sync. In "I've Got You Under My Skin," Lady Gaga watches Bennett with the kind of affection and respect that even an accomplished actress couldn't fake. If you can make it to 95, and then have a gorgeous pop star look at you the way Gaga does at Bennett, you know you've lived one helluva life.
The first voice is Gaga's. On "It's De-Lovely," and in several other places throughout, her style suggests a bit of her fellow fashionable sophisticate Anita O'Day. The resemblance lies in a slight alto huskiness and Gaga's manner of adding vibrato at the end of a phrase. The song is taken as a bouncy shuffle with a tricky unison vocal passage that Bennett sails through.
But it's tracks like "Night and Day" and "Just One of Those Things" that strike the same deep chord as Bennett's earliest classic hits, like "I Left My Heart in San Francisco" or "I Wanna Be Around." There's nothing quite like Bennett's voice over a full orchestra, gently swinging, with classy jazz vibraphone asides. It's a sound to hold onto — times may change, but the fundamentals of romance don't. (For another recent example, hear "Speak Low" which Bennett recorded with Norah Jones on the Duets II: The Great Performances album, another unlikely winter/spring pairing that somehow just works.)
"Love for Sale" is a good introduction to the fine big band featured on several tracks, and these studio pros are as slick and professional as you would expect. Jorge Calandrelli arranges and conducts the orchestra with a nonintrusive and tight swing. I'd also like to give a shout-out to the sound engineers — on "Do I Love You," for example, someone picked out excellent microphones. You may not think it's important until you hear it done right. On this solo feature for Gaga, you can hear all of the training (and all of the cigarettes) in her controlled and expressive voice. She approaches the song like a lullaby and luxuriates in her perfect intonation, letting a long-held tone at the very end fold slowly into the orchestra. It's a beautiful effect that could only come from an excellent singer, a great band, and a sensitive production staff behind the booth working together as a single artistic unit.
On "I've Got You Under My Skin" and "I Get a Kick Out of You," Bennett and Gaga sound like they're having a good time, although the chatty talking asides wear thin on repeated listenings. It's a nice opportunity to hear them in unison, like sugar & salt. Bennett has impeccable jazz phrasing throughout, and he surprisingly takes the upper side of the register when they sing in harmony here and throughout the album, hitting all the high notes with confidence and never having to slide up to them. On "I've Got You Under My Skin," Gaga slyly refers to the tattoo of Miles Davis's trumpet on her arm, taken from a Bennett drawing. It's refreshing to hear a version of "I Get a Kick Out of You" without any of the cutesy gimmicks that some singers use with the internal rhymes in these lyrics (Jamie Cullum, I'm looking at you). Gaga is actually holding back, something that doesn't exactly come naturally to her. That discipline may be something she's worked on since her first pairing with Bennett in 2011 ("The Lady Is a Tramp" was an infectious mess). "Flying too high with some gal in the sky/Is my idea of nothing to do" is classic Bennett — he sounds 35, not 95, and still in his prime.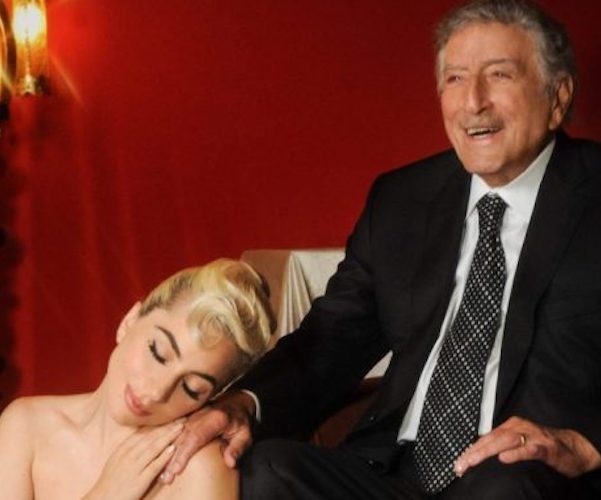 Gaga has the edge over Bennett on "I Concentrate on You," arranged here as a samba. Gaga's phrasing slinks around the Latin rhythm more comfortably than Bennett's. Similarly on "Dream Dancing," Gaga is a bit heavy for the light swing here, but she shows off her impressive range, and Bennett by contrast isn't much of a presence. He is much more at home with "So in Love," where again those excellent microphones ("Tony Bennett uses Sennheiser and Neumann microphones exclusively," proclaim the liner notes) reveal the details of his lived-in voice. Perhaps he's thinking of his devoted caretaking wife Susan, whom we meet on the 60 Minutes feature, and to whom he dedicates the album.
These two are an effective choice for a Porter homage. Bennett brings the pathos and the sentiment, and Gaga brings the humor, both of which weave through the composer's diverse songbook. On "Let's Do It," Gaga sings a lovely introduction, then hams it up once the swing kicks in, reveling in the lyrics' antic absurdity. Gaga's humor flows easy and naturally in "You're the Top," as the singers salute one another as they cross paths one final time — one on the way up, and the other on the way down, in two remarkable careers intersected by a love for the standards.
There have been some riveting late performances by singers in their old age (bodily, if not in years), such as Holding Back the Years by Jimmy Scott, Lady in Satin by Billie Holiday, and The Last Great Concert by Chet Baker. If you can take it, listen to Ray Charles's heartbreaking vocal full of weariness, grief, and regret on "Sorry Seems to Be the Hardest Word," a duet with Elton John, that sounds like Charles knew this was going to be his very last recording. There's nothing elegiac like that here. 60 Minutes shows an elderly Bennett shuffling through the park, barely aware of his surroundings and situation. But when the tapes are rolling or the audience is applauding, he's still belting it out with the energy and optimism of someone half (or even a quarter) his age.
To take a line from "Just One of Those Things" that Bennett sings with his typical verve: It was great fun. Thank you, Tony.
---
Allen Michie works in higher education administration in Austin, TX.