By Sarah Osman
The bizarre half-hour animated comedy is a hilarious love letter to the Windy City.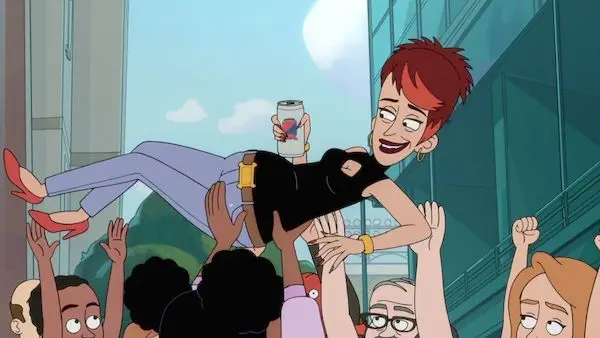 When my father first met my husband (who is originally from Chicago), he immediately made the following remarks:
"Does your family know the Obamas?"
Shortly followed by:
"Oh! Chicago! Al Capone! Gangsters!" — followed by imitations of machine gun shots.
In all fairness to my father, he's not originally from America. His perception of Chicago is typical, in that it reflects the often limited view of the Windy City: Gangsters, hot dogs, pizzas, thick accents, the Bears, and the Obamas. A handful of TV shows and films have been set in the city or reference it, but there are few examples in the popular media where one can point and say, "Yes. That captures Chicago."
A new animated series, set to premiere on Netflix, may remedy the situation. Chicago Party Aunt is based on the Twitter account of Chicago native and Second City alum Chris Witaske, who has become known for making outrageous comments about life in the city, even going so far as to run for mayor in 2018. The account is dedicated to chronicling the adventures of, well, a Chicago party aunt, and the show dramatizes these wild observations in cartoon form.
Chicago Party Aunt follows Diane Dunbrowski (Lauren Ash), a wild party girl who has been playing hard since the '80s and hasn't stopped. She's loud, brash, raunchy, and often drunk. Despite these character flaws, she's also incredibly loyal to her family, especially to her 18-year-old gay nephew, Daniel (Rory O'Malley). He decided to pass on Stanford University (much to the chagrin of his uptight mother Bonnie, voiced by Jill Talley), and chose to move in with his aunt Diane, who happily takes him under his wing.
The series' 24-minute episodes follow the sitcom plot formula: Diane has to pass a test, Daniel throws a party, Diane wants to start dating, etc. The series really doesn't need to be watched in a particular order (although it does help, since the episodes have some continuity). Neither does it call for much concentration. Chicago Party Aunt is content to be an endearingly weird show with some laugh-out-loud moments, particularly when it pokes fun at Midwestern culture, which, considering the mayhem currently going on around us, is exactly what viewers need right now.
Each character on Chicago Party Aunt is more eccentric than the last. Diane is by far the quirkiest — she squeezes herself into clothes she shouldn't, makes remarks like "sucking face with a rando is what Halloween is all about!" and is incredibly proud of her Cubbies. Ash voices the character with just the right amount of sass — Diane is likable without being too abrasive. Her sister, Bonnie, is the exact opposite of Diane — she lives in the North Shore (an affluent suburb of Chicago) and is (predictably) horrified by her sister's behavior. Highlights include times in which Bonnie acts as uncontrolled as her sister. Could it be that she is not as prim and proper as she appears to be? Diane's son, Mikey (Jon Barinholtz), has been hit in the head a few too many times working as a luggage handler at O'Hare. To his credit, he clearly loves his mama. There are also Diane's coworkers at the salon where she works. Much to Diane's dismay, her boss, Gideon (RuPaul Charles), is trying to transform the business into a hipster's paradise. The show writers have pulled off an impressive trick: amid all the absurdity, each of the characters reflects just enough reality to be convincing. No one ever tops Diane's behavior, so Chicago Party Aunt never goes dangerously off-kilter.
Over the course of the series, the characters visit numerous Chicago landmarks — Soldier Field (where they attend a Bears vs. Packers game), the Field Museum, and Wrigley Field. But there are still plenty of references to distinctive parts of Chicago culture that are only known to locals — my husband lit up at the sight of a famous weatherman whom I had never heard of before and he chuckled at the sight of Binny's, which is Chicago's equivalent to BevMo. He, as well as many other Chicagoans, will appreciate the granular nods to his city. No film or TV show to date has embraced Chicago with this much insider love.
The emotional heart of the series lies in the strong relationship between Diane and Daniel. She is everyone's utterly crazy aunt, but she is also a woman who cares deeply — if she wasn't there for Daniel, no matter what the crisis, the character would border on intolerable. But Diane's love for her nephew, as well as her other family members, makes her endearingly human.
Chicago may still be known to many as the land of pizza and the Obamas. But for fans of the series it has a new claim to fame — an archetypal party aunt.
---
Sarah Mina Osman is a writer residing in Wilmington, North Carolina. In addition to writing for The Arts Fuse, she has written for Watercooler HQ, The Huffington Post, HelloGiggles, Young Hollywood, and Matador Network, among other sites. Her work was included in the anthology Fury: Women's Lived Experiences in the Trump Era. She is currently a first year fiction MFA candidate at the University of North Carolina Wilmington. When she's not writing, she's dancing, watching movies, traveling, or eating. She has a deep appreciation for sloths and tacos. You can keep up with her on Twitter and Instagram: @SarahMinaOsman