By Peg Aloi
This is the Danish series that may well have inspired a juggernaut of provocative stories generated by life in these cold, civilized, but often dark Scandinavian lands.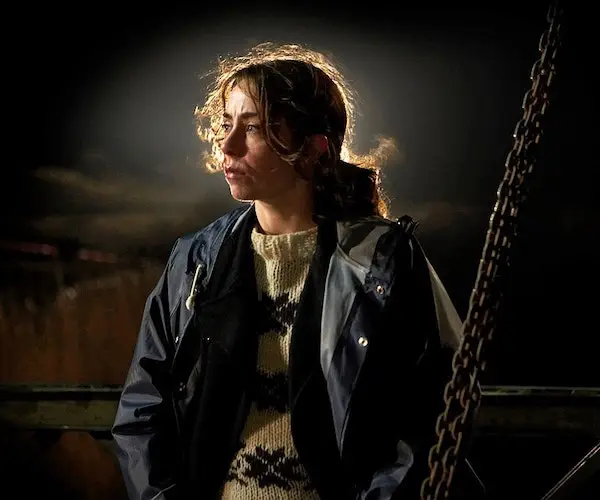 American audiences might remember a glossy 2011 thriller series, set in Seattle, called The Killing. Starring Mireille Enos (Hanna) and Joel Kinnaman (In Treatment) as detectives Sarah Linden and Stephen Holder, the first season focused on a suspenseful investigation sparked by the murder of a teenage girl. Over subsequent seasons the two partners, each with troubled personal lives, grew closer. The excellent cast also featured Billy Campbell, who played an ambitious candidate for mayor who became enmeshed in a scandal connected to the murder. Brent Sexton and Michelle Forbes were cast as the victim's parents.
The multiple-Emmy-winning series, developed and produced by Veena Sud, was based closely on the Danish series The Killing (Forbrydelsen), which premiered in 2007 and ran for one season (18 episodes). Previously unavailable to American audiences, Topic is now streaming the original Danish version (created by Søren Sveistrup). It's every bit as compelling as its American protégé.
The Scandinavian cast features Sofie Gråbøl (The House That Jack Built) and Søren Malling (The Investigation) as the detectives Sarah and Jan; Ann Eleonora Jørgensen (Italian for Beginners) and Bjarne Henriksen (The Hunt, The Celebration) as the parents of the murder victim; and Lars Mikkelsen (Headhunter, and yes, brother to Mads Mikkelsen) as Troels Hartmann, the charismatic mayoral candidate. As in the American version, Sarah is the protagonist, her life in transition as she ends her job with the police force in Copenhagen. She has plans to move to Sweden with her teenage son and fiancé. The police chief asks her to do some last minute work on the new case, to help out the detective Jan Meyer, who's just come on the job as her replacement. Sarah finds Jan brash and disrespectful and he thinks she is arrogant and rigid. There is plenty of tension between them as they begin work together.
It soon becomes apparent that Sarah feels pressured by her boss to stay on the case indefinitely to help solve the crime. Even Jan has to admit that her instincts are solid. She delays the move to Sweden, staying temporarily at her mother's home. She doesn't empathize with her son's anguish: he has to say goodbye to schoolmates yet live in limbo before he starts a new life. Sarah becomes consumed with the case, and her focused precision doesn't always inspire the best decisions. The investigation is beset with frustrating mistakes and misfires, to the point that the grieving parents, Pernilla and Theis, feel they have to intervene — with disastrous results. Meanwhile, Troel Hartmann's quest to become Copenhagen's new mayor implodes after it's discovered the car that Hanna is found in belonged to his campaign. The Byzantine overlap of politics with the criminal justice system adds further complications.
It's a complex narrative but it unfolds compellingly, with a beautiful mise en scène that juxtaposes small moments of artful beauty and gritty urban realism with grandiose long-distance shots of the city. Most of the episodes were photographed by Rasmus Arrildt (Harlots), but the series features multiple writers, directors, and cinematographers. The soundtrack features an urgent percussive riff — also featured in the American version — that is used over montages, an effective way to enhance the tension and meld parallel story lines together.
The American version delves much deeper into Sarah and Jan's personal demons, which include mental health problems and drug addiction. Their difficulties underscore the precarious life-work balance that they struggle to maintain. Both versions of the series draw on their superb casts to make the most of the screenplay's accumulation of subtle and intimate personal details to dramatize psychological distress. Alongside Trapped, Katla, and The Investigation — some of my favorite recent Scandinavian crime dramas — this long-awaited rerelease of The Killing takes us back to the beginning of a creative flowering — this is the Danish series that may well have inspired a juggernaut of provocative stories generated by life in these cold, civilized, but often dark lands.
---
Peg Aloi is a former film critic for the Boston Phoenix and member of the Boston Society of Film Critics. She taught film studies in Boston for over a decade. She writes on film, TV, and culture for web publications like Vice, Polygon, Bustle, Mic, Orlando Weekly, Crooked Marquee, and Bloody Disgusting. Her blog "The Witching Hour" can be found at themediawitch.com.