By Daniel Gewertz
The Everly Brothers' close harmony work was so sinuous it sometimes seemed close to witchcraft.
Don Everly died last week at age 84. When a major musical icon passes, people often call it "the end of an era." But the Everly Brothers' era passed long ago. Whatever subtle influence the brothers' music has today — and however well their recorded songs epitomize the 1950s and transcend it — the Everly Brothers' real era is their reign as Top 20 hitmakers. And that ended in 1963.
After a famous 10-year "breakup" (1973-83), the duo's comeback years were spent as a summertime touring act. It was an act that surpassed all expectations in terms of quality and longevity. Starting with a 1983 show at London's Royal Albert Hall, the reunited Everlys led one of the finest live bands in rock 'n' roll history from 1983 to about 2004. (Phil died in 2014.)
I was lucky enough to see that band twice — in the late '80s and in 2000 — both times at the South Shore Music Circus. The band, under the direction of guitar wizard Albert Lee, also featured a bona fide country legend: pedal-steel guitarist Buddy Emmons. The band was like a perfectly engineered race car, purring and roaring rock 'n' roll.
I interviewed Phil by phone in 2000, and after the show he greeted me with the genial grace he exhibited in the interview. I then looked over to a dim corner of the large offstage room. In the near dark there sat Don Everly, alone. He was just sitting there, gazing idly into the shadowy gloom. It would be fair to say there was an aura about him that said: do not disturb. At least that's the message I got, and I respected it.
On stage, the duo worked as a single symbiotic organism. That was their essential craft. In fact, the close harmony work was so sinuous it sometimes seemed close to witchcraft. Admittedly, Phil's beseeching tenor dominated the harmonies; but Don sang the lower solo parts beautifully. His rhythm guitar — at its peak of excitation on "Wake Up, Little Susie"  ­– was a huge asset.
The Everly family history could have been the scenario of an All-American Hollywood movie. Don was born in Kentucky, Phil in Illinois, and they spent their childhoods in Waterloo, IA before eventually moving to Tennessee. Performing with their parents as a family act, they were known on radio as  "Little Donnie and Baby Boy Phil." (The latter nickname was no exaggeration: by six Phil was on radio.) Those '40s boyhood years, luckily, coincided with the brief era when bluegrass enjoyed commercial success. The late '40s saw  the rise of close-harmony brother acts The Louvins, The Monroes, and the Delmores, the Everlys natural role models.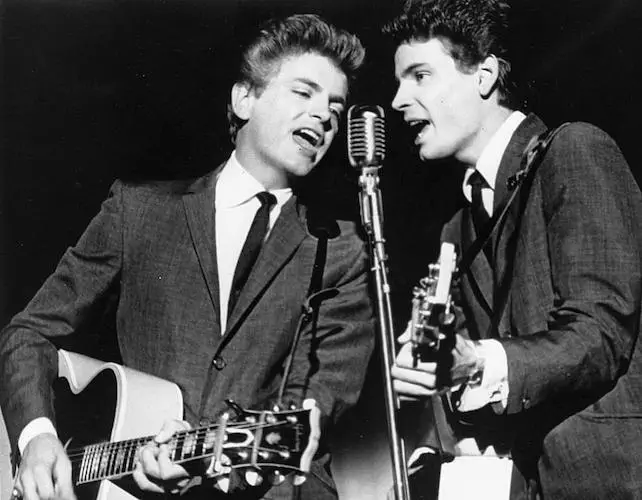 By the time they were discovered in Nashville by guitarist/record exec Chet Atkins, bluegrass was old hat. But again, the Everlys were fortunate. You might say they struck gold. Literally. If it weren't for Elvis's astonishing rise on the charts in 1956, the Everlys (and their friend Buddy Holly) wouldn't have been such instant pop stars in 1957. It is hard to overstate the success the Everlys had that year, at ages 18 and 20. In their first two years of countrywide popularity, the Everlys became the only act — other than Presley — to consistently reach the upper reaches of the pop, country, and R & B charts. "Wake Up, Little Susie" and "All I Have to Do Is Dream" were #1 on all three, and "Bye Bye Love" and "Bird Dog" were only a tad behind.
It was a smooth approach that fit the teen market of the '50s. The sad ballads often evoked youthful heartbreak: they were as much about purity and poignance as the sorrowful fatalism of the older bluegrass groups. Everly harmonies  keened with loneliness, but remained picture-book pretty.
Looking at publicity photos of the two in their teens and early 20s, it is already possible to tell that older brother Don was the inward one, less secure with the marketing of a public persona. His smile sometimes seemed shy, forced, even self-effacing. Of the two, Don seemed the more fragile and vulnerable — more liable to sink into emotional depths. Back in 1959, when their good friend Buddy Holly died in the famous plane crash, Phil jetted down to the funeral and sat with the Holly family. "I couldn't go to the funeral," said Don. "I couldn't go anywhere. I just took to my bed."
Both brothers, simultaneously, enlisted in the Marine Reserves, and that dimmed their stardom in the early '60s. But it was a devastating — and avoidable — dispute with their management and publishing company — the powerful Acuff-Rose Agency — that really slowed down their ride on the hit parade.
To gain legal power, and increase his company's profits, Wesley Rose had cleverly signed on as both manager and song publisher when the boys were just 18 and 20. When the duo released a song not written by an Acuff-Rose composer, all hell broke loose. The brothers fired them as managers, but were legally tied to their publishing deal. Wesley Rose then, in retaliation, forbade all his other writers to compose for the brothers. Losing the writing team of many of their signature songs, Felice and Boudleaux Bryant, was a major blow. But the real kick in the pants was that as writers still contracted by Acuff-Rose, the Everlys themselves could not write new material without paying their arch-enemy ex-boss.
The Everlys were confident that their star power amounted to genuine leverage: they naively assumed they could take on a giant of the recording industry. In addition to economic might, Acuff-Rose had the law, back then, on their side. To avoid paying their ex-boss, the Everlys wrote tunes under pseudonyms. But Nashville is a small town: the ruse was discovered and the brothers lost the copyrights to their newly written songs. Call it hubris, or just overplaying a hand. But the boys' brashness resulted in their first serious loss after a lifetime of success.
This period of legal wrangling, weaker sales, and hard touring had a bad effect on the brothers. At some point, both became meth addicts. The more sensitive brother, Don, was also abusing a legal drug, Ritalin. He suffered a nervous breakdown, and was hospitalized.
By the late-'60s, they had devolved into a nightclub attraction — a show of truncated versions of their hits, generally strong vocals, some exciting guitar work, and numerous strange jokes. Don, acting as emcee,  had pilfered the Smothers Brothers stupid/smart routine: he constantly poked fun at "dumb" Phil, who mugged along. You can see those highs and lows in a 1968 show in Australia.
There must have come a point when both Everly Brothers could only shake their heads in befuddlement and dismay. The duo that practically lived at the top of the charts in the late '50s and early '60s could not find any traction post-"British Invasion." Ironically, the Everlys never lost popularity in Britain; early in their career, John Lennon and Paul McCartney jokingly called themselves the "English Everly Brothers."
Though the Everlys' music is revered today as the essence of a lost, innocent age, the '60s were a time of revolt against old-styled innocence, and the Everlys did not enjoy the respect the more rebellious '50s rockers received. I became a fan in 1965, with the purchase of a greatest hits LP. But I recall my peers' view of the Everlys: That is so yesterday. In retrospect, the title of their last Top 10 song seems an omen: "That's Old Fashioned."
It wasn't as if their talent had fled: the two songs that (barely) reached the Top 40 after 1963 proved that. The tender ballad "Bowling Green" attained a nearly unearthly beauty. "Gone, Gone, Gone" (written by both brothers) possessed a rave-up power that dwarfed the British Invasion's revivalist rockabilly. (Forty-five years later, a slow, haunting rendition of the song won a Grammy for Robert Plant & Allison Krauss.)
In 1973, the brothers decided to quit. A concert at Knott's Berry Farm in Buena Park, CA, was promoted as their last. Don started the show out-of-control drunk: He forgot the lyrics of songs they'd sung a thousand times, and generally courted Phil's ire. Disgusted, Phil stormed off the stage before the show was over, smashing his guitar. (He did not, as rumor had it, smash it on Don's head.) When Don then stumbled through his last songs, the crowd razzed him. His retort? "The Everly Brothers died in 1963." It was obvious both brothers needed to create lives, and careers, as individuals.
As the post-breakup years went by, their fans expected some kind of sporadic semireunion. But there was nothing for 10 years, not even a guest appearance at a charity concert. My "pop psychology" conjecture: their father — their first mentor — died two years after the 1973 breakup. The brothers no longer had to worry about displeasing him.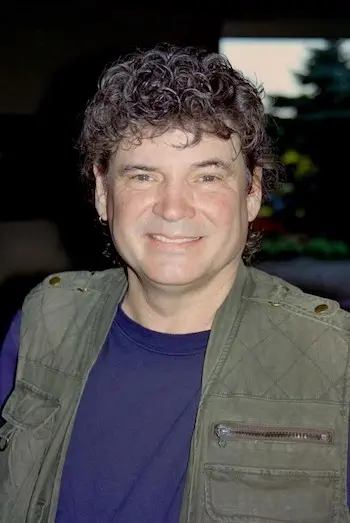 In my interview with Phil in 2000, the duo had been back together for 17 years. I mentioned that they were known to not talk to each other, despite the perfect sung harmonies onstage. But Phil denied the claim. "We get along fine now," he said. "After all the time we spent quarreling, I've simply learned that it's better to be with your family than away from them."
But by 2003, the rift had apparently widened again. When Paul Simon shared stages with Art Garfunkel and both Everly brothers on his "Old Friends" tour, he was amazed that the duo did not rehearse, did not speak; just walked on stage and perfectly harmonized.
In the seven years after Phil's death, Don publicly admitted that "vastly different views on politics and life" made Phil tough to deal with. In 2016, Don supported Hillary Clinton for president, saying he felt free to make a political view public for the first time in his life. His last appearance on stage was with Paul Simon, in 2018, at 81. He sang "Bye Bye Love." Slender, a healthy head of hair still: he looked and sounded good.
In my 2000 interview, Phil, admitted, off-the-record, that Don was "a strange guy." But throughout our conversation he talked not of misfortune suffered, but of an abundance of blessings enjoyed. "It's lucky we had the run we did, were around the quality of writers we were, and that we lived in a period when songs told stories, which suited harmony singing in a great way," Phil said.
"There's a tremendous amount of talent on this earth that doesn't get noticed," he said. "They just miss it. A door shuts before they get to it. Donald and I might've just as easily wound up in a factory. It was hundreds of little, small, twisty, turny things that puts you in a position to deliver whatever goods you have to deliver. Looking back on it, I'm not gonna say 'I sure did that swell.' I'm gonna say, 'Boy, were we lucky!'"
---
For 30 years, Daniel Gewertz wrote about music, theater and movies for the Boston Herald, among other periodicals. More recently, he's published personal essays, taught memoir writing, and participated in the local storytelling scene. In the 1970s, at Boston University, he was best known for his Elvis Presley imitation.