By Michael Marano
The irony is that this effort, surely not the last, of Hollywood reaching out to the "solid" citizens of Trump's America will only alienate them further.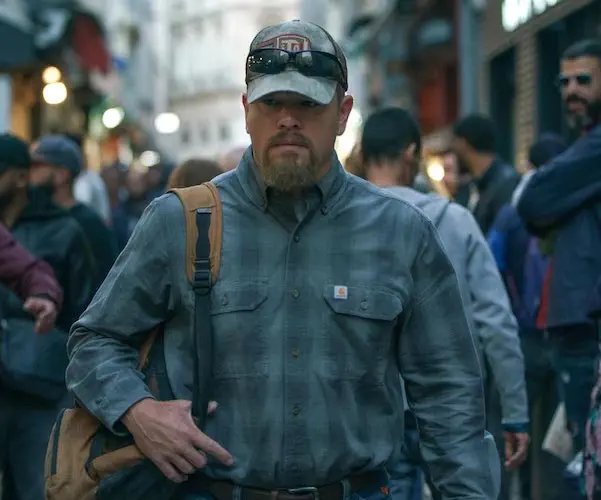 I suck at predictions, but I'll make one, anyway.
In the post-Trump era, middle-aged, Oscar-winning Hollywood types are going to line up to play people from "Trump Country." The idea is for these stars to "deglamorize" themselves and let their wrinkles show for the sake of sending a saving message to the "heart" of America. My gut tells me Mare of Easttown and Stillwater are the first dominoes of liberal earnestness to fall in this trend.
Which would be fine, of course, if the whole thing didn't smack of creepy voyeurism. We are not talking about careful storytelling, striving for compassion and insight. More like something akin to anthropological reports. Try as they might, the actors and filmmakers can't scrape off the patina of privilege. Consider the way Jack Nicholson's Bobby Dupea in Five Easy Pieces couldn't shake his hauteur when he debased the working class waitress as he demanded wheat toast and shoved cutlery, glasses, and ice water at her.
The same emotional distance runs through Stillwater, which keeps the film sterile and unengaging. As a portrait of the American working class, it's a far cry from Norma Rae, On the Waterfront, Blue Collar, any movie by Ken Loach, Bicycle Thieves, or even 9 to 5. Directed by Tom McCarthy of Spotlight fame, the film gives us Matt Damon as Bill Baker, an Oklahoma oil rig and construction worker who travels to Marseille to help his daughter (Abigail Breslin), who has been convicted of and imprisoned for the killing of her Arab girlfriend. The culture clash sits in the tradition of An American in Paris and Midnight in Paris and even Casablanca: an American goes to France and confronts his "American-ness." (Maybe the DNA of this trope was hatched by Mark Twain's The Innocents Abroad?). A little context: Gene Hackman's Popeye Doyle visits Marseille in 1975's The French Connection II and is offered exquisite French chocolate. He growls in reply: "I want a fuckin' Hershey bar." Flash forward: Damon's Bill Baker forsakes local cuisine in favor of Subway takeout.
The thing is that in those other movies, where an American goes to France and confronts his "American-ness," that confrontation, and the resultant character arc, are developed through an actual story. The plot here revolves around the kind of guy who can't figure out the workings of his local DMV (as Baker is shown to be) but can navigate the French justice system in order to prove his Baby Girl is innocent of an Amanda Knox-like murder. You need a well-written screenplay to pull that off. But Stillwater refuses to concentrate: there are around 10 story lines here, none of which are developed. These mini-narratives branch off and wither. Given that the film lasts 2 hours and 20 minutes, the result for the viewer is frustration and exhaustion. One subplot involves a suicide that comes out of nowhere and doesn't do squat to change anyone's behaviors or feelings.
Part of the problem with Stillwater's meanderings is that Baker interacts with a number of French characters and these meetings bear no meaningful thematic or narrative fruit. At one point, Baker interacts with a guy, one of his daughter's former professors, who is part of the intellectual, academic "elite" Fox News says is out to get him. The professor is French. He's of apparently Arab descent. And before he talks to Bill, a guy who works in the fossil fuel industry, he lectures his class about the dangers of climate change. Nothing comes of the encounter. It just sits there. And then there is the insufferable, man-bunned French director of avant-garde experimental theater. All of this cultural give-and-take snails by without making much of a dent on Baker's objectives. In fact, aside from the adorable French single mom and her daughter who take Baker in, and maybe one or two others, the French characters in Stillwater are pretty much caricatures that would fit nicely in an updated Chuck Jones Pepé Le Pew cartoon. Which is puzzling, given that at least two of Stillwater's four screenwriters are French.
Stillwater does generate scraps of goodwill, through some very good performances, scenes featuring nice on-location shooting, and flashes of effective dialogue. But then, against all logic, the "solve the crime" climax drops out of the clouds like a Looney Tunes anvil. Which of the 10 stunted subplots could possibly take a turn that would change everything? Let's just say this: in terms of common sense verisimilitude and the laws of mathematics, it would have been statistically more likely for Matt Damon's Baker to have been hit by lightning — four times.
The irony is that this effort, surely not the last, of Hollywood reaching out to the "solid" citizens of Trump's America will only alienate them further, as well as anyone who cares about good storytelling.
---
Since 1990, Michael Marano (www.michaelmarano.com) has been covering film for the nationally syndicated Public Radio Satellite System program Movie Magazine International, which airs in 111 markets in the US and Canada. He has provided film reviews and pop culture commentary for a variety of national publications, and Tweets at @MikeMarano