By Ed Symkus
Director Michael Sarnoski's first feature stars Nicolas Cage, and works as a mystery, a story of personal loss, and a foodie movie.
Pig opens July 16 at the Boston Common 19, Kendall Square, and AMC Framingham 16.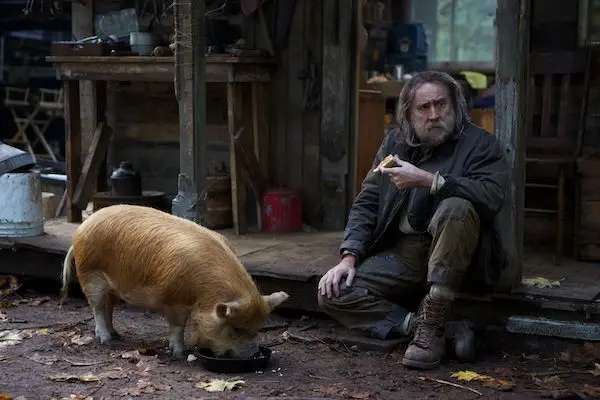 A sense of peace and contentment pervades the opening moments of this odd, arty, and moving little film. There's Nic Cage — an enigma of a man — looking ragged and hermit-like as he and his pet pig happily make their way through the deep woods of Oregon. But, it's revealed, this isn't just a casual stroll; this is a man and his pig at work.
Cage plays the cabin-dwelling, off-the-grid Robin, a man who, the script eventually explains, fell from grace. Fell a long way. Or, as a mean-hearted character later coldly says to him, "Your name used to have value. Now you don't even exist." Robin and his nameless pig are truffle foragers. The pig roots for and finds the aromatic treasures, and Robin collects them, takes time to ecstatically inhale their fragrance, then conducts some business with Amir (Alex Wolff), a truffle seller from Portland (truffles in exchange for canned goods). Robin also puts a few choice ones aside in order to lovingly concoct a rustic mushroom tart that he shares with his pig.
But who is this guy, this self-sufficient loner who has no phone, who is a man of few words, who has abandoned society, who knows his way around a kitchen, and who, it's strongly hinted, has a sad past? He seems to be fine with his lot in life, but things are about to take a dark turn.
Late one night, his cabin door is kicked in, he's attacked by two masked people, and his pig is stolen. The only thing he sees, before going unconscious, is that they're driving a turquoise pickup truck.
An everyday moviegoer would assume that the rest of the film would be about a desperate man grasping at straws as he tries to get his pig — who is also his means of making a living — back. And on one level, it is. But this is a film that works on many levels
So, yes, there's a long walk from the woods to a nearby town, and then a drive — with the assistance of Amir, a drive to the city from which Robin escaped many years ago, and a search through the otherworldly bowels of it, and meetings with the seedy denizens who might have done the dirty deed.
But it's also about who Robin is and was, and what happened to him. And it's about Amir, an ambitious young man who is constantly donning flashy metaphorical disguises (nice clothing, nicer cars) to cover up his damaged inner thoughts and feelings. And it's about Amir's father, Darius (Adam Arkin), a powerful and nasty man who rules the Portland restaurant scene, but has no idea how to fix the broken relationship with his son.
Of the numerous other oddball characters that Robin comes in contact with, the most poignant standout is Chef Finway (David Knell), who runs the ostentatious Euridice, where entrées are "bathed in smoke from Douglas Fir cones" and the concept is "making the familiar feel foreign."
And then there's Nic Cage. Throughout his long career — his first feature credit was for a brief part in Fast Times at Ridgemont High almost four decades ago — his name and face and reputation for occasionally overacting have caused viewers to flock either toward or away from his films.
In the case of Pig, he is the cement that holds the film together. His performance is measured and understated. His Robin is someone who has gone through a lot of turmoil and just wants to be left alone. But circumstances force him back into dealing with civilization. He's angry at the world, but he manages to keep his ire in quiet mode. He mostly growls his words from behind a scowl, and he listens intently to any responses he gets when he says, "They took my truffle pig," or "Who has my pig?" Cage is a master of wearing pain on his face, but he also knows how to insert a comical non sequitur, as when, in the midst of an intense conversation, he makes a cooking suggestion: "You should use stale bread for French toast."
As the story progresses, past events in Robin's life slowly become clear, as does the reason he's developed a fatalistic view of things and why any mention of his name in food circles is met with either animosity or awe.
There is one scene of mano a mano brutality, which could have come right out of Fight Club or Hard Times. But this is otherwise an elegant, thoughtful, insightful, offbeat film, with a great deal of lingering sadness woven through it. That sadness becomes almost overwhelming at the end, but it somehow also comes across as comforting.
---
Ed Symkus has been reviewing films and writing about the arts since 1975. A Boston native and Emerson College graduate, he co-wrote the book Wrestle Radio, USA: Grapplers Speak, went to Woodstock, collects novels by Harry Crews, Sax Rohmer, and John Wyndham, and has visited the Outer Hebrides, the Lofoten Islands, Anglesey, Mykonos, the Azores, Catalina, Kangaroo Island, and the Isle of Capri with his wife Lisa.
His favorite movie is And Now My Love. His least favorite is Liquid Sky, which he is convinced gave him the flu. He can be seen for five seconds in The Witches of Eastwick, staring right at the camera, just like the assistant director told him not to do.