By Sarah Osman
Starstruck is the rare rom-com that will appeal to audiences who aren't just fans of the genre.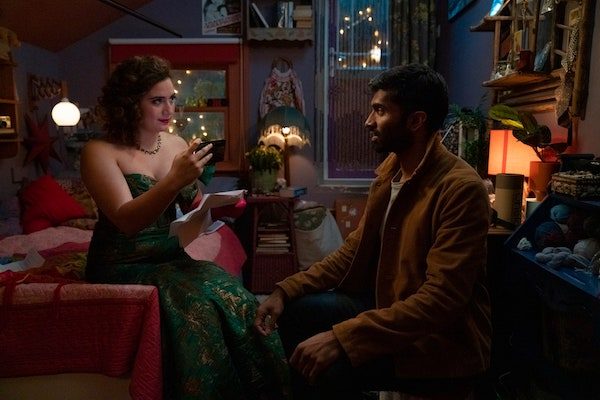 Rom-com heroines are often depressingly cookie-cutter (a fact parodied in more than a few films): tall, Amazonian goddesses, they live in New York, work in fashion or as high-powered executives, and have a quirky best friend. But things are finally beginning to change: rom-coms have shifted from mainstream films to streaming services and their leading ladies have undergone an admirable transformation. They don't just live in New York, they have realistic jobs and bodies, and, while their best buds are eccentric, they are believably unusual.
Enter Jessie (Rose Matafeo), the protagonist of HBO Max's (which first premiered on BBC Three) Starstruck. In addition to starring in the series, the New Zealand native also serves as Starstruck's executive producer and is one of its co-writers. The series's plot is rather similar to Notting Hill, but it chronicles the romantic trials and tribulations of a far more down-to-earth lead. Jessie works as a babysitter and in a movie theater; she's curvy, boasts a head of wild curls, and is completely content with her life. On the one hand, she is confident and a loyal friend. Yet she is also vulnerable and has to deal with a number of roadblocks. Jessie comes off as one of your friends who would be the perfect addition to a fun brunch. It is that likeability that contributes mightily to Starstruck's charm, and it can be attributed to Matafeo's comedic chops and realistic writing.
Jessie's life takes a bit of a turn when she's celebrating New Year's Eve with her neurotic roommate, Kate (Emma Sidi). Growing bored with the guy Kate meets at the club — who drones on about Bitcoin in a memorably dry and hilarious bit — Jessie becomes drunk. She ends up meeting Tom Kapoor (Nikesh Patel), a famous movie star who she does not recognize because she is, well, stoned. She has a one-night stand with him, saves him in her phone as "Tom Famous" and goes about her life. The series chronicles their will-they-won't-they relationship over the course of the next year.
Much of Starstuck's felicity lies in its emphasis on the ordinary rather than the cliches of celebrity. At no point do paparazzi muck up Tom and Jessie's relationship (except for a few photographers assuming that Jessie is the cleaning lady). Nor do the pair have to deal with crazy fan girls. Tom pines after Jessie more than she pines after him, and he's faced with his own set of problems. As Tom's publicist reminds him, he shouldn't be dating "civilians" because they know far more about him than he does about them. He's unhappy with the stalled state of his career: a lineup of ridiculous Michael Bay–type films. Tom is wealthy and famous, he doesn't love his life much, which makes his part-of-Hollywood character sympathetic.
Patel serves as a strong emotional and comedic foil for Matafeo. Jessie is bright, bubbly, and naturally appealing. Patel is a bit more reserved, but his awkwardness is endearing. He isn't quite sure how to handle his feelings for Jessie: at one point, he bids her good night by saying "It was great to see you, pal." The word "pal" makes everybody cringe: Jessie, her roommate, and Tom as he walks away. Tom's vulnerability matches Jessie's, which makes their relationship convincing rather than formulaic.
Starstruck doesn't serve up any huge romantic gestures or lovey-dovey montages. Matafeo is out to reflect how ungainly modern dating has become. And she succeeds, partly because she does more than focus on the difficulties. There's plenty of joy to be found in the search for a soulmate in 2021, from the initial sparks of attraction to dealing with friends who are trying to be cool but make things more cumbrous. Starstruck's dry British humor adds to the amusement of watching this budding romance progress.
Season two is on its way and that is good. Starstruck is the rare rom-com that will appeal to audiences who aren't just fans of the genre. Brits pretty much gave birth to the rom-com (Jane Austen assembled its archetypal tropes) ,and Matafeo proves that Kiwis can uphold the tradition. And she is not just continuing the form, but refreshing it by exemplifying what the new leading ladies of rom-coms will be like.
---
Sarah Mina Osman is a writer living in Los Angeles. She has written for Young Hollywood and High Voltage Magazine. She will be featured in the upcoming anthology Fury: Women's Lived Experiences under the Trump Era.