By Matt Hanson
Christine Smallwood's courage in looking at the way things are — for many of us — makes this novel about the pervasiveness of angst a subtle, empathetic accomplishment.
The Life of the Mind by Christine Smallwood. Hogarth, 240 pages, $27.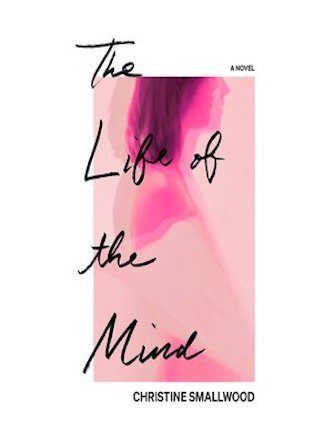 Sometimes you know you're going to love a book when you read the first line: "Dorothy was taking a shit in the library when her therapist called and she let it go to voicemail." Everything that follows in the story evolves from that sentence — the bluntness about basic human facts, the dark humor, the solitude, the quiet desperation. Christine Smallwood's debut novel dives deep into her single-named protagonist's postmodern blues, probing into the atomized life of an adjunct professor of writing who recently miscarried and who is precarious in every possible way.
Dorothy's life, as much as we come to know it, is pretty ordinary. She grinds away at a dead-end job in academia, has a lackluster relationship with her boyfriend, experiences some bewildering outings at the theater and at an academic conference in Las Vegas, and is constantly weirded out by the world around her. She's not a freak, necessarily, any more than any of the rest of us are, especially given the ambient sense of dread and anxiety that comes with living in these times.
Back in the '90s, David Foster Wallace said he wanted to write something that was really sad, that articulated the gut-level, ineffable melancholy he and his friends tended to feel, unaccountably, all the time. Dorothy is a subtly moving case study in how that kind of postmodern weltschmerz is still lurking all these years later.  If anything, it has become even more internalized, intensified, and taken more or less for granted.
It's tricky to explain why Dorothy has plenty of reasons to feel this amount of ennui, and part of the novel's success is how such a morose state of mind stays interesting and relatable page after page. She's grinding through her classes about Writing the Apocalypse — a nice DeLillo-esque touch, whose focus on themes of emptiness and anomie are a clear influence — with little hope for getting anywhere in her chosen field. She's read all the books and they aren't giving her any answers.
Overeducated and underemployed and in debt is a pretty common experience these days, but Dorothy's stubborn malaise feels universal because to pay any amount of attention these days — reading the news, studying art and history and science, trying to stay conscious of one's own existence — is to feel pretty alienated most of the time. Why else would the term "doomscrolling" become so popular?
An enormous amount of emotional weight is freighted on the various ways Dorothy tries to interact with an outside world that is mediated through an implicit technology of formality.
Long emails had ceased being the preferred mode of storytelling among her peers, or perhaps they no longer had so much to say to one another, and emails, though sealed with perfunctory hugs and kisses, had become businesslike. Sending a thoughtful email that she had drafted over several days and edited would, she knew, be a form of aggression; it would be foisting unpaid labor, a homework assignment, on a friend … it was unreasonable to hope for such an email: there was too much television to keep up on, and if you wanted to know what someone was doing, you could usually find out on social media. Still, Dorothy had not stopped checking, expecting, or wishing that a good message might be out there, waiting in the ether just for her.
At this point in history we know so much more about the world than we used to. Yet the more that experts tell us, the more we emotionally buckle under the onrush of urgent, massive, existential problems. That applies to the climate, economics, gender roles, understanding one's selfhood. Some of us stoutly deny these enormous challenges. It is easier to rant about invisible conspiracies, avoid the unpleasant truth by making up crises of your own. Or we just tuck a blinking warning light into our minds — like a headache that won't go away — as we go about our everyday lives sensing that the end is nigh, albeit somewhere off in the distance.
Smallwood dramatizes this by way of Dorothy's reaction to pop-ups on her computer. She is continually receiving invitations to update myriad programs, etc. She perpetually hits "not now," and she has apparently been doing that for months. I do it all the time. Does anyone know what those updates actually mean? Does it matter if we perpetually postpone these mysterious updates?
At times, Dorothy amusingly imagines the raft children of the not-too-distant future, floating around the flooded godforsaken planet, inquiring why her kind didn't do anything about it. And she doesn't really have an answer. She has to go through the motions just like everybody else. It's been like this for some time. No wonder that we have developed a cultural fetish for the awkward — memes, jokes, plots in movies, standup routines — all revolving around the cringe that comes with failing to hit a certain social mark. Dorothy doesn't intend to be awkward all the time, but she is anyway.
Dorothy's got two psychiatrists, meets with one of them remotely and feels left out when the other doesn't invite her on her podcast. She exchanges texts stocked with overly enthusiastic exclamation points with her best friend, more out of the unspoken need for mutual reassurance (a form of self-medication) rather than out of sincere enthusiasm. Her body is in rough shape. As a man, it's impossible for me to understand what happens after a miscarriage, but Smallwood anchors Dorothy's insinuating angst in the bitter flow of the body, the various oozes and aches and pains and worrying issues.
Responding to Socrates's famous statement that "an unexamined life is not worth living," Kurt Vonnegut responded with "but what if the examined life turns out to be a clunker as well?" It's a pretty strong critique. More knowledge means more pain. (As the Greeks were well aware.) Dorothy can't see much of a future, let alone a present — she refers back to a Kafka story when she needs emotional support. So you'd think that The Life of the Mind supports Vonnegut's cranky point of view. But if all Dorothy had to offer the reader was alienation and misery, she and the novel would be unbearable. But they are not. Smallwood's courage in looking at the way things are — for many of us — makes the novel a subtle, empathetic accomplishment rather than a failure.
---
Matt Hanson is a contributing editor at the Arts Fuse whose work has also appeared in American Interest, Baffler, Guardian, Millions, New Yorker, Smart Set, and elsewhere. A longtime resident of Boston, he now lives in New Orleans.