By Noah Schaffer
A pair of documentaries about the most popular guitar-driven instrumental bands of all time.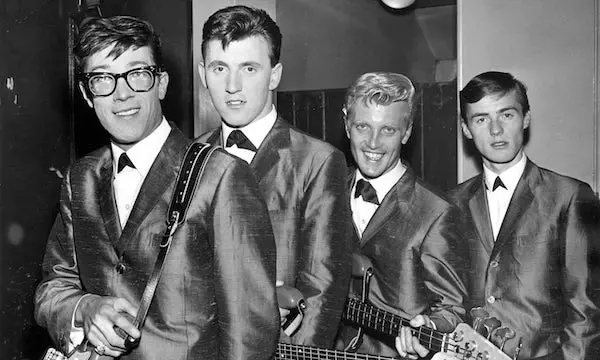 There are many parallels between the Shadows and the Ventures, probably the most popular guitar-driven instrumental bands of all time. Both quartets enjoyed the bulk of their success in the early '60s (pre-Beatles). Rock was still a relatively nascent art form, so a group of teenagers could quickly go from experimenting in the garage to the top of the charts and then regular TV appearances. Both bands inspired the next generation of musicians to pick up guitars, so their influence is still being felt.
And now the bands are the subjects of recent documentaries. But they are very different: the Shadows' film beautifully contextualizes the band's underappreciated role in British music history; the Ventures' effort is well-intentioned but marred by continual interruptions of talky testimonials from irrelevant figures, including Julia Roberts's brother Eric and Jimi Hendrix's brother Leon.
Granted, both films were given very different resources. The Shadows at Sixty is a BBC effort. (Several YouTube channels are currently offering an, um, unofficial way for Americans to see the film.) Not only could the filmmakers visit lead guitarist Hank Marvin in his longtime Australian home, but they could also arrange a band reunion in which we see three of the core members play their biggest hit, "Apache," at Abbey Road Studios.
Most of the Shadows' early history is tied to its role as backing band for Cliff Richard, the UK megastar who never broke through in America. But the documentary also shows how the band came of musical age at the height of skiffle, an adaptation of an American roots style that swept England in the mid-'50s. They got their start in London's bustling coffeehouse scene, but the Shadows, both with Richard and on their own, along with a younger band called the Beatles, eventually decided they'd be better off developing their craft in Germany rather  than trying to break through in their home country.
Within a few years the table of fame would turn. At the 1964 NME Winners Poll Winners Concert at Wembley Stadium, the short-haired, tuxedo-clad Shadows came off as square sharing the bill with the Beatles and Stones. Their cred sank even lower when they spent the next few years performing in the lucrative but such unhip light entertainment shows known in the UK as pantomime. "It must have been a difficult time for you guys … it's like me trying to rap," observes a sympathetic Pete Townsend during his visit with rhythm guitarist Bruce Welch. (Other celebrity endorsement interviews with Brian May and David Gilmour also turn out to be succinct and informative.)
The documentary reveals that a Shadows spin-off group made a credible stab at country-rock in the early '70s, before the Shadows legacy was reclaimed later in the decade thanks to tastemaker DJ John Peel and an entry in the Eurovision Song Contest. As in America, Baby Boomer nostalgia became a solid marketing niche in Britain — the Shadows got to enjoy a revived run before retiring. A sellout crowd awaited them when they returned to Wembley with Cliff Richard in 1989.
The Ventures changed music history when the Northwest band released their 1960 rock version of the mellow Johnny Smith jazz tune "Walk, Don't Run." The saga of how the independently recorded instrumental reached the charts is one of the highlights of The Ventures: Stars on Guitars, which can be viewed for free on the library service Hoopla and for a modest rental fee on many other streaming sites.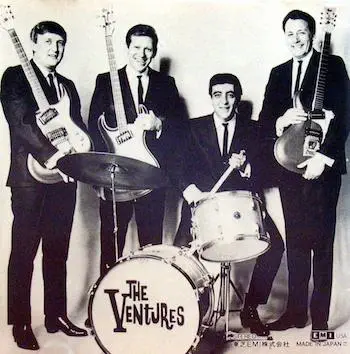 The band's other big chart hit was "Hawaii 5-0." Years of instrumental albums yielded a lengthy discography but, though the Ventures have sold over 100 million records, individual members have remained pretty well anonymous outside of musician circles. That makes the group a potentially excellent documentary subject. Staci Layne Wilson, the daughter of founding Ventures rhythm guitarist Don Wilson, is at the helm. The film joins a long list of music documentaries that were made by offspring of their subjects, including fine movies about Ramblin' Jack Elliot, the Wrecking Crew, and Bakersfield country singer Billy Mize. None of these would likely have been made without the determination of a proud child willing to put in the time and expense required to put together a film.
Not surprisingly, the elder Wilson — now in his late 80s, the last surviving original member — is a constant presence. He is interviewed repeatedly, for some reason sitting on his bed. Wilson was an invaluable member of the quartet, but the focus on him inevitably means that other members get short shrift, especially charismatic drummer Mel Taylor. (His widow, the band's longtime manager, is also weirdly absent.) A few archival interviews help make up for the gap. Still, there should have been more, given that other members were accessible to talk for decades.
Besides telling in detail the group's early history, the best moments in Stars on Guitars arrive when guitarists like Deke Dekerson and Jeff "Skunk" Baxter, axes in hand, display what made the Ventures' approach so distinctively innovative. The guitar scene is infamously male dominated, so it's refreshing to see a number of female talking heads. The Canadian combo The Surfrajettes provides some insightful quotes. But not all the yakkers are necessary: an unknown L.A. scenester appears twice to talk about DJ Rodney Bingenheimer and then there are some dudes who seem to have been rounded up on short notice at a noisy guitar convention. The film's nadir is a slide show of artists (David Gates of Bread and Mungo Jerry among them) who were apparently Ventures fans. But why are we looking at photos of them? Who knows?
But the worst thing about Stars on Guitars is that, for a movie about the Ventures, there's almost none of the band's music, aside from a few seconds supplied by live performance clips. Perhaps licensing issues are the culprit, but that means the doc's instrumental beds — even its opening sequence music — come from recent recordings by younger surf and instrumental rock outfits like the Surfrajettes and New England's 9th Wave. These are dandy, but even a casual Ventures fan will know right away that they're not hearing the real thing. Given this and other shortcomings, the film can't rise above its educational and heartfelt moments. And they pale beside the joys of listening to classic Ventures records for 90 minutes.
---
Over the past 15 years Noah Schaffer has written about otherwise unheralded musicians from the worlds of gospel, jazz, blues, Latin, African, reggae, Middle Eastern music, klezmer, polka, and far beyond. He has won over 10 awards from the New England Newspaper and Press Association.