By Nicole Veneto
You're never quite sure what you're watching but you can feel yourself going down the creepypasta rabbit-hole with protagonist Casey nonetheless.
We're All Going to the World's Fair, New England premiere through Independent Film Festival Boston coming soon to HBO Max via Utopia Distribution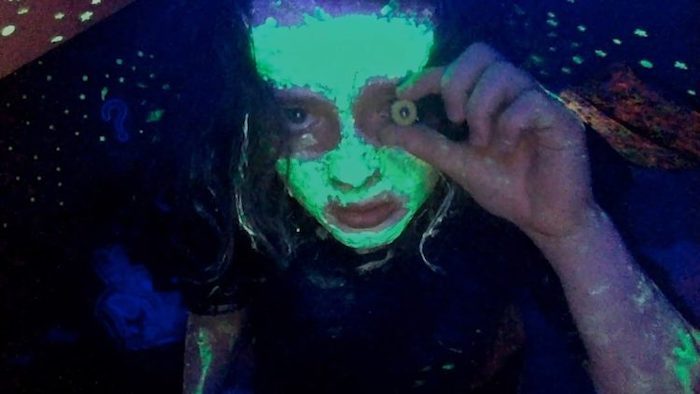 With the exception of incredibly niche art-house films and obscure foreign gems, it's rare that I see a movie without watching a trailer or some sort of preview first. I had no idea what to expect going into Jane Schoenbrun's We're All Going to the World's Fair — just the word-of-mouth buzz it's generated on the festival circuit and a couple of thoughtfully written pieces by film Twitter friends detailing their reactions. Fresh off its Sundance premiere, Cathy Brennan described World's Fair as representing "a proper doomer perspective on the world we live in," speaking to a general sense of alienation felt by a terminally-online generation. Waxing poetic on Substack, Sam Bodrojan notes the film miraculously and empathetically articulates "the pain of someone suffering on the other end of a screen."
So what exactly is We're All Going to the World's Fair? As I noted in my immediate Letterboxd review, World's Fair is like nothing I've ever quite seen before, and yet it felt intimately familiar to me as a teenager weaned on the internet. The film opens on Casey (wide-eyed newcomer Anna Cobb), a lonely teenage girl living in a deindustrialized upstate New York any-town, peeling open a stick of string cheese in her bedroom on a cold autumn night. It's virtually silent except for the distinct crinkling of a wrapper and her creaking computer chair; amid this silence Casey sits wordlessly in front of her laptop camera for what feels like an unbearably long amount of time. Even after the Photo Booth countdown goes off, Casey stares mutely into the camera for a few seconds before she says, softly, "Hey guys, Casey here. Welcome to my channel. Today I'm gonna be taking the World's Fair Challenge." She smiles and holds up a child's stuffed lemur. "This is Poe. He's gonna be taking the challenge with us today." She looks askance, her expression momentarily apprehensive, scared even. "I don't know what to expect."
Called the internet's scariest role-playing game, the World's Fair Challenge is a viral challenge-cum-urban legend that's said to induce strange physical metamorphoses in its horror-loving participants with three simple steps: chant "I want to go to the World's Fair" into your computer three times, prick your finger and wipe the blood on the monitor, and then watch a "cursed" high-frequency video of flashing colors and white noise. Upon completion, Casey signs off to her handful of viewers with the promise to update if she starts "to notice any changes." Changes like what? A search for "World's Fair symptoms" on the film's YouTube-substitute site comes up with creepy videos with titles such as "I am turning into plastic" and "I can't feel my body!" Casey's symptoms take the form of bodily dissociation; it's as if she's watching herself sleepwalk on a television across the room. Her increasingly disturbing vlogs soon attract the attention of an older World's Fair player by the moniker JLB (Beyond the Black Rainbow's Michael J. Rogers sans the toupée) who encourages Casey to post more videos despite warning she's in more trouble than she knows.
I feel I'd be doing a great disservice speculating bout what World's Fair is about because its narrative ambiguity is what makes for such an enthralling watch. You're never quite sure what you're watching but you can feel yourself going down the creepypasta rabbit-hole with Casey nonetheless. Like the ASMR playlists and symptom videos Casey watches throughout the film, World's Fair shirks settling into any single genre classification, preferring to utilize genre as a painter would different shades of paint on a canvas. Schoenbrun wears their cinematic influences on their sleeve, from Lynch's signature uncanny-valley horror/humor to Assayas' slow-burn pacing. Though more a coming-of-age drama than an outright horror film, the Cronenbergian dimensions of World's Fair are subtle but unmistakable  — along with a brief (but memorable) body horror scene, Casey faithfully documents her symptoms, in ways that are similar to the decaying Seth Bundle in The Fly. This YouTube-induced transformation comes off as a contemporary response to what Videodrome presciently diagnosed about our parasitic relationship with the media we consume nearly forty-years ago.
But World's Fair comes from an altogether different place than its horror-heavy thematic predecessors. Schoenbrun, who's non-binary and began transitioning after production wrapped, stated in her IFFBoston Q&A that World's Fair is "from the gut" an attempt to articulate the indescribable experience of gender dysphoria. Though never outright stated in the film, the allegorical subtext of transgender identity couldn't be more obvious; Casey describes her symptoms in terms of bodily dissociation, feeling "nothing" in her body and fearing she's becoming someone else, perhaps even a monster. Being cisgender, I'll leave it to my trans peers to elaborate on how gender dysphoria is at the symbolic core of World's Fair. However, the argument can be made we all experience some degree of dysphoria throughout our daily lives — regardless of gender identity — in the sense that loneliness and feeling as if "this world isn't real" leaves us feeling displaced in an increasingly technological world further compounded by a year lost to lockdowns.
On that note, We're All Going to the World's Fair is a COVID movie without the pandemic. Contributors of World's Fair symptom videos  — including fellow weird-cinema connoisseur and filmmaker May Leitz, a.k.a. NyxFears from YouTube, a cameo that had me pointing at my television like Rick Dalton in his La-Z-Boy  — aside, Casey and JLB are the only characters who appear on screen, and even then they're never in the same physical space; their interactions are confined to Skype chats where JLB never turns his camera on. Any indication that their world is inhabited by other people is kept off screen (Casey's father yells at her to go to bed at one point) or represented with out-of-focus figures in the background. The opening credits are set against B-roll footage of empty parking lots and deserted town intersections, with one shot of an abandoned Toys r' Us standing like an ancient tomb to pre-internet childhood. And much of our time with Casey is spent confined to her moody attic bedroom, the vaulted ceiling adorned with glow-in-the-dark stars and blacklight posters that give the impression the night sky is caving in. This pervasive isolation makes Cobb's debut performance all the more remarkable given the role requires her to hold her own in every scene with nobody but herself to play off of.
Coming out of the loneliest year many of us have ever lived through, We're All Going to the World's Fair feels especially of the moment and for the moment. Hopefully, Schoenbrun's film signals an end to cheap and uninspired found-footage desktop movies like the Paranormal Activity series and Unfriended. It probably won't, but I sure would like it to.
---
Nicole Veneto graduated from Brandeis University with an MA in Women's, Gender, and Sexuality Studies, concentrating on feminist media studies. Her writing has been featured in MAI Feminism & Visual Culture, Film Matters Magazine, and Boston University's Hoochie Reader.