By Sarah Osman
It's as though Moxie's writers pulled out a long "woke" checklist and tried to cram in something about every hot button issue they x'ed off.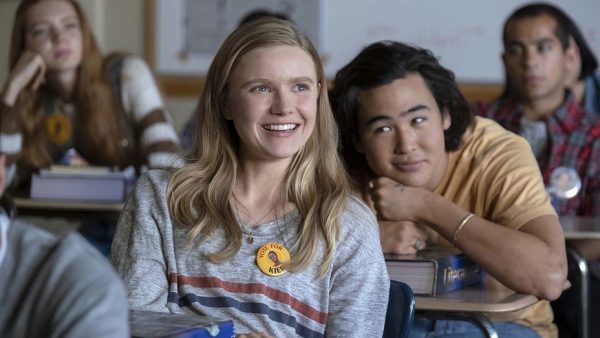 I often try to not compare films based on books to their source. They are wildly different mediums that deliver different experiences, so asking for equivalences is questionable. However, in some cases book and film are so dissimilar that it is hard not to be concerned about what has been lost in translation. I have not read Jennifer Mathieu's novel Moxie but, judging its rave reviews, the story's spirit was not transferred to the screen in this adaptation.
Moxie, which was released on Netflix this week, is Amy Poehler's directorial debut, and sadly, it lacks the punch promised by the film's title. There are effective elements in Moxie — a killer soundtrack and some sweet "girl power" moments — but most of the time the storyline comes off as a confusing pile-up. It's as though the writers pulled out a long "woke" checklist and tried to cram in something about every hot button issue they checked off.
The film follows Vivian (Hadley Robinson), a shy 16-year-old who yearns to get into Berkeley. The catch is that she and her bff Claudia (Lauren Tsai) are nerds who (for some reason) still bow down to the ins and outs of their high school's social hierarchy. New girl Lucy (Alycia Pascual-Pena, the movie's highlight) is not so gullible: she questions the school's blatant sexism and racism. She first questions why they continue to read books by dead white guys (in this case, referring to The Great Gatsby ). Why, she asks, can't they read books by immigrants and Black women. Her teacher hears her out, until school jock and jerk, Mitchell Wilson (Patrick Schwaznegar, the other standout) cuts her off and speaks over her. As an English teacher, I found this scene infuriating: a professional teacher should have cut off Wilson while also asking Lucy pointed questions about why she felt the way she did about Gatsby. What irritated me even more: Lucy did not mention any books written by immigrants or Black women that the class could have been reading instead. A minor note but, for a film that is supposedly speaking out against racism and sexism, why not highlight books by women and people of color? In a film all about feminism and high school, why not mention Roxane Gay? Toni Morrison? Or even The Awakening?
Because Lucy has earned the wrath of Mitchell, she is added to a ranking of girls made by him and his high school football bros. Lucy gets a hold of the list and shows it to the school principal (Marcia Gay Harden). She brushes it off as social media chatter and refuses to acknowledge that Lucy is being harassed. Another hollow and inaccurate scene. In my experience, in this day and age, when schools learn about social media bullying they attempt to do something about it, if only to protect themselves from liability. It is mind-boggling that his administrator casually shrugs off Lucy's accusations. Further evidence of Moxie's time warp: its opening scenes give us football players' smacking girls' asses, forcing them to sit on their laps, and catcalling them. And not a single teacher or administrator does a thing in the face of such blatant sexism. Nowadays, teachers are required to reprimand students for that sort of insulting behavior. I recall what happened when a student continuously tried to get the instagrams of girls (who did not want to share theirs); it got to the point in which there was a conference called that included his mother, the principal, and his academic advisor. Of course, real sexism is more subtle these days — teachers calling on boys more than girls, dress codes (more on that in a minute), girls being encouraged to go into some fields rather than others. I don't doubt that outright sexism and harassment still occurs, but to miss how prejudice has become nuanced, via strategies of micro-sexism and -racism, is a major mistake.
Fed up with what she sees, Vivian decides to take a cue from her mother (Amy Poheler), a former Riot Girlll and fan of Bikini Kill, and creates a zine dedicated to feminism that she plasters all over the school. Weirdly, Vivian does not discuss this with her mother, which would have a.) helped create a bond between them and b.) highlight that sexism is a continuous problem. Eventually, other girls begin to follow the zine, the aptly named Moxie, and they begin to scribble hearts and stars on their wrists in support. Lucy is the magazine's biggest fan, so it is frustrating that this dynamic actress is regulated to the marginalized outspoken Latina role. We never learn Lucy's story, only that she may be gay (she kisses one girl for a brief moment and it's never mentioned again) and she dares to speak out. What are Lucy's goals? What music does Lucy like? She isn't the only person of color used to prop up Vivian. Two of the supporters of Moxie are two Black girls (Sydney Park and Anjelika Washington) who play on the championship winning soccer team. Again, all we learn about them is that they are good at soccer and they support Moxie.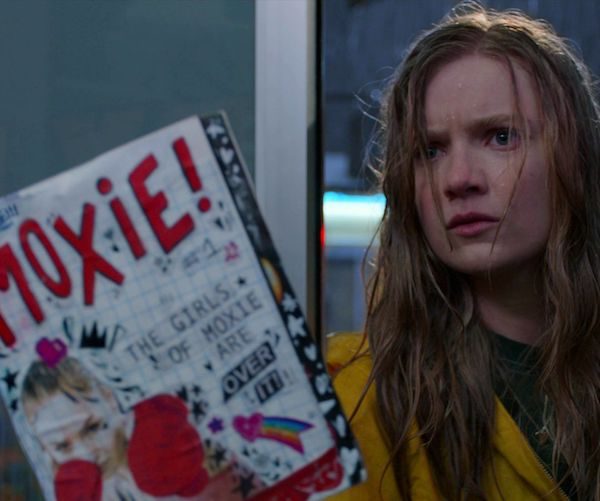 Claudia, who is Vivian's BFF, has a backstory that isn't introduced until the last ¾'s of the film. Her mother was an immigrant from China who has worked incredibly hard to provide for her daughter — Claudia doesn't have the freedom to rebel. She can't take part in Moxie's call for rebellion because she can't risk messing up her perfect track record. Despite this, Vivian continues to pressure Claudia to join in. If Vivian knew her friend's predicament, why would she do this? Also, why is this theme — a valid commentary on the economic problems the children of many immigrants face — shoehorned in? Why don't we get to see more of Claudia's story? Again, this feels like another character who is designed to highlight the challenges faced by Vivian, the white protagonist.
Moxie does score on one issue: it does a good job of critiquing school dress codes. These antiquated rules often slut shame by promoting the idea that girls should dress modestly because showing skin will distract the boys. Shouldn't the goal be to teach males to respect women no matter what they are wearing? One of the characters in Moxie is punished for wearing a tank top; due to her larger chest, she is deemed a 'distraction.' When she is asked to cover up and doesn't, she is sent home. More infuriating: a girl with a smaller chest wearing the exact same top is not scolded. The girls (and some of the boys) rebel against this inane dress code by collectively donning tank tops. As someone who was often put in detention for violating dress code, and who taught at a school where girls who were more curvy were often put in detention because higher-ups judged that their skirts were too tight, I related to these scenes. Moxie should be applauded for addressing this problem.
But, overall, Moxie fumbles because it attempts to tell three stories at once, none of which completely work: the development of a healthy mother-daughter relationship, a testament to the power of female friendship, and a romance. All of these narratives are left half finished. Characters that have been tossed to the sidelines suddenly reveal shocking revelations at the film's climax; but, because we never got to know them, none of the emotional punches land. I love the message that Moxie tries to send; I just believe that the filmmakers failed in their attempt. While I support the efforts at acknowledging diversity, these characters serve as little more than set dressing for the plight of its major white character. The next step is obvious; let's hope movies dealing with feminism today get the moxie to explore the world through the eyes of the marginalized. We know what feminism means to able bodied, cis genered white women. What does it mean to those who lack those privileges?
---
Sarah Mina Osman is a writer living in Los Angeles. She has written for Young Hollywood and High Voltage Magazine. She will be featured in the upcoming anthology Fury: Women's Lived Experiences under the Trump Era.