By Alex Szeptycki
Jean Dawson's Pixel Bath is one of the most exciting releases I've heard this year.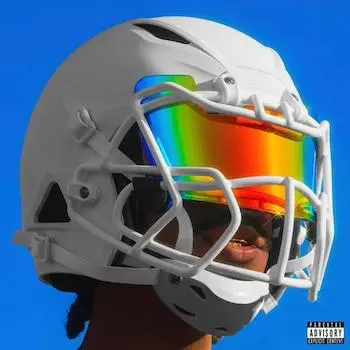 Jean Dawson never seems to run out of energy. The Tijuana-born, San Diego–based artist makes music that flits between eclectic ideas without a second's rest. The result is a robustly scatterbrained blend of many influences: fuzzy guitar rock and digital age pop crash together, a mix occasionally darkened by bursts of industrial hip-hop. On his latest album, Pixel Bath, Dawson sharpens his style in a kaleidoscopic melange that vividly reflects the artist's personality and inspirations.
Dawson's music is firmly embedded in the nebulous mess of pop influences served up by the internet. His music pulls from vastly disparate nooks and crannies, rarely obeying traditional notions of genre. The intro track "Devilish" indulges in this gleeful disregard of boundaries. Dawson's singing assumes weight through an ominous synth line that opens the tune — before his vocals accelerate with the arrival of peppy, crunchy electronic drums. Scuzzed out garage guitars cascade through the chorus as Dawson sings, via an energetic shout, "I can see you dead inside/You open up, you're Frankenstein." The monster Dawson confronts isn't your standard horror fiend — it's a soulless businessman. This fast-paced and brash piece establishes a high level of energy that the rest of Pixel Bath manages to sustain.
Dawson's stylistic playfulness runs throughout an album that feels a bit all over the place. But this chaos is exciting, due to Dawson's versatility. The bright, fast-paced melodies are periodically interrupted by passages of raw abrasion. "Poster Child" comes off as a conventional transitional number, until it's thrown into chaos with the arrival of screaming synths and Dawson's aggressive vocals. And the tune moves into "06 Burst," an escalation of belligerence that jumps between bouncy metallic dance beats and pure noise.
At other times, Dawson crafts softer, more clear-eyed experiences. "Pyrotechnics," the stunning ender, is an apocalyptic ballad that somehow manages to drip with beauty. Dawson watches the world explode as if it were a dazzling fireworks show; his layers of vocals call and respond over airy, spacious synth swells. This is a richly layered showpiece, a spectacular performance that matches the pyrotechnics of the final days.
Dawson's sonic adventures are buoyed by his vocal flexibility. Sometimes he sings, other times he pumps his voice into a punky shout. "Power Freaks" displays his impressive range. "How many times do I have to say we're not enemies/Round and around and around and around we go," he sings mournfully, before breaking into a rapid-fire, almost spoken salvo. His voice sounds metallic as he exclaims "I don't really care what they say" over glitchy guitar passages. Dawson's versatile delivery fits, powerfully, with the ever-changing instrumentals.
Underlying his vocal performances is an infectious confidence. Listen to "06 Burst" — his memories of adolescence come off as refreshingly brash. Lines like "Pish posh, I'm probably pushing a Civic" add a note of self-conscious satire to his boasting, especially when they are snarled over a cacophonous industrial beat. In other tunes, Dawson comes off as more pugnacious. "Shiner" offers up a combative look at the past: "No bluff, Shoe-gaze with some golden fronts/Mad tough, got my ass beat more than once."
Still, despite this braggadocio, some of Dawson's finest work comes when he draws on his vulnerability. "Bruiseboy" gives us Dawson at his most unsure, frenetically singing "I might lane switch/Mane I might fake death." Yet the chorus is filled with tenderness, "You saw my dreams and you saw your face," and it's the album's best hook. Elsewhere, "Glass Necklace" comes across as somber black comedy as Dawson wrestles with his own mortality: "Mr. Reaper, will you wait on me?/Mr. Reaper, let's play hide and seek;" he makes light of death, but his last line, "you're a guarantee."
To cope with his demons, Dawson seeks solitude. On Pixel Bath, his alone time allows him to find some peace, though there is always turmoil. In "Dummy" his voice dances over a jaunty backbeat as he finds comfort while driving alone through the night: "Hate all people, I mean I only need my space/It's 3:05, I ride when it's dark outside/I'm a midnight child." Conversely, the darker "Starface*" reflects a much more melancholy mood. "I go outside and the sun doesn't shine," he laments as languid drums push forward. His chorus mantra of "I run from evil/I run from people" adds to the sense of downcast isolation.
What makes Pixel Bath so fresh isn't just Dawson's skill at corralling so many disparate musical elements (though that certainly helps). It's the sheer force of his personality. Dawson gives us a vivid sense of who he is, from his upbringing and inner life to his artistic inspirations. His jubilant cry of "I'm all soul, black Bowie with a lil' Kobe" on the effortless "Triple Double" is probably the album's most effective declaration of Dawson's personal vision, his commitment to combine two different worlds, both important to him. Elsewhere, there's the movingly revelatory "Pegasus," its breathless first verse delivered over a liquid guitar riff: "I woulda been a crip, if I had followed dad/Footsteps, no press, I don't play pretend."
Pixel Bath is one of the most compelling releases I've heard this year. Dawson's magnetic personality is infused through the album's excitingly varied instrumentals and bold vocal performances.What's particularly impressive is that, at the age of 25, the musician is at the beginning of what may well be a brilliant career.
---
Alex Szeptycki is a writer from Charlottesville, VA. He recently graduated from Stanford University, majoring in American Studies with a focus in contemporary art and pop culture. He's currently working as a freelance writer at the Arts Fuse while navigating post-grad life in a pandemic.