By Jonathan Blumhofer
Seiji Ozawa's Symphony no. 7 and Leonore Overture no. 3 offers a memorable blend of color, atmosphere, purpose, and soul; François-Xavier Roth and his period ensemble Les Siècles serve up a satisfactory, period-instrument Beethoven no. 5; Thomas Adès' take on Beethoven is concentrated and energetic, if a bit impersonal.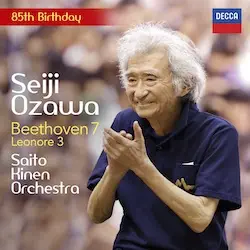 Among the most welcome Beethoven albums to cross my desk this year is this one: Seiji Ozawa's recordings of the Symphony no. 7 and Leonore Overture no. 3. Taped with the Saito Kinen Orchestra in 2016 and '17, they're both finely done, full of spirit and illuminatingly detailed.
Perhaps most remarkably, there's no let-down in energy from the now-eighty-five-year-old maestro: if moments of the Leonore Overture feel a hair restrained, tempo-wise, they don't lack for rhythmic punch or agility. Throughout, there's an appealing rawness to the brasses' attacks as well as a series of exemplary woodwind solos (particularly involving the Saito Kinen Orchestra's principal flute).
Ozawa's Seventh Symphony, likewise, benefits from some terrific woodwind playing, especially in the middle movements (the famous second is conspicuously well-shaped and strongly lyrical). The first is marked by a stately, clean-textured introduction and nimbly-dancing main body. Ozawa's take on the Scherzo (in which he skips most of the repeats) proves fleet and vital, while the exuberant finale builds to a purgative apex.
True, this is a pairing that's been done many times over, but a great recording justifies itself. This one, with its expert blend of color, atmosphere, purpose, and soul, is one of those.
---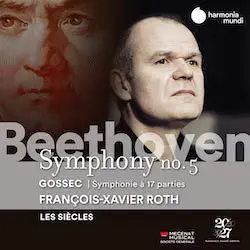 For a very different bit of programming, look no further than François-Xavier Roth and his period ensemble Les Siècles, whose latest release pairs Beethoven's evergreen Fifth Symphony with François-Joseph Gossec's 1809 Symphonie à dix-sept parties. And, if you want a strong sense of just how revolutionary Beethoven Five must have sounded in its day (it premiered in 1808), this disc delivers.
To call the Gossec an "interesting" piece maybe doesn't give it enough credit. Or, perhaps, too much. Gossec's writing in the Symphonie is entirely competent: elegant, genteel, contrapuntal, and idiomatic. The score's four movements are marked by playful interactions between the parts (in the first movement), active gestures (in the flowing second), a fugue (in the minuet-third), and spades of sparkling virtuosity (in the finale).
What the piece lacks is anything – a tune, a rhythmic tattoo, a turn of harmony – that holds the ear or lodges itself in the memory. Basically, it's materials are forgettable and expressively dry.
Not that Roth and Les Siècles don't give it their best shot: the orchestra's playing is full-bore and stylish, and the ensemble revels in the music's bravura licks. Even so, you're unlikely to come away from this Symphonie thinking Gossec is some forgotten master.
Beethoven and his Fifth Symphony, on the other hand, are anything but obscure. That said, Roth and his band uncover a couple of hidden gems in their reading. Their take on the first movement nicely draws out the activity of the music's inner voices; taken together with clear contrast of attacks and articulations in the movement's two main subjects alongside purposeful tempos, it makes for a lively, unsettled start to the proceedings.
So far, so good, though the first movement proves the interpretation's zenith. While the second movement is warmly lyrical and Roth's account subtly emphasizes its motivic connections to the first, the climaxes sound a mite shrill. The third is too broad in its outer sections and the finale, while on the main lean and energetic, is marred by Roth's habit of holding back the tempo on the reprises of its main theme. This works well enough after the transition from the third movement but gets predictable and feels stilted on repetition.
Having said all that, at the very least we've got a satisfactory, period-instrument Beethoven Five here. That the reading doesn't fully live up to the promise of the taut opening movement is a disappointment, but Les Siècles' playing is rhythmically tight and engaging, all the same.
---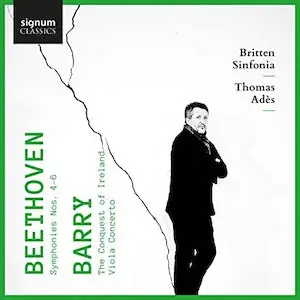 Thomas Adès' Beethoven & Barry cycle with the Britten Sinfonia continues with the former's Fourth, Fifth, and Sixth Symphonies juxtaposed by the Irish maverick's Viola Concerto and The Conquest of Ireland. Reviewing the first volume in this series, I noted that Adès' take on Beethoven is "concentrated and energetic," if a bit impersonal, and so it remains in these performances.
The Symphony no. 4 receives a bracingly clean performance: the turn figures and constantly-moving voices in the first movement speak clearly, while the finale's syncopations snap. One might ask for edgier attacks in the outer portions of the Scherzo and bigger climaxes in the second movement, but the latter's clarinet solos are hard to beat.
Adès approach to the Fifth is almost startlingly straightforward: he simply steps back and lets the music speak. The results aren't immediately as nuanced or ear-catching as the best moments of Roth's performance, but it builds smartly especially over the last two movements: this finale is fresh, light on its feet, and its coda affords a tremendous sense of release.
Best of all is the Sixth, which is well-directed throughout, brimming with winning orchestral solos (the clarinet playing, again, is flawless), and marked by a lovely sense of atmosphere. Granted, some moments would benefit from more bite, particularly the third movement's lyrical episodes, and the fourth movement's storm wants for some menace. But the second movement is radiant and the finale sings unaffectedly.
Perhaps it's the context or perhaps it's the music, but the Barry selections prove less satisfying this time around.
The Viola Concerto takes the principle of musical exercises as its basis. Much of Barry's writing here is motoric; there's lots of imitation passed back and forth between soloist and orchestra; nearly everything is in unison (there's very little by way of counterpoint or homophony); and, at the end, the soloist whistles a simple, little tune.
Whimsy and humor this Concerto certainly has, but there's not much to recommend it beyond a single hearing. Barry showcases one or two aspects of the viola (its range and a tiny bit of its lyrical capabilities) but not much else and, to these ears at least, that lack of contrast does in the larger score. The performance here – the Concerto's debut recording – features the excellent Lawrence Power as soloist and it's as rhythmically tight and punchy as one might want.
The Conquest of Ireland, on the other hand, is a tough, dissonant setting of a text by the Medieval Welsh writer Giraldus Cambrensis that tells of the army that invaded Ireland in the 12th century. It's an extremely virtuosic piece, densely rhythmic, and full of borderline-impossibly-fast tempo markings. In concert, Conquest probably makes for a fantastically intense experience. On disc, though, it lacks a certain electricity and is a bit of a slog.
That said, bass Joshua Bloom articulates its text here with astonishing precision and dexterity, while Adès draws some blazing colors from the Sinfonia.
---
Jonathan Blumhofer is a composer and violist who has been active in the greater Boston area since 2004. His music has received numerous awards and been performed by various ensembles, including the American Composers Orchestra, Kiev Philharmonic, Camerata Chicago, Xanthos Ensemble, and Juventas New Music Group. Since receiving his doctorate from Boston University in 2010, Jon has taught at Clark University, Worcester Polytechnic Institute, and online for the University of Phoenix, in addition to writing music criticism for the Worcester Telegram & Gazette.