By Jason M. Rubin
The event is not merely a celebration of the Cabot's centennial; in 2020, it's an act of defiance.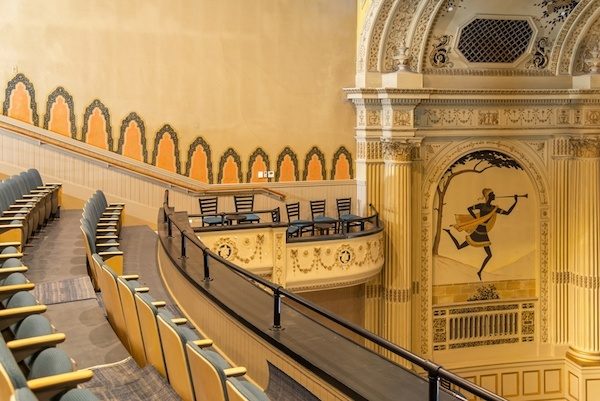 When the Ware Theater opened in Beverly on December 3, 1920, it was hailed as "the most impressive auditorium of its size east of New York." Built to provide local audiences with the era's predominant forms of entertainment — vaudeville shows and silent movies — it was designed by the same architectural firm that drew up the blueprints for the Boston Athenaeum and the Strand Theater in Dorchester.
Today the venue is known as the Cabot Performing Arts Center, and no pandemic will stand in the way of marking its centennial with a gala event: Lights. Camera. Cabot. The 100th-anniversary celebration will be streamed live on December 3 at 7 p.m. Audience members are required to RSVP in order to receive the online login information — the event is free of charge.
This is even more impressive given the diverse roster of talent who will appear and perform (some from the Cabot's actual stage). The artists include: James Taylor, Martin Sexton, Grace Potter, Rodriguez, John Hiatt, Raul Malo, Chris Thile, Fantastic Negrito, Hot Tuna, Jon Butcher, Paula Cole, Rosanne Cash, and Richard Thompson. Each will play very short sets of a couple of tunes apiece, but it's still an amazing slate of musicians.
The event is not merely a celebration of the Cabot's centennial; in 2020, it's an act of defiance. Even before the pandemic, the greater Boston area's entertainment landscape was being battered by venue closings. Since the lockdown, clubs and theaters have been struggling to stay afloat without the ability to present live shows. It has hurt venue owners, staff, and audiences who have no concerts to attend.
In contrast to that discouraging state of affairs, the Cabot is celebrating its own history while also providing top-notch live entertainment. The event will even begin with an unveiling of the building's newly renovated lobby — a space that the general public will otherwise not be able to inhabit for the foreseeable future. Audience members will also have the opportunity to bid on items in a silent auction and make donations to help the Cabot endure these difficult times.
In addition, the event will honor the Cabot's founders: not the original Ware brothers, but those enterprising people who saved the Cabot a few years ago. The original founders sold their theater to E.M. Loews in 1960, who changed the name to the Cabot Cinema. Then it was purchased by Le Grand David and His Own Spectacular Magic Company in 1976. For a Guinness-certified record-setting 37 years, the Cabot hosted Le Grand David's magic show. When the magician, Cesareo Pelaez, died in 2012, the theater was shuttered.
Enter a group of North Shore residents and community leaders who banded together to form a nonprofit that owns what is now officially named the Cabot Performing Arts Center. The contemporary group of founders — Henry Bertolon, Bill Howard, Rich Marino, Thad Siemasko, and Paul Van Ness — will be celebrated during the event, not least because of their wise commitment to save the Cabot as a performing arts venue and not let it become condos. That in itself is something to celebrate in this day and age.
Follow this link for more information, to RSVP for the event, and to view silent auction items.
---
Jason M. Rubin has been a professional writer for 35 years, the last 20 as senior creative associate at Libretto Inc., a Boston-based strategic communications agency where he has won awards for his copywriting. He has written for Arts Fuse since 2012. Jason's first novel, The Grave & The Gay, based on a 17th-century English folk ballad, was published in September 2012. His current book, Ancient Tales Newly Told, released in March 2019, includes an updated version of his first novel along with a new work of historical fiction, King of Kings, about King Solomon and the Queen of Sheba. Jason is a member of the New England Indie Authors Collective (neiac.org) and holds a BA in Journalism from the University of Massachusetts Amherst.