By Jonathan Blumhofer
Mariss Jansons's ultimate performance, taped live at Carnegie Hall, shows the maestro at the top of his game; François-Xavier Roth's new recording of pieces by Ravel and Debussy is a bit of a hit-or-miss affair; Diana Damrau's Tudor Queens, a survey of heroines from three Donizetti operas, is nothing short of terrific.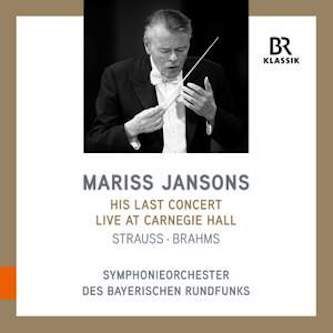 It's safe to say that an artist's last concert isn't always the finest document of their abilities: just listen to Leonard Bernstein's labored, final appearance in 1990 as a case in point. But Mariss Jansons's ultimate performance, taped live at Carnegie Hall on November 8, 2019, is something else. The conductor died just three weeks later, yet his readings of works by Richard Strauss and Johannes Brahms with the Bavarian Radio Symphony Orchestra (BRSO) showcase a maestro at the top of his game.
The Four Symphonic Interludes from Strauss's opera Intermezzo come across with abundant character. In the opening movement, there's plenty of rhythmic bite to be had in the meandering opening section, while the waltz proper is lean, playful, and overflowing with schwung. Rich-toned balances and a lovely ensemble blend mark the soaring second, while the third bristles with rustic charm, and the short finale proves a stirring exercise.
Jansons's take on Brahms's Fourth Symphony is likewise compelling. Its first movement features orchestral playing of remarkable tenderness and vulnerability; also, terrific flexibility: much of this reading dances (particularly at the beginning of the development), and throughout, the BRSO executes the hand-offs of instrumental lines immaculately.
A strong sense of structural and tonal shape, as well as rich timbral blends, mark the orchestra's playing in the second movement. The third is lean-textured and muscular, while the finale surges precipitously. Ultimately, this is a purposeful Brahms Four and beautifully played, particularly from the BRSO's woodwinds.
Some extraneous noises aside (a couple of wailing ambulance sirens intrude at various points on the disc), the full album is an inspired tribute not just to Jansons's formidable interpretive abilities but also to the profound connection he built with his orchestra (he was director of the BRSO from 2003 until his death) and audiences. You get a further dose of the latter in the lusty account of Brahms's Hungarian Dance no. 5 that rounds out the recording: the applause that follows goes on for more than two minutes – and it doesn't seem to be dying down much when the sound finally fades out.
---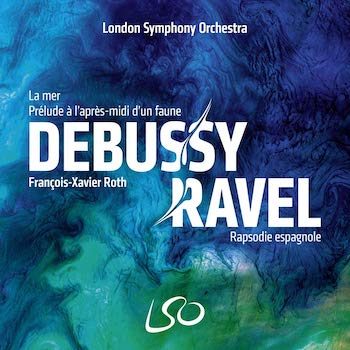 François-Xavier Roth's new recording of pieces by Ravel and Debussy with the London Symphony Orchestra (LSO) is a bit of a hit-or-miss affair.
On the one hand, there's a stolid, literal interpretation of Ravel's beguiling Rapsodie espagnole leading things off. True, the notes are all there; solo episodes in the first and third movements (especially) are atmospheric; and there are some fine textural balances to be had throughout.
But the larger performance is an anticlimax. Tempos aren't exactly slow, but they consistently feel sluggish. The "Malagueña," for instance, never shakes free of a sort of deliberate air. Neither does the "Habanera," which also suffers from a lack of fire at its climactic moments.
This sort of underplayed expressive crisis culminates in a "Feria" that is perfectly subdued: tellingly, its most compelling episode proves to be the hungover central "Très modéré" rather than the partying outer thirds.
Somewhat more successful is Roth's take on Debussy's Prelude to the Afternoon of a Faun, which comes next and is warm, directed, and fervent – if not quite as sensuous as some might make it out to be. But, in this context, the reading stands as a welcome contrast to the Ravel, even as the string solos near the end sound a bit distant.
Best is the La mer that rounds out the disc. Here, everything is colorful, lively, and nicely balanced. The opening "From dawn to noon on the sea" is cleanly etched and offers a nice sense of momentum. Much the same can be said of Roth's craftily shaped "Play of the Waves" and the seething, teeming swells of the concluding "Dialogue of the wind and the sea."
Granted, this La mer hasn't got the epic factor of Dutoit or Boulez. But it's strongly played, well recorded, and – if you're so inclined – it's the reason you should check out this release.
---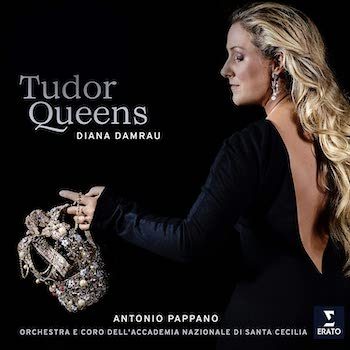 Diana Damrau's Tudor Queens, a survey of heroines from three Donizetti operas, is nothing short of terrific. This is a singer with technical chops that can't be beat and dramatic sensibilities to match. What can go wrong? Not much.
All of her selections hail from the concluding acts of three Donizetti operas: Anna Bolena, Maria Stuarda, and Roberto Devereux. In each, Damrau demonstrates extraordinary control of her instrument, impeccable diction, and spot-on intonation.
Her top notes in "Piangete voi?" from Anna Bolena, for instance, are effortless. So, too, her ornamentations in the same's "Al dolce guidama" and "Coppia iniqua": everything she does here unfolds with utter naturalness.
Damrau's breath control and execution of her part's roulades in arias from Maria Stuarda is likewise impressive. She holds the high G in "Deh! Tu di un umile" for what seems like an eternity; brings a breathtakingly light touch the line in "Di un cor" – regardless of where the part leads in register or tempo; and nails a high D at the end of "Ah! se un giorno" for good measure.
OK, the last is totally gratuitous – but who's going to argue when the gesture works so well?
Damrau actually does the same thing at the end of "Quel sangue" from Devereux; again, the trick works flawlessly. Even more striking, though, are the fervent, floating high notes of "E Sara in questi orribili momenti" with which she begins her scene from that opera.
Accompanying Damrau is the Orchestra e Coro dell'Accademia Nazionale di Santa Cecilia and conductor Antonio Pappano. The orchestral accompaniments snap, particularly in Anna Bolena's "Chi può vederla" and Roberto Devereux's "Che m'apporti?."
The choral contributions are relatively few, though often intense, sometimes a shade flat. A handful of soloists join Damrau for cameos and, while everybody's well-balanced, none steal her spotlight. This album is, after all, Damrau's show, and she owns it.
---
Jonathan Blumhofer is a composer and violist who has been active in the greater Boston area since 2004. His music has received numerous awards and been performed by various ensembles, including the American Composers Orchestra, Kiev Philharmonic, Camerata Chicago, Xanthos Ensemble, and Juventas New Music Group. Since receiving his doctorate from Boston University in 2010, Jon has taught at Clark University, Worcester Polytechnic Institute, and online for the University of Phoenix, in addition to writing music criticism for the Worcester Telegram & Gazette.