Lovers of Baroque opera will welcome this release: the first recording — and a very accomplished and communicative one —of an important opera by a pioneer and master.
Francesco Cavalli, L'Ipermestra
Elena Monti, Gaëlle Le Roi, soprano; Emanuela Galli, mezzo; Marcel Beekman, Mark Tucker, tenors; Sergio Foresti, bass
La Sfera Armoniosa, cond. Mike Fentross
Challenge 72774 [3 CDs] 166 minutes
Click to purchase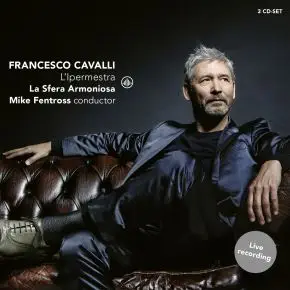 Francesco Cavalli was the leading opera composer of the mid-17th century in Venice, the most important center for opera at the time. New England–area music lovers may recall the production of Cavalli's Ercole Amante by the Boston Early Music Festival back in 1999. Well, here is a belated but urgently needed release: the world-premiere recording of Cavalli's opera L'Ipermestra (1658; sometimes spelled Hipermestra). The recording preserves, unedited and without any retakes, a single performance in 2006 by La Sfera Armoniosa, an early-music group based (then and now) in the Netherlands. The group was founded (in 1992) by the prominent Dutch lutenist Mike Fentross, who continues to lead it today.
According to the booklet essay (lumpily translated), Cavalli began writing this opera for the birthday of Vittoria della Rovere, grand duchess of Florence, in 1654, an event that would coincide with Carnival celebration and with the opening of a new theater. But the theater project got delayed, and Cavalli's opera may thus have simply been set aside until another suitable occasion appeared. It was finished up several years later to celebrate (in Florence) the birth of a son and heir to King Philip IV of Spain.
The opera has a somewhat mechanical libretto by the court poet (and court physician) Giovanni Andrea Moniglia. It takes as its basic background the ancient tale of the Danaids. Danaus (in the opera, Danao), king of the Greek city of Argos, has been told that he will be murdered by one of his brother's 50 sons. (His brother is king of Egypt.) Danaus therefore instructs his 50 daughters to wed those cousins and then to murder them on the first night. His daughter Hypermnestra (Ipermestra) loves Linceus (Linceo) and does not kill him, which then sets more grisly matters in motion.
These dramatic events would become the basis for an important opera by Antonio Salieri (the guy in the Amadeus film) in 1784, Les Danaïdes, which has been recorded several times (most recently by a first-rate cast under Christophe Rousset). Also, a famous libretto by Metastasio on roughly the same subject, Ipermestra, was set at least 28 times between 1744 and 1843.
In the Cavalli, composed decades earlier than any of the above, the larger tale is treated primarily as framework. The primary focus is on a tangle of love relationships, similar to what would soon become normative in the tragedies of Racine (e.g., Andromaque). There are two couples: Ipermestra and Linceo; and her lady-in-waiting Elisa and the warrior Argante. Ipermestra, as the myth requires, loves Linceo, putting her at odds with her father's command to kill the young man. Linceo thinks he loves Elisa. Elisa loves Argante but fears that Ipermestra does, too. And Argante indeed falls for Ipermestra (to the latter's dismay). Both men have to wise up for the opera to end, and they do. Along the way, Linceo, having been misinformed that Ipermestra has married somebody else, wages war on Argos, and King Danao dies in the fray (fulfilling the prediction). There is also a nurse (sung by a high tenor), the one comic role in an opera that is otherwise more consistently serious than are many of Cavalli's (e.g., Il Giasone, about Jason and Medea).
The music consists of mostly longish exchanges in a highly expressive recitative style (with continuo accompaniment) that sometimes crystalizes into a short aria or tuneful refrain—or even an occasional duet—in which more instruments than just the continuo group sometimes participate. (Cavalli composed before the Baroque convention of the longer aria, with many word repetitions and in ABA form, became the norm.) The light accompaniment allows a singer's voice to come through without forcing, and the small number of players can adjust quickly—perhaps even by ear rather than by watching a conductor—to nuances introduced by this or that singer in the course of the evening.
L'Ipermestra includes many shortish aria-like passages that are quite touching or intense and would serve well as items on recitals and anthology discs. I particularly recommend the title character's "Piangete, occhi, piangete" (five wonderful lamenting minutes long—CD 1, track 9); Danao's "Affetti, pietà, partite di me" (CD 2, track 8: another pained lament, followed by an arioso of determination to do what a king and military leader must do, the king's state of mind now underlined, in this performance, by tapping on a drum); Arbante's "Disperato cor mio" (CD 3, track 5: this one traverses a world of moods in a mere three minutes); and the happiness duet for Ipermestra and Linceo (CD 3, toward the end of track 17: the "second couple" [Elisa and Arbante] happily join the first couple to conclude the work). I was startled to hear a mini-lament for Elisa (CD 3, track 7, beginning at 3:26: "Afferma il sole…") that anticipates the famous final aria of Puccini's Mimì ("Sono andati?"), with its vocal line that descends slowly stepwise across a full octave.
There are of course also long passages in which the characters interact in expressive recitative that does not ever "tighten" into aria-like metric regularity. (The opera here lasts nearly two and a half hours. A fuller reading would have been longer still: for example, the recording skips Act 1, scene 10, and Act 2, scenes 13-20.) Fortunately, the cast members, though light-voiced and none very famous, sing with largely steady and beautiful tone, and they clearly understand what they are singing about.
Sopranos Elena Monti and Gaëlle Le Roi—the former warmer in tone, the latter brighter—convey appropriate measures of yearning and suffering as Ipermestra and Elisa. Monti shows a particularly admirable control of vibrato, even bleaching the tone of it for expressive effect, as at several points in the six-minute-long scene (containing several mini-arias) in CD 3, track 10 (beginning "Come viver poss'io?").
To the pants role of Linceo (originally for castrato), mezzo Emanuela Galli brings (at different times) sweetness and cutting declamation of the text, enabling us to sense the character's sincerity, energy, and hotheadedness. Marcel Beekman makes the nurse comical but, thankfully, does not overplay. I'm glad he toned down the "funny voice" somewhat for his little arias. Mark Tucker is, by turns, appropriately heroic and lovelorn as Arbante, though, when he gets loud and excited, the vibrato widens and pitch becomes unclear. Sergio Foresti is grim and authoritative as King Danao, his range comfortably extending to the role's many crucial low notes (though I found his vibrato, too, a bit wide).
Fentross's continuo group is lively and varied: six players, using a gratifying variety of instruments, including two harpsichords, virginal, organ, two harps, and several lutes and guitars. Other instruments appear in one or another musical number: nine string players, two trumpeters, a sackbut player (often reinforcing Danao's regal authority) and a percussionist (who evokes the climactic battle quite startlingly at the end of Act 2). Tempos always feel "just right," and Fentross and the singers and conductor vary them pleasingly, sometimes halving the pace (or even more) for expressive effect. You can get a sense of the performance from the beginnings of all the tracks. How the performance looked can be gleaned from this minute-long teaser:
And here are two interview segments with music director Fentross:
The two main orchestral passages that the opera requires are lacking in the surviving manuscript. Thus, the performers borrow an overture from Cavalli's Doriclea (1645). The necessary brief battle music comes from a collection of pieces for strings and continuo by Andrea Falconieri (1650).
Music likewise does not survive for the opera's prologue. I assume its text can be found in 17th-century publications of Moniglia's libretti. I wish it had been included in the booklet; presumably it could help us sense how the plot was understood in the Florentine court.
The booklet is somewhat bare-bones, giving the libretto in Italian only. Similarly, the track list contains characters' names but not the first words sung in that track. Also, the characters' names are not always given in the order in which we hear them—hiss, boo! But we do get vivid photos suggesting that the performance (staged, with simple, era-appropriate sets and costumes) was as effective to the eye as to the ear.
An online version of the booklet has a Dutch translation of the libretto (which may help purchasers who, say, can read German), and lengthy bios in English reporting on the singers' activities since 2006. I was pleased, and not surprised, to learn that Marcel Beekman's performance of Mime in Wagner's Ring Cycle (2017, Vienna) was praised as "excellent" by one critic. Elena Monti has gone on to sing major Mozart roles (and some Verdi) in important theaters, whereas the other two female singers have stuck more with Baroque roles. The photo on the front of the CD case and booklet shows conductor Mike Fentross today, not in 2006. His hair has gone gray, and he is relaxing on a couch, deeply tanned and fashionably outfitted in a metallic deep-blue suit over a black T-shirt. I would have preferred to see photos of Fentross and the small orchestra from the 2006 production.
Enough of tiny gripes! Lovers of Baroque opera will welcome this release: the first recording–and a very accomplished and communicative one—of an important opera by a pioneer and master. International operagoers got to see Ipermestra on stage at the Glyndebourne Festival in 2017 (back in the days when we all took live performance for granted…). That production was hailed by critics. For the rest of us, this colorful, highly communicative recording brings us as close as we are likely to get anytime soon to an important work by this 17th-century operatic master.
---
Ralph P. Locke is emeritus professor of musicology at the University of Rochester's Eastman School of Music. Six of his articles have won the ASCAP-Deems Taylor Award for excellence in writing about music. His most recent two books are Musical Exoticism: Images and Reflections and Music and the Exotic from the Renaissance to Mozart (both Cambridge University Press). Both are now available in paperback; the second, also as an e-book. Ralph Locke also contributes to American Record Guide and to the online arts-magazines New York Arts, Opera Today, and The Boston Musical Intelligencer. His articles have appeared in major scholarly journals, in Oxford Music Online (Grove Dictionary), and in the program books of major opera houses, e.g., Santa Fe (New Mexico), Wexford (Ireland), Glyndebourne, Covent Garden, and the Bavarian State Opera (Munich). The review first appeared, in a somewhat shorter version, in American Record Guide and is posted here by kind permission.