By David Stewart
Feels Good Man is a provocative, entertaining, and moving documentary about an artist trying to retain his identity along with the innocence of the cartoon character he created.
Feels Good Man directed by Arthur Jones. Available for streaming.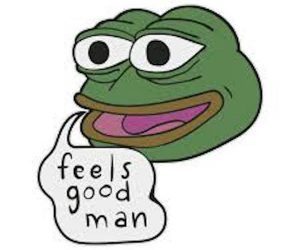 Feels Good Man is Arthur Jones's directorial documentary debut and it was noticed: the movie received acclaim at this year's Sundance film festival. The film centers on comics creator Matt Furie, the San Francisco artist known for inventing Pepe the Frog. The phrase "feels good man" originated in Furie's sophomoric comic strip, which follows in the rebellious footsteps of such underground art as Robert Crumb's Fritz the Cat and Gilbert Shelton's The Fabulous Furry Freak Brothers. Bay Area comics' innocuous, stoned-out frog was on the internet a decade ago before it was eventually ripped off and transformed into a symbol of nationalism, xenophobia, and misogyny during the run-up to the 2016 election of Donald Trump. And Furie wasn't expecting that kind of far-right mugging.
The film documents the phenomenal rise of the meme and its appropriation by Reddit, 4chan, and the Alt-Right contingency, the latter dedicated to assisting Trump's ascension to public office. Furie is shown at his home, far from the political fury his cartoon has been aiding and abetting. He was clearly depressed seeing his cartoon turned into a symbol of cringe-fueled hatred. Friends and fellow cartoonists attempt to clear Furie's name after he is denigrated by Samantha Bee on her satirical television show. But no one wanted to listen to the facts. After the disgraced conspiracy hypemaster Alex Jones sold products with Pepe's image, the soft-spoken Furie fought back and sued Jones in 2018.
While the film focuses on Furie's self-proclaimed "hippy-dippy" life in San Francisco, Jones points his camera at members of the 4chan community, who confided to him how Pepe was made into a symbol for displaced anger before the 2016 election. Animated sequences by Furie, along with academic commentary by scholars, trace the frog's ideological evolution, examining how the image became emblematic of the chaos generated by ardent Trump supporters. We are taken into the QAnon "Pizzagate" narrative — the nutso theory that Hillary Clinton and other prominent politicians operated a child sex-slave ring of a Washington, DC, pizza parlor — as well as look at the 2017 white pride rallies on the campus of the University of Virginia that ended in acts of violence. Connections are made between these ugly, paranoid visions and Pepe's appropriation by the faceless masses on Reddit, 4chan, and QAnon.
Feels Good Man is a provocative, entertaining, and moving look at an artist trying to retain his identity along with the innocence of the  cartoon he created. What we have is a modern American fable. The fate of Furie's asinine cartoon frog  — uprooted and injected into the dank cynicism of  political extremists — becomes emblematic of the savagery of contemporary cultural appropriation. The blithe optimism of cartoon art is usurped by exploiters, profiteers, and knee-jerk reactionaries. The documentary starts off with servings of humor reminiscent of Ron Mann's Comic Book Confidential and sentimentality that recalls Francis Ford Coppola's Tucker: The Man and His Dream. Then Furie goes on a painful David versus Goliath (Man versus Web) campaign to fight for Pepe's conversion from a hate-filled image into a symbol of peace.
Besides what it has to say about the artist's struggle to control his art, the documentary advocates that the internet be approached by future voters with extreme wariness — white nationalists have found innovative ways to disguise their vitriol. In short, Feels Good Man is a "feel-good" film for those who are agitated by what the online world is doing to our minds and politics, a warning that the real message is often lost in the virtual medium.
---
David Stewart is a Professor of Film and Media Studies at Plymouth State University. Along with teaching, he is a documentary researcher and contributing writer for PleaseKillMe.com and DMovies.org. His film credits include Amy Scott's documentary Hal and Marielle Heller's The Diary of a Teenage Girl. He lives outside of Boston with his family and beloved Fender acoustic, Nadine.