By Peg Aloi
It's entertainment genius to turn our new normal into something topical and terrifying.
Host, directed by Rob Savage. Streaming on Shudder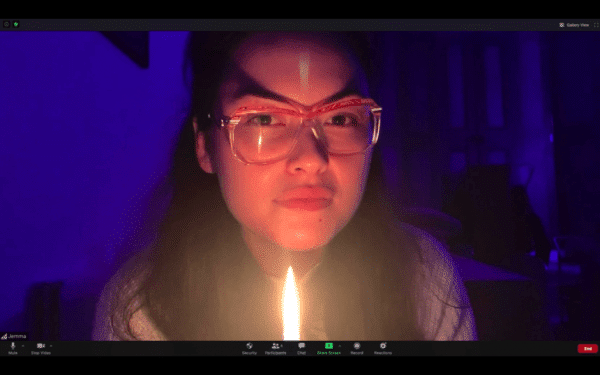 Our current reality, that is to say, the reality for those of us who utilize various forms of personal technology to get through our daily lives, has become one that connects us to others via digital video. The Zoom meeting has become a ubiquitous experience — now a symbol of how we work and gather during the pandemic. We've all seen the jokes and memes about not wearing pants, or people pulling on a clean shirt only moments before the start of a meeting, or the ones about people forgetting that others can see more than their faces when they wander from home office to the bathroom with their laptop. The horror!
Well, it's entertainment genius, then, to turn this new normal into something topical and terrifying. Host, a new film on streaming service Shudder (well worth getting if you're a horror fan), uses a Zoom meeting as a setting for an online séance that goes, well, horribly wrong, or horribly right, depending on your expectations. This tight (57 minutes!) debut from Australian director Rob Savage, which he co-wrote with Gemma Hurley and Jed Shepherd, is arguably the first film made and released during the COVID pandemic — it was produced completely remotely. If you've read my reviews from time to time, you know I'm a fan of Australian cinema in general. What's more, the indie/horror fare from that country has been killing it in the last couple of years. (See recent films Relic, Babyteeth, True History of the Kelly Gang, and The Nightingale for starters.)
Contemporary horror has increasingly exploited our ever-growing addiction to digital video, from the found footage genre (launched, arguably, by The Blair Witch Project, along with the Cloverfield and Paranormal Activity franchises, Trollhunter, and others) to stories of technology gone haywire in supernatural ways (Videodrome, V/H/S, White Noise). A recent book by Boston-based writer Peter Bebergal, Strange Frequencies: The Extraordinary Story of the Technological Quest for the Supernatural, explores the growing connections between technology and the occult. His argument: "As we entered a truly technological age, we would be impelled to look back at ancient forms of magic and occult practice and imbue them with this same kind of technological purpose." Bebergal is referring to the appearance of the Ark of the Covenant in Steven Spielberg's Raiders of the Lost Ark. But, of course, Spielberg also came up with the storyline for Tobe Hooper's Poltergeist — spooky spirits live, literally, inside the TV. This is what Bebergal, echoing Marshall McLuhan, calls the "hearth of the house for myself and many others in the 1970s and early 1980s." Attributing evil intent to inanimate devices may be considered crazy. But the possibility that ethereal energies might find their way to us via our machines seems all too plausible.
The premise of Host is simple: a group of young friends who've been having weekly Zoom meetings (routine for many during the pandemic) decide to spice things up by inviting a medium to hold an electronic séance. The film looks exactly like a Zoom meeting in progress; various attendees join in one by one. We see them dealing with last minute chores and conversing with partners before they turn their attention to the meeting. It's a bit like a Chekhov play at first; we have trouble remembering who is who. But, handily, everyone's name is shown right below their image. In a nod, perhaps, to the found footage conceit of The Blair Witch Project, all of the characters share the same names as the actors who play them, which gives this production some low-budget authenticity.
Most of the friends are in their 20s, living carefree lives (though at least one couple's breakup seems imminent). They enjoy their weekly Zoom meetings where they have a chance to have a few drinks together. The medium invited to lead them to the spirit world is decades older, a kindly and gentle-mannered woman named Seylan (played by Seylan Baxter). Her speech and manner is somewhat new age-y; she takes what she does rather seriously. All the characters are women, except for Teddy (Edward Linard). He initially mocks the proceedings by creating a drinking game (every time Seylan mentions "astral plane" a libation must be downed). He leaves the meeting just before things start to get weird.
Before the proceedings take a bizarre turn, there is a fair amount of healthy skepticism. One woman even decides to play a trick on the others. But, this being a horror film, there is comeuppance for the naysayers and pranksters. Along with what seems to be the vengeful antics of angry spirits, there are subtle moments where we're not sure if what is happening is computer glitches — or, indeed, demonic forces are at work. Not unlike real life for some of us these days, I'd imagine. But, when the jump scares come along, they're truly terrifying — unaccompanied by grandiose cinematography or music. Even better, the special effects are brilliantly done. Host is a timely, clever, and satisfyingly scary treat, the perfect complement to the all-too-real horror show we're living through.
For many of us, the laptop and the smartphone have replaced the TV, or even, gods help us, the big movie screen. Host takes the ordinary technology and media we depend on every day and turns them into the locus for the supernatural. It is very effective, especially if you watch, as I did, on my laptop — alone, late at night, and in the dark. And that, of course, highlights the most genuine terror of all: our isolation, which breeds unshakable feelings of fear, vulnerability, and helplessness. The glowing screen may contain infinite possibilities, but it offers cold comfort.
---
Peg Aloi is a former film critic for the Boston Phoenix and member of the Boston Society of Film Critics. She taught film studies in Boston for over a decade. She writes on film, TV, and culture for web publications like Vice, Polygon, Bustle, Mic, Orlando Weekly, Crooked Marquee, and Bloody Disgusting. Her blog "The Witching Hour" can be found at themediawitch.com.