By Paul Robicheau
Yes, Newport Folk is all about the music, but there's also a collaborative heart at work  — and virtual programming spurred donations for the nonprofit's mission to endure.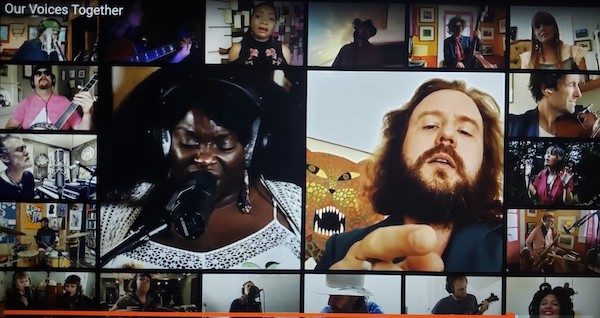 Fort Adams State Park remained quiet without thousands packing its Rhode Island peninsula for the Newport Folk Festival over the weekend, yet the annual event still shared its sense of purpose and camaraderie though a virtual smorgasbord. With archived radio sets by day and streams of filmed performances by night, Newport Folk Revival Weekend gave both artists and listeners a surprisingly effective chance to make the best of the fest's pandemic cancellation.
If you were a festival-goer, you could pine at streamed footage of the site's empty expanse — even with local favorites Deer Tick dwarfed in the center of the Fort's quad for a socially distanced set. And if you never go (Newport Folk instantly sells out months before acts are named), you could get a sense of what makes it shine. Yes, it's all about the music, but there's also a collaborative heart at work — and virtual programming spurred donations for the nonprofit's mission to endure.
Deer Tick centered the weekend with Saturday's ticketed "In-Your-House Party Live from Fort Adams," though unlike the Dropkick Murphys' similar May show at Fenway Park, it was prerecorded on a cooler, cloudier day. The Providence roots-rockers settled into scrappy, thoughtful form across 16 songs, hitting topics from loyalty to lost love. New tune "If She Could Only See Me Now" sported a sunnier chord progression closer to power-pop, while singer/songwriter John McCauley began "Hope Is Big" on harmonica and closed with electric bouzouki on a Celtic jig-like coda. Remote one-song turns by Courtney Marie Andrews, Sharon Van Etten, and The Tallest Man on Earth didn't add much, but Leon Bridges and Robert Ellis surprised with a hushed take on Townes Van Zandt's "Pancho and Lefty."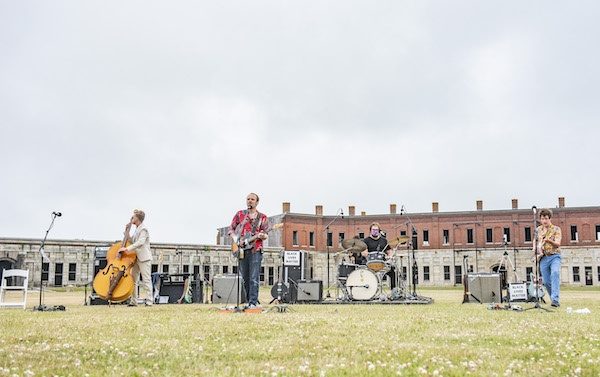 History and tradition play a huge part in Newport festivals and today's younger artists likewise honored soul-gospel icon Mavis Staples in "Mavis 80," a ticketed Friday stream, filmed last year in LA at one of her birthday celebrations. However, despite all-star bona fides (including cameos by Brandi Carlile, Ben Harper, Grace Potter, and Jason Isbell), "Mavis 80" fell short of excitement with its polite pacing, dark dress code, and flat lighting — until Trombone Shorty broke through with horn solos as spirited and raspy in tone as Staples's unmistakable voice.
It turned out the weekend's free content was also the best, starting with archival radio broken into three-day schedule cubes just like the festival (Newport Jazz plans something similar this weekend). For Newport Folk, that included sets from departed R&B firebrands Charles Bradley and Sharon Jones, Jack White, Wilco, Fleet Foxes, Beck, Roger Waters (with My Morning Jacket and Lucius in his band) and feted favorite John Prine, who died from Covid-19 in April. Segments were also devoted to blues, bluegrass, covers (highlighted by Isbell singing "Ohio" with David Crosby) and all-star collaborations that included a women's summit with Dolly Parton and a few dedicated to social justice, prescient to this year.
Sunday night's premiere of "Our Voices Together" — an original film by Josh Goleman (free for 24 hours and available on YouTube) — proved just as inspiring. Dozens of Newport regulars lent remote performances, contrasted with glimpses of crowds onstage and off at past festivals. But the film offers an in-the-moment feel, bookended by festival executive director Jay Sweet waxing about the usual arrival and departure of devoted music crowds to the now-vacant park and still grasping the chance to make a difference this year. In turn, while Brandi Carlile appears at home singing "Hallelujah," a camera suddenly brings viewers up the driveway into the park as if they're arriving at the festival. "This film is our stage," reads one sign. And Carlile proves that one more artist beyond Jeff Buckley and Rufus Wainwright deserves to grace that overexposed Leonard Cohen cover.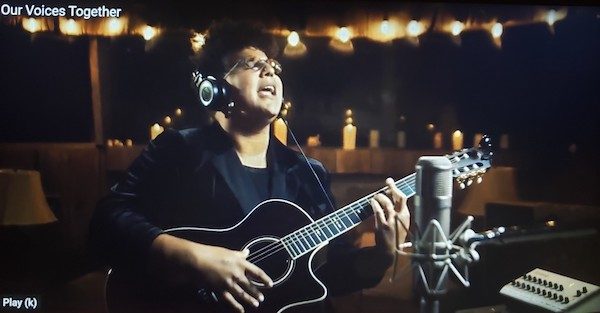 Highlights abound in the film, including Phoebe Bridgers and Courtney Barnett's winsome duet of Gillian Welch's "Everything Is Free" (where they sing "I'm gonna do it anyway, even if it doesn't pay") and Lake Street Dive's deconstructed cover of the Staple Singers' "I'm Just Another Soldier." Only Tom Morello, unfortunately wedged between those two sublime clips, misfires with his bullish solo-acoustic ditty "Flesh Shapes the Day." Roger Waters and his vocal angels Lucius resurrect Prine's "Hello in There," while James Taylor and his wife Kim deftly tackle Paul Simon's "America." Brittany Howard floats her voice over acoustic guitar in her well-named "Short and Sweet." And in maybe the best diversion from the norm, bluegrass singer Molly Tuttle supplements her croon through the National's "Fake Empire" with a real-time text and voice mail to politicians to "demand justice."
But the climactic stroke of "Our Voices Together" comes in a rendition of the Burt Bacharach/Hal David chestnut "What the World Needs Now" that begins with Jim James and expands to the cast of two dozen singers and instrumentalists – along with a few children and dogs. Mandolinist Chris Thile and violinist Andrew Bird spin gorgeous breaks and vocals from people like Valerie June, Lucius, Julien Baker, Ruby Amanfu, Grace Potter, and Glen Hansard who cascade into a Zoom-style fever dream assembled by the Decemberists' Chris Funk. That leads to Sweet's oddly "surreal" traditional farewell as the setting sun glows around a quiet Fort Adams, flashing signs to "Be Present. Be Open. Be Kind. Be Together." And Deer Tick's McCauley figuratively takes that solitary baton, crooning Leadbelly's "Goodnight Irene" on acoustic guitar as the camera slowly pulls back. As he gets smaller and smaller, his guitar and voice fade into the wind and the main stage area of the Fort looms large and empty, leaving hope for the festival's 2021 return.
---
Paul Robicheau served more than 20 years as contributing editor for music at The Improper Bostonian in addition to writing and photography for The Boston Globe, Rolling Stone, and many other publications. He was also the founding arts editor of Boston Metro.