By Jonathan Blumhofer
For fans of David Lang and/or one of the country's best choirs, this is a can't-miss release; Christopher Rouse's Fifth is about as fresh and engaging a Symphony as the composer wrote; Hub New Music plays the daylights out of Robert Honstein's Soul House.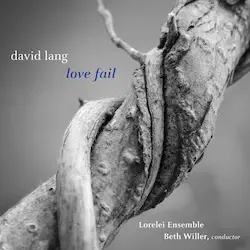 David Lang's love fail, a 2012 retelling of the myth of Tristan and Isolde, gets a fine new recording in an expanded version prepared for (and starring) the Lorelei Ensemble. Originally written for the quartet Anonymous 4, Lang reworked the score in 2016 for the Boston-based nonet. Led by conductor and artistic director Beth Willer, the group does "their" edition of the piece proud.
Lang's writing in love fail evokes a variety of musical reference points, from Medieval plainchant to more contemporary devices (packed dissonances, wandering melodic lines, frequent pauses). Additionally, his setting both condenses the familiar Tristan narrative – love fail runs just over 50 minutes here (as opposed to Wagner's four-hour epic) – and expands it, juxtaposing ancient retellings of the tale by Gottfried von Strassburg, Sir Thomas Malory, Marie de France, and others with stories by the contemporary writer Lydia Davis. At its best, the piece proves an intoxicating brew.
Those moments include the opening "he was and she was," which strikingly lays out both of the story's principal characters: the words describing Tristan come across in murky, canonic textures; Isolde's, on the other hand, are straightforward and pristine. Pungent dissonances and a strong dramatic shape mark the seminal "the wood and the vine" while "Forbidden Subjects" dances gently and a bit unsettlingly. "I live in pain" offers some lively rhythmic activity while the percussion tattoos in the concluding "mild, light" cast this Liebestod as a funeral procession.
Throughout, Lorelei's performance – highlighted by solos from ensemble members Clare McNamara, Carrie Cheron, Sonja Tengblad, Sarah Brailey, and Emily Marvosh – is supple, full-bodied, and intense. Their singing is note-perfect and as emotionally invested in Lang's writing as one might hope for. What's more, the disc's engineering is flawless. For fans of Lang and/or one of the country's best choirs, this is a can't-miss release.
---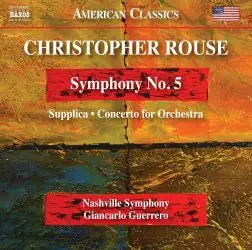 Most of Christopher Rouse's six symphonies openly (and, one might say, eagerly) reference earlier works in the genre by the composer's favorite forebears. So it is with Rouse's 2015 Symphony no. 5, which addresses, head-on, that most famous of Fifths: Beethoven's.
Cast, roughly, in four connected movements that, again generally, correspond to Beethoven Five, Rouse's Fifth is about as fresh and engaging a Symphony as the composer wrote. Its big first movement features a lively interplay of motives and ideas, some of them drawn from the familiar, four-note Beethoven motto; others seem to allude to major (but now neglected) 20th-century American symphonists like William Schuman and Walter Piston.
The slow movement that follows is deeply felt and soulful, marked by a series of robust solos for, respectively, oboe, horn, and bassoon. A scherzo (highlighted by gamboling woodwinds) follows before a reprise of the Adagio occurs. After a lovely bass flute solo, a big percussion break leads to the exuberant finale with its blazing coda.
Overall, Rouse's Fifth is a brilliant piece: bright, accessible, fresh, direct, crafty. There's much of interest to be had here – thematically, instrumentally, and structurally – and it's all played to the hilt by Giancarlo Guerrero and the Nashville Symphony Orchestra (NSO).
The ensemble is similarly impressive in Rouse's Concerto for Orchestra. Written in 2008, this is a showpiece, if a dark one – and, perhaps, not one of Rouse's most persuasive scores: some strong moments (especially over its last five minutes) notwithstanding, the Concerto seems to leave more to be desired than not, dramatically and gesturally.
That said, the NSO tackles Rouse's deft, sometimes quite inventive scoring, with aplomb. The widely spaced episode for strings just after the opening is particularly effective, as is Rouse's writing for clarinets and brasses (the trombone glissandos with whispa mutes is a must-hear effect for students of orchestration). If much outside of the grim, funereal central sequence proves forgettable, well, the build-up to the end provides some sense of payoff.
In between the big pieces, the Guerrero leads the NSO in a nicely driven reading of Supplica, a brooding, Sibelius-like essay from 2014. A sober piece it is, but, in these hands not a grim one – just what the day (and this album) requires.
---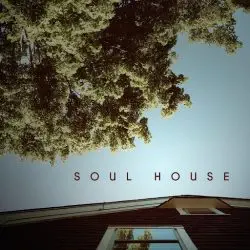 One of my favorite performances of 2018 was Hub New Music's (HNM) appearance at Worcester's Clark University, where they gave the local premiere of Robert Honstein's Soul House. The piece, a charming, playful homage to the composer's childhood home in New Jersey, is out now in its debut recording from New Amsterdam.
Two-and-a-half years on, this is the same ingratiating work I remember from that concert. Honstein's score, which was commissioned by HNM, features a mix of graceful, idiomatic, and virtuosic writing for the ensemble, which plays it here with tremendous control.
Its nine movements evoke discrete locations in and around the home. "Bay-Window," for instance, with its extensive artificial-harmonic string arpeggios and canonic melodic lines, conjures up a dreamworld: just as its rhythmic and melodic figures coalesce into (seemingly) definitive form, the music dissipates into the ether.
Similarly memorable is "Backyard," which takes the form of an involved fugue. It's a spunky, carefree episode, one that lacks some degree of dramatic tension – but makes up for that with an inventive play of voices that simply keeps the ear happy.
Likewise, the stately, noble "Copper-Beach," with its haunting alto flute writing, and the concluding "Secret Place," full of undulating, Glass-like writing (that heads off in some very un-Glass-like directions) are beautifully structured.
Indeed, HNM – comprising flautist Michael Avitabile, clarinetist David Dziardziel, violinist Alyssa Wang, and cellist Jesse Christeson – play the daylights out of Honstein's score. The athleticism of the ensemble's performance, first demonstrated in the easy back-and-forth of sixteenth-note riffs in "Bay-Window," carries through their entire reading. What's more, Soul House's more expressively weighted moments (like "Alcove" and the minore interlude in "Secret Place") are each smartly calibrated.
HNM's emotional and technical precision (not a note – and there are many of them – is played wrong) more than compensate for a couple of spots in which the album's engineering gives the performance a harder edge than it should have. That shouldn't discourage, though: this is a wonderful piece, strongly felt, and superbly played.
---
Jonathan Blumhofer is a composer and violist who has been active in the greater Boston area since 2004. His music has received numerous awards and been performed by various ensembles, including the American Composers Orchestra, Kiev Philharmonic, Camerata Chicago, Xanthos Ensemble, and Juventas New Music Group. Since receiving his doctorate from Boston University in 2010, Jon has taught at Clark University, Worcester Polytechnic Institute, and online for the University of Phoenix, in addition to writing music criticism for the Worcester Telegram & Gazette.