By Noah Schaffer
A by-the-carload ticket gets you a spot in the Tupelo Music Hall parking lot and an empty space next to it.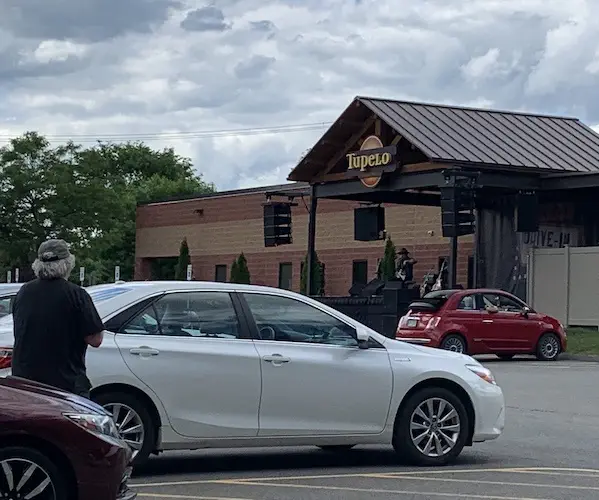 Guitarist Johnny A reached the end of his instrumental reworking of Badfinger's "Day After Day" and I heard a sound I've been without for the last 100 days: an audience cheerfully applauding a moving piece of music.
This seemingly miraculous moment during the COVID-19 pandemic was made possible by the Tupelo Music Hall in Derry, NH, a 45-minute drive from Boston. While most other venues have seen their summer concert schedule — and probably the rest of 2020 — evaporate, the Tupelo has turned its parking lot into an alternative outdoor venue. A by-the-carload ticket gets you a parking spot and an empty space next to it. Food orders could be called in for contactless delivery facilitated by masked servers in a golf cart. (For solo concertgoers, or groups who want to imbibe without running afoul of open container laws, a small tent to the right of the stage has been set up with assigned — and spaced out — table seating.)
It is an experimental model, and it seems to be working out pretty well. When we rolled in close to showtime the spots nearest the stage had long been claimed, but cheerful (and masked) employees greeted us and offered a choice of spaces on the side. When I first set down my low-backed lawn chair it turned out, not surprisingly, that there was a car blocking my view of the seated solo guitarist. But a bit of maneuvering solved that problem — a higher chair would have done the trick as well. (This may explain why a fair number of the concertgoers opted to stand or lean by their car for the 80-minute show.)
Most impressive was the sound quality, which easily rivaled the acoustics of many full-time venues. Restrooms were of the Porta-Potty variety, but they were relatively clean at the end of the second show of the day and, with only 75 cars allowed in, there was never a line.
The last time I'd seen Johnny A was in the intimate confines of Scullers Jazz Club. It was a bit of a shock to realize how the drive-in setup requires  a considerable distance of the audience from the stage. Next time I will also bring binoculars. But it was a minor trade-off given the treat of hearing music played through a set of glorious amplifiers and a pristine sound system instead of my computer speakers.
Johnny A, whose lengthy resume includes both several instrumental albums of his own and a long stint backing Peter Wolf, concluded (in 2018) a string of tours with the current incarnation of the Yardbirds. He then fortuitously reinvented himself as a solo artist right before COVID-19 forced many other musicians into playing in isolation — he's been performing a song a day on his Facebook page.
The Tupelo gig was one of his "Me and My Guitars" shows, in which he pays tribute to the sounds of the British invasion artists that first inspired him, among them the Hollies and the Rolling Stones. A Beatles medley gave him a chance to talk about how he saw the band at Suffolk Downs. (A suggestion that everyone sing along to the Beatles classics didn't seem to gel. Perhaps listeners were too spread out — or maybe people joined in but they were just too far for me to hear them.) Some of the best moments of the show involved songs created by Americans, especially beautiful whammy-bar heavy excursions through "Walk Away Renée" and "Time After Time."
While an artistic and logistic triumph, the afternoon also proved that the pandemic makes some of the less savory parts of the concert experience even worse. A jerk deposited a rubber glove in the urinal. And midway through the show an older woman decked out in flower power attire started walking toward me. I assumed she would veer off to the nearby restroom. Instead, she came right up to my bumper — a  clear violation of the audience protocol spelled out in detail in the flyer distributed at the gate. "I've been seeing you from over there and it's so great you're enjoying the music," she said, apparently alluding to the fact that I was the youngest audience member at a show filled with contemporaries of the 67-year-old Johnny A. I nodded and smiled. She then came even closer to me; when she saw the apprehension in my eyes she put her face covering back on."We're having a really big party in Manchester after the show if you want to come!" she yelled. I murmured an apologetic decline to the invitation.
While most of its bookings are of the tribute band variety, the Tupelo Drive-In schedule includes blues guitarists Joe Louis Walker and Ronnie Earl and singer/songwriters Adam Ezra and Ryan Montbleau. As it happens, both Ezra and Montbleau are among the first announced acts of a drive-in concert series presented by New Bedford's Zeiterion Theater. 
---
Over the past 15 years Noah Schaffer has written about otherwise unheralded musicians from the worlds of gospel, jazz, blues, Latin, African, reggae, Middle Eastern music, klezmer, polka, and far beyond. He has won over 10 awards from the New England Newspaper and Press Association.