By Christopher Caggiano
Dave Malloy's musical version of Moby-Dick shows promise, but he needs to trim plenty of blubber.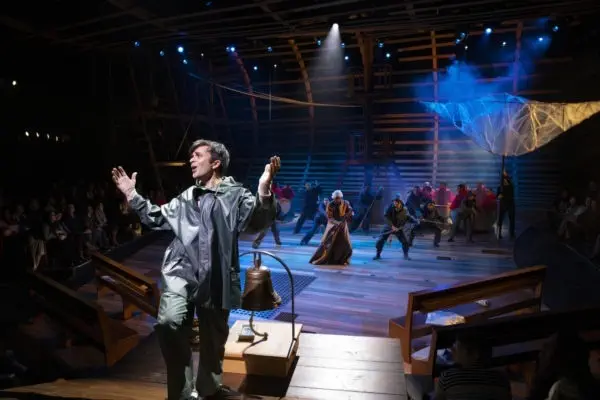 Moby-Dick: A Musical Reckoning, based on Moby-Dick by Herman Melville. Music, lyrics, book, and orchestrations by Dave Malloy. Developed with and directed with Rachel Chavkin. Music direction and supervision by Or Matias. Choreography by Chanel DaSilva. Produced by the American Repertory Theater at the Loeb Drama Center, Cambridge, MA, through January 12, 2020.
One thing we can say for sure about Dave Malloy is that the man loves a challenge. And compendious literary masterpieces as well.
Malloy wrote the music, lyrics, and book for Natasha, Pierre and the Great Comet of 1812, one of the towering achievements in contemporary musical theater, which unfortunately foundered on Broadway in 2016 owing to an inept producing team. The Great Comet was based on no less a source than Tolstoy's rightly revered War and Peace. So it shouldn't be much of a surprise that Malloy would set his sights on another literary classic, Herman Melville's Moby-Dick.
You'd think, however, that Malloy would have learned the primary lesson of his own masterwork: don't try to do the entire book. The Great Comet focuses on a mere 70 of Tolstoy's 1,200 pages, and as such can take its time setting up and developing its rich and fascinating characters.
Malloy's Moby-Dick, to its detriment, tries to relate the entire story of Captain Ahab and the eponymous whale himself. And even though the novel Moby-Dick — at 585 pages — is less than half the length of Tolstoy's epic tome, Malloy's musical version clocks in at a derrière-busting three-and-a-half hours. The good news is that there's enough good material in Moby-Dick to justify additional work on the piece, and that it should be fairly easy to cut the piece down by at least 45 minutes.
The production starts with the famous Jonah and the whale sermon from the book, followed by an extended scene that introduces us to the narrator Ishmael as well as Malloy's meta conceit for the show. In the scene, our narrator, played with great appeal by Manik Choksi, provides background about Melville's tempestuous relationship with Nathaniel Hawthorne, as well as Choksi's own reasons for revisiting the novel, as a Southern Asian man in Trump's America. "I just don't feel really safe in this country right now," he says, "so I returned to my favorite book." (This is just the start of a number of contemporary parallels Malloy attempts to force upon the narrative)
Those first two scenes represent about 10 to 15 minutes of unnecessary stage time that could be easily excised with one chop. Also of questionable relevance is an extended scene at the top of the second half that relates the sad, extended tale of the cabin boy Pip, but in a manner that is irritating, pretentious, and wildly out of character with the rest of the production. There's another 15 minutes than can easily go.
Malloy's score for Moby-Dick is thankfully more akin to his rich and ravishing score to The Great Comet than it is to those for his other unfortunate works, the execrable Beowulf (2008), the maddeningly opaque Ghost Quartet (2014), the forgettable Preludes (2015), and the marginally engaging Octet (2019). The Moby-Dick score is self-consciously eclectic, with styles ranging from contemporary pop to opera to hip-hop to gospel. Many of the more lyrical passages are reminiscent of two of his best songs from The Great Comet, the threnodic "Dust and Ashes" and the show's rapturous finale.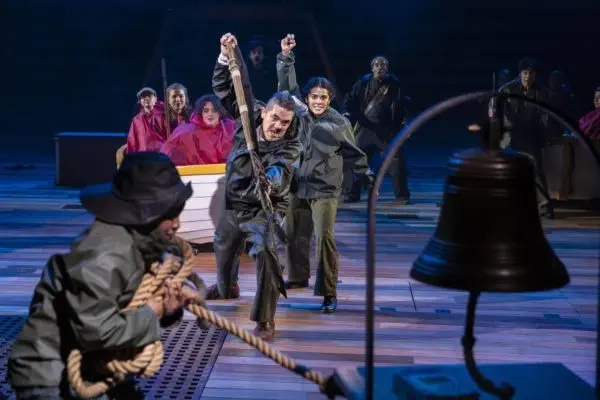 Moby-Dick works best as a play when the piece is focusing on the central drama. The dramatic stakes of the show really pick up when the tensions kick in between the stormy madness of Ahab (played here with laser-like intensity by Tom Nelis) and the stabilizing influence of Starbuck. The scene in which the captain of the Rachel, a passing ship, seeks but is denied the Pequod's help in searching for a lost whaling party is positively heartrending.
Unfortunately, Malloy and director Rachel Chavkin have seen fit to pad the production with a plethora of would-be enlivening interludes, including a considerable amount of audience participation. These exaggeratedly comedic scenes poke fun at the infamous Moby-Dick chapters about whale history, blubber, and the like, or they try to wedge modern resonances into a production that more often than not feels like a Renaissance fair.
The audience participation comes off as cloying in a story of such narrative weight. There's some charm and enjoyment to be had during these narrative interruptions, but the vaudeville shtick gets old, and when I saw the show on opening night, these efforts were met more with scattered nervous giggles rather than guffaws. (Although there was a small but vociferous claque of what appeared to be A.R.T. insiders providing ill-advised and ear-piercing shrieks of support. Is this sort of thing ever a good idea?)
---
Christopher Caggiano is a writer and teacher based in Boston. He serves as Associate Professor of Theater at the Boston Conservatory at Berklee. His writing has appeared in American Theatre and Dramatics magazines, and on TheaterMania.com and ZEALnyc.com.