By Peg Aloi
Bombshell takes a stand, looking to portray its besieged women as complex, flawed human beings who also happen to be the victims of sexual harassment.
Bombshell, directed by Jay Roach. Screening AMC Boston Common, Kendall Square Cinema, AMC Boston Common 19.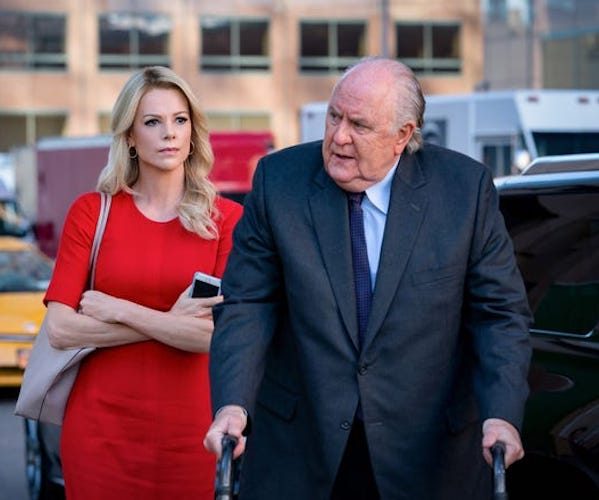 The "Me Too" movement, launched via a hashtag on Twitter that went viral as millions of women admitted to having been sexually harassed or assaulted, has had an indelible impact on society. This may be even more true for the culture of entertainment specifically: it has affected not only how we see the "industry," but the products and publicity it churns out as well. When news of producer mogul Harvey Weinstein's predatory behavior towards actresses became public it was hard to see what steps Hollywood might take, so ubiquitous was his involvement and his success in the machine. But in the wake of his arrest and trial and public humiliation, many more women are speaking up not only about sexual harassment in the movie and television industry, but about the lack of gender parity as well: in hiring, in salaries, in presence on sets, and in writers' rooms.
The revelation that Fox News founder and CEO Roger Ailes was also a sexual harasser was less surprising than the Weinstein debacle, if only because Fox's news programming had already been charged (often) for its misogyny, from its choice of stories to its editorializing. Of course, a woman willing to work within this sexist system does not deserve to be subjected to lewd looks, gross jokes, unwanted advances, or inappropriate touching, or worse.
Bombshell, directed by Jay Roach (Trumbo) and written by Charles Randolph (The Big Short), dissects the events that went down at the Fox News offices after popular anchor Gretchen Carlson (played by Nicole Kidman) decided to sue Ailes for sexual harassment after her prime time news program was canceled. The film is mostly narrated by Megyn Kelly, who is played with almost scary precision by Charlize Theron. (She damaged her vocal chords in an effort to get Kelly's low tones just right. She also wore eye prosthetics to look more like the newscaster.) Her voice-over narration, however, does not define the film's perspective. In fact, it is but one of several different narrative framing devices that make it a bit confusing to figure out what Bombshell is trying to achieve. If Kelly's voice-over was used consistently throughout, one might be left wondering why the newscaster had so little self-awareness of her on-air blunders that generated controversy—for example, when Kelly famously claimed that Santa Claus was historically known to be a white man, and the film breezes through the moment with no commentary.
With Kelly only intermittently featured as the film's voice, Bombshell's perspective and framing are more omniscient and neutral, ostensibly by way of Roach. The performers lend nuance and complexity to their characters in ways that transcend the writing and directing. The film wants to focus on their victimhood, and on the problematic culture at Fox News that not only allowed sexist behavior to proliferate, but often seemed to actively encourage it. In addition to Carlson and Kelly, there is a younger woman, a fictional composite character named Kayla. Played effectively by Margot Robbie, she is an ambitious young producer who seems to have no problem "showing some leg" and wearing the high heels and makeup that are expected of anchors, which she is hoping to become.
Bold about taking risks, Kayla soon finds herself in over her head when a private meeting with Roger Ailes (the barely recognizable John Lithgow in a flabby fat suit) turns awkward, then creepy, and then physically threatening. Before this, her office mate and friend Jess (played by the wonderful Kate MacKinnon), a lesbian who is open about her lifestyle everywhere but in the Fox News offices, showed her the ropes when it came to surviving the sexist behavior of the men at work. Rule number one: no crying is ever allowed, and if you do start crying you can't ever let anyone see you doing it. The implication also seems to be that women who cry at Fox must have a good reason, and it usually involves being bullied by men. The women who work at Fox are expected to wear short skirts, tight blouses, plenty of makeup, and, for the most part, bleached blonde hair. The aesthetic is part and parcel of Ailes's desire to conform to the particular demographic focus of Fox's largely conservative viewers (his modus operandi is detailed in the excellent documentary Divide and Conquer: The Story of Roger Ailes). Bombshell depicts this sexist culture somewhat aggressively, suggesting that some of the women took part willingly in their own objectification. The women justify their capitulation to the pressure by complaining about the competitive job market.
Reflecting the real life non-disclosure agreement that came about in the wake of her lawsuit, the specifics of the harassment endured by Gretchen Carlson are barely hinted at in Bombshell. Kelly's experiences with Ailes are discussed rather than portrayed. Just prior to this film's wide release, Carlson published an op-ed demanding that Fox release her from the NDA. Both Carlson and Kelly were targets of social media trolling and even death threats after their accusations went public, piling on cyber harassment to go with the office indignities. Ailes was removed from his leadership position at Fox soon after his behavior was exposed. He died a few months later: while he had health issues galore, many critics suggest that public humiliation led to his death. One can't help comparing the situation depicted here to Weinstein's behavior, including his recent appearance en route to court dates; he was first using a walker and then a wheelchair, drawing jeers from many who think this is a fabricated attempt to inspire pity. These powerful men, exposed as bullies preying on the vulnerable, are reduced to their own physical limitations, reminding us that the beautiful women they targeted would, in all likelihood, never have showed any sincere sexual interest in them. Bodily weakness has become their calling cards, a horrifying irony and a karmic shot across the bow. This is the way the patriarchy crumbles; not with a bang, but a whimper.
---
Peg Aloi is a former film critic for The Boston Phoenix and member of the Boston Society of Film Critics. She taught film studies in Boston for over a decade. She writes on film, TV, and culture for web publications like Vice, Polygon, Bustle, Mic, The Orlando Weekly, Crooked Marquee, and Bloody Disgusting. Her blog "The Witching Hour" can be found at themediawitch.com.