By Peg Aloi
This blistering new documentary manages to offer a fairly balanced portrait of a man who, at the end of his life, was widely demonized.
Divide & Conquer: The Story of Roger Ailes, directed by Alexis Bloom, is screening at Kendall Square Cinema and and on iTunes and Amazon.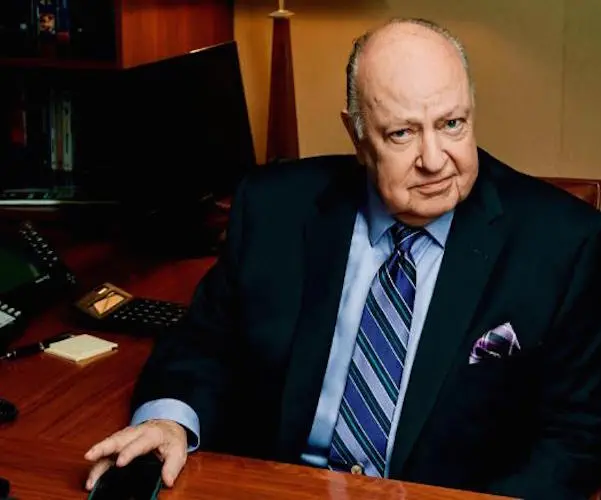 If you're a news junkie, like me, and a liberal, like me, maybe you occasionally tune in to Fox News to try and get a sense of what the "other side" is thinking and saying, and why. Maybe you, too, have wondered why this network has so many viewers when it seems to depend so often on manipulative media tactics and even flat out propaganda. It's no secret that Fox is the only major news network Donald Trump considers worth watching, and certainly no secret that the network did its part to help get Trump elected. Despite the drumbeat of "liberal media bias" that still echoes throughout the land, it would seem that one of the most viewed news media channels is an unapologetic font of conservative ideology and right wing rhetoric. How did this happen?
This blistering new documentary by Alexis Bloom (whose Bright Lights explored the careers and relationship of Debbie Reynolds and daughter Carrie Fisher) manages to offer a fairly balanced portrait of a man who, at the end of his life was widely demonized. Ailes, the long time CEO of Fox News, was unceremoniously ousted from the company in 2016 amid scathing allegations of sexual harassment that took place over several decades; he died a year later from a fall made serious by hemophilia.
After a brief and somewhat philosophical opening statement by Glenn Beck (who is this charming guy with a snowy beard and twinkling blue eyes?) I asked myself before I realized it was the former Fox news host, a right wing pundit fired by the network after he made one controversial comment too many), in which he ponders how we can recognize failings in other people without noticing them in ourselves. The film proceeds to look at Ailes' childhood. Hemophilia affected his entire life, due to fear that even simple injuries would cause uncontrolled bleeding. The documentary spends a fair amount of time on this point, as well as relaying a number of anecdotes about Ailes' judgmental and cruel father, whom he nevertheless apparently idolized even as a adult.
Divide & Conquer should be required viewing for those who want to understand, or are maybe only beginning to understand, our current cults of personality.
Click To Tweet
This background leads into fascinating information about Ailes' early career as a journalist and media producer, tracing the rise of his powerful trajectory to heading the news empire at Fox. Stories of Ailes are embellished, Erroll Morris style, with slow motion filmed segments of, for example, someone smashing a chair (which Ailes reportedly did in 1996 when he heard that Bill Gates was buying his "America's Talking" network and rebranding it as MSNBC). Of course, this anger feeds Ailes' determination to further his right wing political views: a fascinating document is filled with Ailes' handwritten notes in which he brainstorms on how liberal media's stranglehold on America must be counteracted swiftly and definitively. Ailes pioneered a tactic that involved disseminating GOP ideas into the editorial decisions of local news affiliates, thereby, presumably, helping to groom a fragmented audience for what would become Fox News. This is unsurprising — yet still carries terrifying implications, considering where we are now, with our president referring to virtually every other news source but Fox as "fake news" and "the enemy of the people" with many of his supporters echoing those sentiments. The middle section of the film is compelling in its scope and depth, tracing Ailes' clever and successful modus operandi to attract conservative viewers.
But, of course, viewers will also very much want to know how the film treats Ailes' reputation as a sexual predator. Divide & Conquer does not disappoint in that regard. There are interviews with his victims, including women who were propositioned during job interviews. If they refused him, they were placed immediately on "no hire" lists. Ailes was not only inappropriate and unprofessional; he was petty and vengeful. His sexual harassment went back to his days working as a junior producer on The Mike Douglas Show. High profile female Fox anchors Gretchen Carlson and Megyn Kelly are notorious for the massive payouts they received from the Fox network. Perhaps less well known are the women who came forward once it became safe for them to do so, contributing their own stories of being humiliated and threatened. Footage of Ailes chatting with other media giants who were brought low by sexual harassment allegations, like Charlie Rose and Matt Lauer, are ironic and jolting.
Ailes shows similar aggression towards employees at a small town newspaper he buys out, nestled in the Hudson River Valley. A former copyeditor chillingly relates how Ailes ordered that her private, password-protected social media accounts be hacked — so he could challenge her perceived disloyalty to him. Ailes was a billionaire at the time, but one subject (another employee of the newspaper) opines that the man could have done anything, gone anywhere — yet he'd sit in the little Putnam County office complaining. It is speculated by many in the film that Ailes was, at heart, a lonely and bitter person. But his sense of himself wielding unlimited power — famous, forceful, and beyond reproach — protected that vulnerability. Divide & Conquer should be required viewing for those who want to understand, or are maybe only beginning to understand, the cults of personality that are currently presiding over most of our American institutions, monstrous egos whose savage shells are brittle, even when well-shielded by their sycophants.
---
Peg Aloi is a former film critic for The Boston Phoenix. She taught film and TV studies for ten years at Emerson College. Her reviews also appear regularly online for The Orlando Weekly, Crooked Marquee, and Diabolique. Her long-running media blog "The Witching Hour" can be found at at themediawitch.com.