By Scott McLennan
The Tedeschi Trucks Band is capping another remarkable year of transition and growth, some of it spurred by tragedy.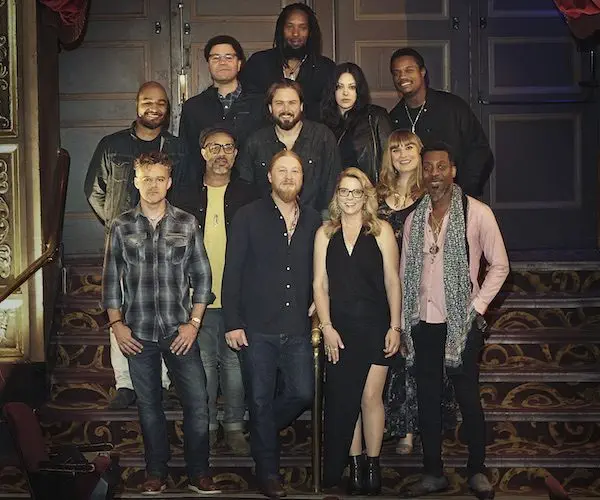 Susan Tedeschi is coming home this week. And she's not traveling light.
As has become custom, the Tedeschi Trucks Band — the 12-piece musical juggernaut Tedeschi founded with her husband Derek Trucks — will end the year with a run of shows at Boston's Orpheum Theater, a venue located not far from Berklee College of Music, where Tedeschi studied, plus the clubs she performed in when she was an up-and-coming blues artists in the mid-'90s. Tedeschi, also a graduate of Norwell High School, will no doubt welcome many friends and family members from the South Shore at these shows, which this year run Thursday, Friday, and Saturday.
Ever since Tedeschi and Trucks folded their individual projects and joined forces, they have been on a roller coaster ride. On the one hand, they are trying to home in on a sound that capitalizes on their strengths while also pushing their talents in new directions. At the same time, they have been having to manage personnel changes and the general vagaries of a music industry that is no longer very easy to navigate for a sophisticated guitar-centric, song-oriented, improv-loving band that favors recording techniques from the  '70s and would rather play multiple nights in a theater than pack a hockey rink for one night.
The band is capping another remarkable year of transition and growth, some of it spurred by tragedy.
In February, keyboard player Kofi Burbridge, an original member of the ensemble, died. Burbridge was a gifted player on keys and flute, as well as a broad-minded composer who shaped a lot of the sound heard on Tedeschi Trucks Band's latest album, Signs. Burbridge and Trucks first joined forces in 1999 when the keyboardist entered Trucks's solo band, sharing the guitarist's voracious appetite for figuring out fresh ways to pull the holy spirit out of notes, chords, and rhythms.  Burbridge carried over into the Tedeschi Trucks Band, where he and Tedeschi found they had a very natural musical chemistry.
Tedeschi called it sadly ironic that Burbridge, who had long battled health problems and was on a hiatus from the group, died on the day that Signs was released.
"That was such a big record for Kofi," Tedeschi said. "We got to see Kofi in his element. He was a completely realized musician, just locked in at every level as a player and a composer. But he was also always so sweet and humble."
Signs is a big record in general for the whole of TTB, demonstrating the group's breadth and depth, reflecting influences, and honoring heroes while forging ahead with a contemporary sound. It's a sound one imagines may have been in the heads of Tedeschi and Trucks when they launched this group but just needed time and the right people to figure out how to get there.
"Next year it'll be 10 years for this band," she said. "It doesn't feel like 10 years, but I look back and our kids were little when this started. They were just seven and five. That's wild to think, 'How did that happen?'"
But Tedeschi answers her own question: "There were no rules. We could do Delta blues. We could cover David Bowie." They have done that and a whole lot more, folding in country, jazz, soul, funk, folk, and all sorts of other musical roots and traditions. As a bandleader, Trucks lets the musicians in the group stretch out and bring their best to the project rather than simply telling them to follow instructions.
TTB found itself with new "voices' as well as new material coming into 2019. Gabe Dixon has now joined permanently after coming aboard when Burbridge was on a medical leave from the band. And then there is young powerhouse bassist Brandon Boone, who came in to replace Tim Lefebvre, who left the band after last year's Orpheum run. Dixon and Boone have fit right in with this multifaceted team. The horn section of sax player Kebbi Williams, trumpet player Ephraim Owens, and trombone player Elizabeth Lea is explosive and the perfect complement to Trucks's fiery work on slide guitar. Tedeschi tends to fill in the more stinging and traditional blues-based guitar parts and has built an impressive vocal range during her time in this group. Tedeschi isn't the only powerful voice in the band — Mark Rivers, Mike Mattison, and Alecia Chakour make up a heavenly choir that adds rich texture and color to the performances. J.J. Johnson and Tyler Greenwell are the two drummers who keep it all in the pocket.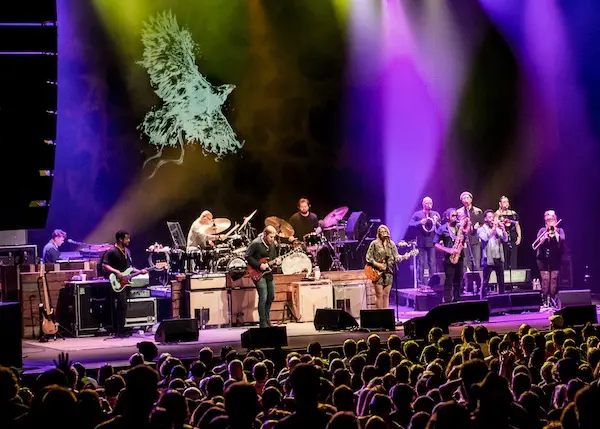 Trucks orchestrates the action on stage, with every show boasting its own setlist and vibe. Songs tend to get different treatments from performance to performance and, even with such a large band all trying to pull in a unified direction, Trucks isn't afraid to take chances.
"You don't know what's going to happen until Derek looks at you," Tedeschi said. "We'll be playing something that I usually don't have a solo on, but he'll look over at me and have me solo. I'll ask him afterwards why he wanted me to solo there, and he'll say he thought I hadn't played one in a while. I just tell him I'm glad you have confidence in me."
Trucks was playing guitar in the Allman Brothers Band when he and Tedeschi met 20 years ago. While he was immersed in the classic Allmans songbook and landing high profile tours with Eric Clapton, Tedeschi was welcomed on tours by earlier generations of blues artists, such as B.B. King and Taj Mahal as well as by members of the Grateful Dead, who recruited her to tour with them in 2002 when they went out as The Other Ones.
Tedeschi and Trucks celebrate those connection nightly from the stage, covering Allmans songs, the Dead's "Sugaree," several Clapton-associated tunes, and such classic blues numbers as "How Blue Can You Get" and "I Pity the Fool."  But the band balances that with its own repertoire, which not only has a fresh sound but a fresh perspective. Numbers such as "Shame" and "High and Mighty," for instance, take aim at the folly of our current political climate.
"There's so much darkness out there we wanted to have songs that said people need to be held accountable," Tedeschi said.
But the band also has some beautiful, lyrical numbers that celebrate the nurturing parts of life. She joked that the Mattison-penned "Strengthen What Remains" sounds like a "Disney classic."
Tedeschi said that the band will take an uncharacteristically long break, with no shows planned for March, April, and May, but the group will hit the road again for its annual multi-band Wheels of Soul summer tour.
Don't expect a hard sell of new material when the band arrives for its Orpheum residency. Songs from all four of the band's studio albums — plus ones from its seemingly endless supply of covers — are up for performing grabs.
Tedeschi said she would like to see some of her breakthrough material from the Just Won't Burn album such as "Rock Me Right" and "It Hurt So Bad" worked into the setlists.
Not a bad idea for a homecoming show.
---
Scott McLennan covered music for the Worcester Telegram & Gazette from 1993 to 2008. He then contributed music reviews and features to The Boston Globe, The Providence Journal, The Portland Press Herald and WGBH, as well as to the Arts Fuse. He also operated the NE Metal blog to provide in-depth coverage of the region's heavy metal scene.